Since announcing his bid to lead the Democratic National Committee, Rep. Keith Ellison has enjoyed the support of both the Democratic establishment, with an endorsement from Sen. Chuck Schumer, and the party's populist wing, in Sens. Bernie Sanders and Elizabeth Warren. That has not stopped archival aggregator KFILE, CNN's recent acquisition from BuzzFeed News, from picking up a long-simmering right-wing smear campaign accusing the first Muslim congressman of anti-Semitism, resurfacing vaguely conspiratorial questions about his association as a young man with Louis Farrakhan and the Nation of Islam, despite the fact that Ellison has spent over a decade apologizing for and repudiating his earlier ties.
In the early '90s, Ellison was working as a community organizer in North Minneapolis. At this point, unemployment for African Americans was at 13 percent and images of the Rodney King beating had been seared into the public imagination. It was in this context, according to Ellison, that he decided to participate—along with people like Barack Obama, Rosa Parks, Jesse Jackson, and Maya Angelou—in the organization effort around Farrakhan's 1995 Million Man March and Day of Atonement. As he wrote in an essay published on Medium last night:
My values — going back to my childhood — were always based on respect for all people and rejection of bigotry and racism. When I first heard criticism about Louis Farrakhan, the leader of Million Man March, I felt the March's message of empowering young African Americans was being attacked.

But I clearly didn't go deep enough. I defended the organizer of the March in writing, but I glossed over the hurtful and divisive language he directed at other communities. In my effort to pursue justice for the African-American community, I neglected to scrutinize the words of those like Khalid Muhammed and Farrakhan who mixed a message of African American empowerment with scapegoating of other communities. These men organize by sowing hatred and division, including, anti-Semitism, homophobia and a chauvinistic model of manhood. I disavowed them long ago, condemned their views, and apologized.

In my effort to pursue justice for the African-American community, I neglected to scrutinize the words of those like Khalid Muhammed and Farrakhan who mixed a message of African American empowerment with scapegoating of other communities. These men organize by sowing hatred and division, including, anti-Semitism, homophobia and a chauvinistic model of manhood. I disavowed them long ago, condemned their views, and apologized.
"I have a deep and personal aversion to anti-Semitism regardless of its source, and I reject and condemn the anti-Semitic statements and actions of the Nation of Islam, Louis Farrakhan, and Khalid Muhammed," Ellison wrote in a 2006 letter to the Jewish Community Relations Council of Minnesota, just after he received the endorsement of the local Democratic party in his bid for Congress. "I should have come to that conclusion earlier than I did. I regret that I didn't."
Equally eyebrow raising—according to CNN's KFILE, anyway—was Ellison's defense of the right of Kwame Ture (born and known for much of his life as Stokely Carmichael) to criticize Zionism. "Concerning Zionism and Ture's speech, the [Africana Student Cultural Center's] position is simply this: Whether one supports or opposes the establishment of Israel in Palestine and Israel's present policies, Zionism, the ideological undergirding of Israel, is a debatable political philosophy. Anyone, including black people, has the right to hear and voice alternative views on the subject—notwithstanding our nominal citizenship."
G/O Media may get a commission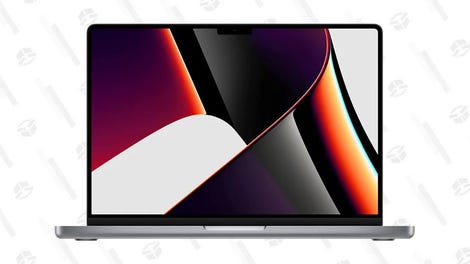 Save $300
2021 14" 1TB MacBook Pro
He continued: "Alternatively, the University's position appears to be this: Political Zionism is off-limits no matter what dubious circumstances Israel was founded under; no matter what the Zionists do to the Palestinians; and no matter what wicked regimes Israel allies itself with—like South Africa. This position is untenable." Shocking stuff! CNN's Andrew Kacynski cites another column of the undergraduate Ellison's, arguing for reparations for slavery, as evidence of...exactly what is unclear.
"He's the first Muslim elected to Congress, and if he supports us 70% of the time, that's great," Minnesota state representative and longtime Jewish community activist Frank Hornstein told the Forward this week. "If we're expecting another Chuck Schumer, we're not going to get it," he continued. (Like Sanders, Schumer, the new Senate minority leader, is Jewish.) "But there's a lot of benefit to having someone who has credibility on the left and is defending Israel."
In fairness, CNN isn't the only mainstream outlet to give voice to these fake concerns—the New York Times got in on the game last week:
Some top Democrats had hoped to pre-empt a contest by backing Mr. Ellison's bid. Mr. Schumer, Ms. Warren and an array of House members and unions were lining up behind him even before he formally entered the race.

But along with his inability to do the job full time and his links to Mr. Sanders, Mr. Ellison's past criticism of Mr. Obama and praise for Louis Farrakhan, the Nation of Islam leader, worry some Democrats looking for a figure to lead the opposition to Mr. Trump.

Mr. Ellison, a Muslim, defended Mr. Farrakhan in the 1990s, saying he was "not an anti-Semite," and has positioned himself on the left flank of congressional Democrats on Israel.
Actually, Ellison's position on Israel is a good deal more complicated than that. A Muslim who has visited the Gaza Strip a number of times, he also has voted in support of more than $27 billion in aid to Israel, and criticized the boycott, divestment and sanctions (BDS) movement. While there are some aspects of Ellison's approach to the Israeli-Palestinian conflict "on which we strongly differ and that concern us," Jonathan Greenblatt, the CEO of the Anti-Defamation League, said in a statement earlier this month, the ADL nevertheless supported the Minnesota congressman wholeheartedly. "We spoke with leadership in the Jewish community in Minnesota who confirmed what ADL and other national organizations have seen: Keith Ellison is a man of good character," Greenblatt said. "We have seen him through his work in Congress as an important ally in the fight against anti-Semitism and for civil rights."
So, that being the case: Where is this attempt to sully his reputation coming from? One paragraph from the CNN story is particularly telling:
Several outlets have resurfaced Ellison's past writings as he runs for DNC chair, raising new concerns about his own views and what they would mean for the Democratic Party if he were to be its leader. A CNN KFile review of Ellison's past writings and public statements during the late 1980s through the 1990s reveal his decade-long involvement in the Nation of Islam and his repeated defense of Farrakhan and other radical black leaders against accusations of anti-Semitism in columns and statements to the press. None of the records reviewed found examples of Ellison making any anti-Semitic comments himself.
Hmm. Which outlets might those be? It should startle no one to learn that Breitbart News is citing conspiracy theorist and Islamophobe Frank Gaffney calling Ellison a "very aggressive hard Leftist enabler" of the Muslim Brotherhood. More surprising, however, might be MSNBC hosting Professor Alan Dershowitz defending Steve Bannon and using Ellison as a counterexample.
"If Keith Ellison, who is a decent and good person, would be named head of the DNC, Hamas would support it and cheer," Dershowitz argued. "You can't always judge a person by supporters. What we are seeing in this country is a very dangerous development on both sides. We are seeing the Republicans move alt right and we're seeing the Democrats move hard left. I have to tell you, the only thing the hard left and the hard right have in common, they hate Jews, they generally hate Israel, they generally hate America."
Haaretz correspondent Allison Kaplan Sommer seized on this incident, characterizing it as "anti-Semitic mud" intended to counter criticism of Bannon. "It's not hard figure out why a fierce and comprehensive media offensive has been launched to paint Ellison as a radical Islamist sympathizer and anti-Semitic extremist at this particular moment," Sommer wrote. "The campaign is clearly designed to counter the widespread outrage against the appointment of Steve Bannon as senior counselor in the White House."
Rabbi Michael Latz, of Minneapolis temple Shir Tikvah, concurred. "To try to create an equivalency between Keith Ellison and a vile miscreant like Steve Bannon is an act of immoral desperation. Keith Ellison represents the best of our constitutional democracy and the best of America. Steve Bannon represents its worst," he told Sommer. Ellison has attended Shabbat services at the temple, Latz said, and is "an exquisite mensch, brilliant, a terrific community organizer who represents his constituency with great integrity."
Looking back, Ellison's response to the Washington Post in 2006—when he was running for national office and questions about his history of organizing were first raised—are prescient. "I never said anything that was anti-Semitic, racist, homophobic in any way," Ellison said, but acknowledged (again) that he was too defensive of the Farrakhan and the Nation of Islam for too long. "I chalked it up to typical mainstream press attacking African American leadership," he said. "When you're African American, there's literally no leader who is not beat up by the press."
Update, 4:45 pm – The ADL has made an abrupt and unexpected about-face on Ellison, questioning in a statement on Thursday whether "Ellison faithfully could represent the Democratic Party's traditional support for a strong and secure Israel," referencing a 2010 speech. The Hill reports:
In that speech, Ellison asked why "United States' foreign policy in the Middle East is governed by what is good or bad through a country of 7 million people."

"A region of 350 million all turns on a country of 7 million. Does that make sense? Is that logic? Right?" Ellison said at the time, according to reports cited by the League.

Greenblatt's statement goes on to accuse Ellison, "whether intentional or not" of raising "the specter of age-old stereotypes about Jewish control of our government."
The congressman responded to Greenblatt's most recent statement in a letter sent Thursday afternoon, the text of which was provided to Jezebel by Ellison's office:
Dear Mr. Greenblatt,

I appreciated our conversation several weeks ago before you issued your first statement in support of my work. As I expressed to you then, since being elected to Congress, I have been a strong supporter of the Jewish state, voting for more than $27 billion in aid to Israel. I also am committed to its safety and security, and believe in the importance of the U.S.-Israel relationship and striving for a two-state solution.

I wish we could have spoken once again before your most recent statement. If given the opportunity, I could have provided a full and proper explanation.

The audio released was selectively edited and taken out of context by an individual the Southern Poverty Law Center has called an "anti-Muslim extremist". My memory is that I was responding to a question about how Americans with roots in the Middle East could engage in the political process in a more effective way. My advice was simply to get involved. I believe that Israel and the U.S.-Israel relationship are, and should be, key considerations in shaping U.S. policy in the Middle East. Americans with roots or interests in the region, should be involved in advocacy and discussions of public policy concerning the region. My response was meant to encourage those in attendance to increase their level of involvement and effectiveness.

My record proves my deep and long-lasting support for Israel, and I have always fought anti-Semitism, racism, sexism, and homophobia - the same values embodied by the Anti-Defamation League. I believe that this is an attempt by right-wing interests to drive a wedge between long-standing allies in the fight for equal rights. We cannot allow that to happen.

I am saddened by your statement, but I am committed to building a strong relationship with you. Let's get together as soon as possible to discuss our shared beliefs and commitment to fairness and justice.

Sincerely,

Keith Ellison
The ADL, a non-profit organization, has come under fire recently from conservatives for its criticism of Bannon and the Trump campaign.
Update, 6:10 pm – Schumer maintains his support of Ellison: