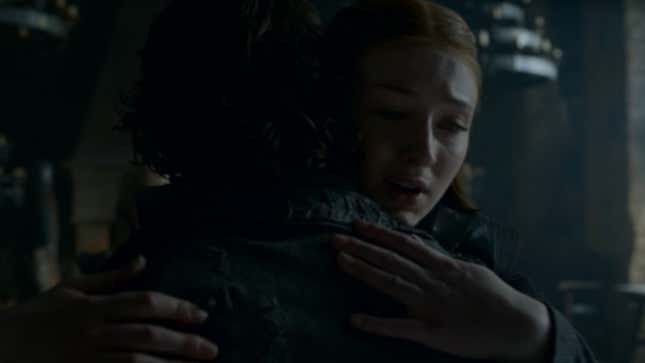 The most recent episode of Game of Thrones was maybe the closest thing the series will ever have to a Christmas special. Everyone was back together, reminiscing, making amends, fucking on bags of grain or whatever was in those sacks. It was all a little heavy handed, but still a lovely bottle episode and final bit of quiet before the army of the dead reach Winterfell.
Taylor Lautner Doesn't Even Remember Saying 'Bella! Where the Hell Have You Been Loca?'
But it was during one of those tender moments, as Theon and Sansa embraced following their reunion, that I realized something sad and fucked up: not only are a lot of our most beloved characters about to die—some of them are also about to be resurrected by the Night King to fight on the side of the dead. (Maybe this occurred to you already? It had not occurred to me until I saw Sophie Turner and Alfie Allen's respective cry faces.)
While Sansa and Theon held each other, I imagined Theon—face paler than usual, eyes empty—mindlessly battling against Brianne or Jon Snow. Fucked up and sad, right?
There was also some foreshadowing to suggest this is where we're heading: When Tormund Giantsbane (call me), Beric Dondarrion, and Dolorous Edd return to Winterfell, Jon asks about the fate of the Umbers at Last Hearth. They were "fighting for the Night King now," Beric replies. In the season premiere, poor Ned Umber, who at the start of the episode had asked for more wagons to move his people, was pinned to the wall and reanimated to kill Tormund and crew.
We also got a little taste of the horror of seeing a familiar character become a wight in Season 5 after being introduced to Karsi, a Wilding who fought alongside Jon and Tormund in "Hardhome" but was killed in the battle by child wights. (This was a particularly agonizing way for her to go given that earlier in the episode we watched her help her daughters board a ship to safety. I definitely cried.)

After Jon, Tormund, and the rest of the survivors begin to retreat from the battle, the Night King appears, makes intense eye contact with Jon, raises his arms, and resurrects the fallen—Karsi included. It was awful, and we only knew Karsi for 40 minutes.
Now picture that happening to Theon or Tormund. Life sucks!!