This is a photo of Taylor Swift's ex-future husband and MGM's ex-future James Bond, Tom Hiddleston, sitting outside at a cafe in Australia on Sunday afternoon. He looks busy, doesn't he? Like he's working on a college paper that was originally due Friday, but had its deadline extended to Monday, and now it's Sunday and he just started.
But Tom Hiddleston isn't at Cambridge anymore! He's a famous actor who has better things to work on in public, and I think I know what those things might be:
---
Option 1: He's FaceTimeing with a pal
Tom: Benny! Benny! Can you hear me?

Benedict: Tommy? Tommy? Are you there?

Tom: I'm here, Benny!
Benedict: I'm—
Option 2: He's working on a screenplay
FADE IN:

EXT. TANYA SHRIFF'S RHODE ISLAND HOME - DAY

We see TANYA SHRIFF (25) and TED HIBBLESON (32) sitting on a large rock. The sea in front of them is calm. The air surrounding them is cold. The love between them is real.

TANYA

I like you a lot.

TED

And I like you, as well. Very much.

TANYA

You're very good.

TED

As are you.

TANYA

I love spending time with you.

TED

I also enjoy spending time with you.

TANYA

Wow. I guess this might be what love is.

TED

Perhaps. Yes. Perhaps.

TANYA

I'm happy.

TED

Same.
Option 3: He's sending some emails
An email draft that reads:

TO: oliviasmom@t_swift.org

SUBJECT: A memory

T,

I was having a run down the beach this AM, and as the sun began to rise (I've not been able to get much sleep these days) I stopped, and remembered what you told me while we sat on the cold, "all-knowing rocks" (isn't that what you called them?) of Rhode Island. Do you remember what you whispered as you rested your head on my shoulder? If you do—and god, I hope you do—I just thought should know that you were right.

Yours,
Option 4: He's on Reddit
G/O Media may get a commission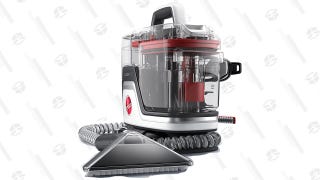 Save $10
Hoover CleanSlate Plus Carpet & Upholstery Cleaner
He's fascinated by it, and can't explain why.
Option 5: He's doing some Photoshops
Just some stuff he's been working on.