Another day, another occasion to wonder why retailers aren't more excited about the opportunity presented by the plus-size market.
Plus-size options have exploded in recent years—so much so it's easy to forget how few retailers overall have really jumped enthusiastically into the business. Why? In a long post examining the ins and outs of this longstanding mystery, Bloomberg's Gadfly blog points out:
Annual U.S. sales of women's plus-size apparel, often defined as a "Misses" size 14 and higher, rose by 17 percent to $20.4 billion in 2016, from $17.4 billion in 2013. During that time, overall apparel sales increased by 7 percent, according to NPD Group.

Customer demand could push sales of plus-size clothing even higher — if only retailers would fully embrace the category, NPD analyst Marshal Cohen told Gadfly.
Part of the challenge is that doing plus-size clothing right does require effort and expertise, and there are certain first-mover headaches that come with trying to expand into larger sizes. According to Bloomberg: "Factories in China, Vietnam and Bangladesh, which typically make clothes for several retailers at a time, are often not even set up to make clothing in larger sizes, and shifting gears is costly, said Linda Heasley, CEO of Lane Bryant."
At the same time, thanks to the rise of ecommerce, options have expanded dramatically in recent years, and there are higher expectations among shoppers. The sad basement corner full of the same three black polyester dresses won't cut it anymore. Making a play for this particular market requires careful planning and investment. For instance, J.C. Penney recently introduced a new "Boutique" section for plus-size customers rolling out in 200 stores nationwide, which will carry brightly colored Nike attire, for instance. Plus:
J.C. Penney also launched a new house brand called Boutique+ in collaboration with "Project Runway" fashion designer Ashley Nell Tipton. J.C. Penney has long offered plus-size clothing, but this new line, which launched May 1 in 500 stores, was crafted with plus-size customer's needs "in mind from the beginning, rather than just taking existing clothing lines and distorting them to fit a bigger size," Siiri Dougherty, who oversees women's apparel at J.C. Penney, told Gadfly.

Initial tests showed that creating a new boutique and contemporary line especially for women wearing plus sizes helped energize sales, though J.C. Penney declined to provide figures.
G/O Media may get a commission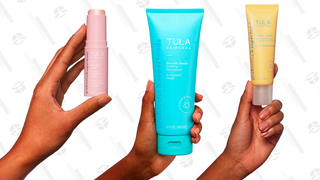 It's a smart move considering that, as Bloomberg points out, it's getting harder and harder to grow clothing sales in an era when customers are increasingly inclined to spend their money on iPhones and travel, rather than stuffing their closets. Maybe more retailers will wake up and realize just that.
---