Vice President-elect and the sternest mannequin in a homophobic bargain basement Mike Pence is fighting to keep the contents of his email private. The Indianapolis Star reports that Pence doesn't want to reveal the contents of an email sent to him by a political ally. It's almost funny, right?
Your eyes are about to glaze over, but stay with us, because this is deeply, unpleasantly important. The Star reports that Pence's administration redacted the contents of a "position paper" sent to him by Daniel Hodge, the chief of staff for Texas Governor Greg Abbott. Abbott was urging Indiana and other states to sign on to a lawsuit suing the Obama Administration over his executive action on immigration; eventually, 17 states joined the suit, including Indiana.
I see you drifting off. Don't, ok?
Pence's administration chose to use outside counsel for the immigration lawsuit, costing Indiana taxpayers a probably substantial amount of money. An Indianapolis lawyer named William Groth wonder just how much money, exactly, and filed an open records request for documents relating to the case.

"I think joining the lawsuit without the attorney general and hiring that firm was a waste of taxpayer dollars," he tells The Star. "And the people have the right to know how much of their money was spent."
As the paper reports, the Pence administration produced some documents, but not the contents of that white paper. There was "substantial redaction" in what they produced, which Groth objected to in a suit with the Marion Superior Court. But in April, that court decided that any redactions a state agency makes can't be "second-guessed" in a court proceeding. Groth is appealing, the Star writes, because allowing a government agency to redact anything they want with no judicial recourse is a very bad idea:
Pence's legal defense team claims the white paper is attorney work product protected by Indiana's Access to Public Records Act — and at the end of the day, matters of public records are not for a court to decide.

Groth argues the lower court misapplied the law.

"I think governmental transparency is an important concern of anyone who lives in a democracy – the governor cannot put himself above the law," Groth told the IndyStar.
G/O Media may get a commission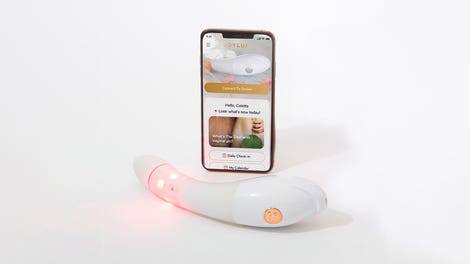 $50 Off
Joylux vFit Gold Device
The Pence administration appears to be working to set a new precedent, one where they get to decide what the public sees and whatever way they feel like interpreting open records laws. The Indiana Court of Appeals will hear oral arguments in the case on November 21. Thank you for reading to the end.