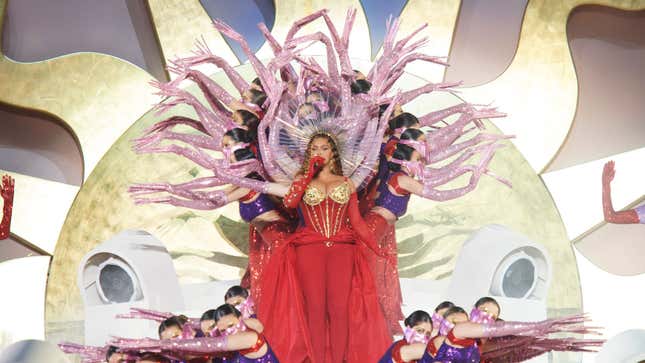 On Saturday night, Beyoncé finally made a live comeback after a four-year hiatus, delivering a one-hour live concert preceding the opening of Dubai's newest and most luxurious beach resort, Atlantic the Royal. She reportedly received somewhere between $24 million to $35 million for the gig.
Lucien Laviscount Dishes on Red Flags and Romantic Deal Breakers
The 1,500-person event included some of the biggest stars of today (Rebel Wilson, Kendall Jenner, and Liam Payne, Chloe and Halle Bailey, to name a few) and the UAE's top elites. While the concert had a strict no phone policy, some guests couldn't resist sharing the (highly concentrated) wealth, graciously streaming bootleg versions of the concert on Instagram live—a temptation that even Lizzo herself couldn't resist. But just like the footage nabbed from even the sleekest of iPhones, some details from the night still appear hazy.
Rather peculiarly, Beyoncé reportedly did not sing a single note from her latest album Renaissance, which has been widely dubbed as a tribute to Black and queer dance music. The record's glaring absence hints at the controversy that's been raised around the event, which centers the the United Arab Emirates' notoriously hostile—and at times deadly—laws against its LGBTQ+ population, which include the criminalization of same-sex activity and of being transgender. Many in Beyoncé's large queer fanbase felt as though by accepting the gig, their idol failed to read the gold-gilded, VIP-packed room. Others also criticized the star's existing wealth, pointing out that she obviously didn't agree to the performance because she was strapped for cash.
While the criticism has been just as heavy as the fangirling, a number of details about the weekend still remain unclear: For one, we still don't know who actually cut the music sensation her check. Would it make a difference if Dubai's tourism sector invited her to gig, versus a handful of elites who had money to spare? Secondly, it's unknown who cobbled together Bey's setlist and whether or not she had a say in it at all. Regardless, putting out an album entirely devoted to uplifting queer culture and debuting a comeback in a highly oppressive country does seem like a bit of a clash in values.
So, in the absence of Renaissance performances, what did the show entail, exactly?
The "Crazy In Love" singer opened the ballad-filled night with a cover of Etta James' "At Last," which many have taken to be a cheeky nod to Béyonce's much-anticipated return to the stage, accompanied by violinists decked out in gold headpieces. Her 19-song set also included renditions of "Flaws and All," "Halo," and "Spirit." For her performance of "Brown Skin Girl," Bey was joined by her 11-year-old daughter, Blue Ivy, who danced impressively in sync with her mom's back-up dancers. Though only an hour long, Béyonce donned three different show-stopping outfits over the course of her set (as you do, if you're Béyonce): Following a yellow-feathered ensemble, she wore a red and gold corset bodysuit before finishing the night off with a glittery pink minidress with leggings.
As for the hotel itself, its amenities are so fancy and so unbelievably expensive that I momentarily dissociated trying to aggregate them all: from gold combs and toothbrushes to Picasso art for sale. As per The Daily Mail, the hotel's guests—who could shell out an upwards of $285,000 for a suite—also have the chance to dine at "17 restaurants and bars involving eight celebrity chefs" and enjoy a cocktail at "Heston Blumenthal's debut bar, Resonance, where guests can admire a 21ft high aquarium containing 4,000 jellyfish."
Honestly, the whole affair gives off a bit of "Kim K invites her closest friends to a private island in the middle of covid" vibes. This was definitely an interesting choice.