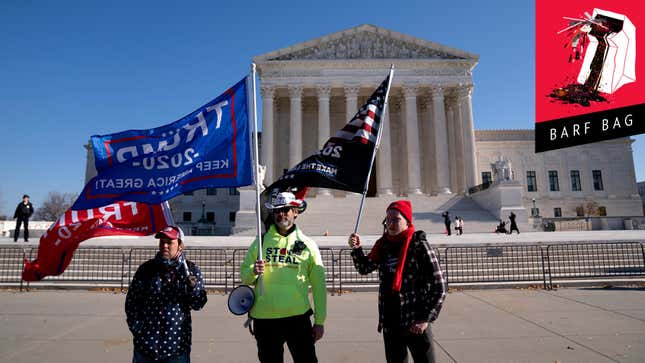 House Republicans are latching onto a Texas lawsuit calling for the Supreme Court to block four swing states from certifying President-elect Joe Biden's election victory, claiming that widespread voter fraud nullifies the results. There is no evidence of mass voter fraud upending the general election, and more than 50 suits claiming such have been tossed out of lower courts. President Trump lost, Biden won, case closed.

Betsy Wolfe Reveals the 'Most Embarrassing Thing That's Ever Happened' to Her on Stage
But as of Friday 126 House Republicans, including House Minority Leader Kevin McCarthy, have signed an amicus brief in support of the lawsuit which would effectively throw out millions of votes.
Republicans are still unable to accept that Biden won the states of Georgia, Michigan, Pennsylvania, and Wisconsin, and they're hoping that some allies on the Supreme Court will share their struggle. But this is a long shot even for the conservative-majority Supreme Court, and not all Republicans are gung-ho on the stunt, especially not in the Senate.
Politico reports that not a single Senate Republican has signed onto this amicus brief, and a few are even condemning the move entirely:
Sen. Ben Sasse of Nebraska said it looks like "a fella begging for a pardon filed a PR stunt rather than a lawsuit," a reference to the federal probe of Texas Attorney General Ken Paxton, who is spearheading the push. Sen. John Cornyn of Texas said the Senate GOP's distance from an effort that's so popular in the House "reflects skepticism about the legal theory about whether one state or a group of states can challenge state elections."

"I'm surprised," added Sen. Lisa Murkowski of Alaska. "Even more so, I was really disappointed that this is continuing in this way."

[...]

"I'm never surprised by the House of Representatives," said retiring Sen. Lamar Alexander of Tennessee. Later Friday, he told MSNBC's Chuck Todd that he's "having a hard time figuring out the basis for that lawsuit."
That's because there is no basis for a lawsuit. But it's not surprising that House members, who run for re-election every two years, are more likely to act as ride or die Trump devotees. God forbid they get primaried for not kissing ass enough.
Meanwhile, Democratic Congressman Bill Parscale has had enough with the antics: He wants to block the swearing-in of the 126 members who signed the amicus brief, arguing that they are could be considered traitorous.
And if that's not enough Civil War flavor for you, get a load of this, via Business Insider (emphasis ours).
Two states that do not exist are trying to join a lawsuit to invalidate the votes of four states that do.

Entities calling themselves "New California State" and "New Nevada State" have filed a brief to the Supreme Court in a case Texas has brought against Georgia, Wisconsin, Michigan, and Pennsylvania.

The amicus brief for the fake states was filed by Robert E. Thomas III, an attorney with an address listed in Nevada who is a member of the state bar in California, a state that is real.

Thomas told Insider in an interview that New Nevada and New California are "new states in waiting," and that each is a registered 501(c)(4) organization attempting to form new states using the proper Constitutional process. He said states like Pennsylvania administered their elections in a way that's "arbitrary and capricious."
Okay, ladies! Time to pick out an outfit for the boneless secession.
---
And on that note, it appears a Florida newspaper has some regrets. You see, the Orlando Sentinel Editorial Board endorsed Republican Congressman Michael Waltz in the 2020 general election. Waltz just so happens to be one of the 126 losers who signed the amicus brief. Now, the Orlando Sentinel realizes they might have made an oopsie.
From the Orlando Sentinel:
We apologize to our readers for endorsing Michael Waltz in the 2020 general election for Congress.

We had no idea, had no way of knowing at the time, that Waltz was not committed to democracy.

During our endorsement interview with the incumbent congressman, we didn't think to ask, "Would you support an effort to throw out the votes of tens of millions of Americans in four states in order to overturn a presidential election and hand it to the person who lost, Donald Trump?"

Our bad.
Would you excuse me while I scream?
---