Alcohol isn't the solution to the world's problems, but it can certainly help dull the pain of what will inevitably be a very, very long Tuesday that will hopefully (dear God, please) end in a nationwide sigh of relief that we are at least one step ahead of the apocalypse.

Are you stressed out? I am. And have taken to stress eating, which isn't my usual coping mechanism. Thus far, my stress-eating list includes a breakfast burrito, four egg rolls, a plate of jalapeño poppers, a lot of guacamole, some expensive ice cream and I'm gearing up to make a pan of brownies tonight. Oh yes, and alcohol.
Of course, I'm not advocating for anything unhealthy or illegal, but I think Tuesday will be a much smoother sail if we all dull the anxiety around Donald Trump potentially becoming our next president. Also, because fuck it. I am going to drown my nervousness in a nice glass or seven of wine before I maybe have to drown myself in a body of actual water.
Here's what the Jezebel staff will be drinking as we wait for the results of the most important, absurd and sanity-draining presidential election of our lives.
Clover: Whatever we have in the office.
Gabrielle: Hemlock

Macallen 72

Ramona Pinot Grigio
Stassa: Arsenic
Kelly Stout: I will be drinking IPAs until I'm so bloated I can no longer type.
Julianne: I'm gonna splurge on the expensive tequila beforehand in case the stock market plunges after a Trump win.
Kelly Faircloth: Coffee to keep me awake to make sure you all get home as the designated walker.
Ellie: I will have a white wine spritzer for hydration and because that is my drink of choice.
Rich: I will have my drink of choice, weed.
Joanna: I am going to drink only white wine but I am going to drink it for 8 hours.
Maddie: Rubbing alcohol so I can go blind.
Emma: I feel like some nice sauv blanc to get through the day, some tequila to get through returns, some champagne when it's over. Maybe an Albariño.
Kate: I'm not drinking anything all day and then at the end of the day it'll be whiskey.
Brendan: I have a sore throat so tea, probably. I'll probably switch to seltzer in the evening.
Bobby: I'll have a large iced coffee in the morning because I can't go a day without my java, and will guzzle cans of cider (Austin Eastciders, if I can find it) as the polls start closing. Depending on the results, I may need more java.
Anna: It'll be coffee till 4 for me, wine until 9, and then either tequila (good) or whiskey (god take me now) depending on what happens.
G/O Media may get a commission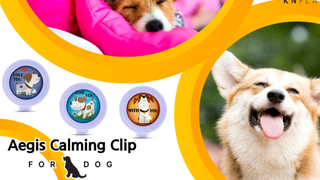 20% off
Aegis Calming Clip for Dogs
Emma and I will be taking similar routes, starting with white wine before switching to tequila—ideally immediately after I cast my ballot. And you? Godspeed and drink up.