BuzzFeed's Katie J.M. Baker just published an excellent, nuanced and confounding profile of Juanita Broaddrick, the 73-year-old Arkansas woman who has said for years that Bill Clinton raped her. Baker outlines both Broaddrick's deep and clearly very genuine desire to be believed, as well as the rabid political frenzy surrounding her claims. She also illuminates the deep dilemma they present for anyone who believes, as Clinton does, that sexual assault survivors "have the right to be believed."

Broaddrick alleged in 1999 that Clinton raped her in 1978, when he was State Attorney General for Arkansas. The rape occurred in her hotel room, she says, during what she thought would be a morning business meeting.
But the timeline, as it so often is with rape allegations, is muddy: in 1997, when she was subpoenaed during Paula Jones' civil sexual harassment suit against Clinton, she had signed an affidavit and denied under oath that the rape occurred. She told Baker that was her choice: "I did not want to get involved, and I signed it hoping to stay out of it." Bill Clinton has never been charged or tried with any crime against Broaddrick, including rape or assault, and both he and Hillary Clinton have adamantly denied the charges for years.
Kenneth Starr gave Broaddrick immunity from perjury charges during the Monica Lewinsky investigation, but found her claims "inconclusive." The allegations tend to predictably flare up when Hillary is running for office; Broaddrick first went public on a broad scale when she was running for Senate, writing the candidate an open letter calling her "conniving and self-serving."
The letter also claimed—a claim that Broaddrick has repeated many times in interviews with right-wing outlets— that Hillary Clinton tried to intimidate her into silence while shaking her hand at a campaign stop, a few weeks after the alleged rape:
As soon as you entered the room, you came directly to me and grabbed my hand. Do you remember how you thanked me, saying "we want to thank you for everything that you do for Bill". At that point, I was pretty shaken and started to walk off. Remember how you kept a tight grip on my hand and drew closer to me? You repeated your statement, but this time with a coldness and look that I have seen many times on television in the last eight years. You said, "Everything you do for Bill". You then released your grip and I said nothing and left the gathering.
G/O Media may get a commission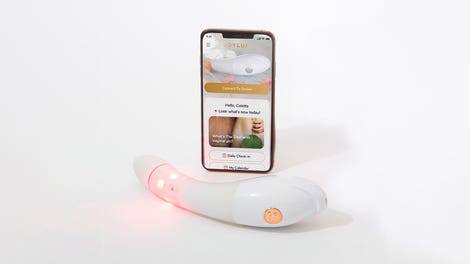 $50 Off
Joylux vFit Gold Device
After the Starr investigation didn't bolster her claims and Clinton won her Senate seat, Broaddrick retreated from public life. The matter lay dormant, sort of, until Clinton began running for president last year, heating up as she pulled further and further ahead.
But Broaddrick told Baker she's suffered intensely from what sound like PTSD symptoms in the intervening years:

Broaddrick said she is still afraid of enclosed spaces, from the backseats of cars to the last row in an airplane. After the alleged assault, she stopped meeting with men alone in her office. And she credits her 2004 divorce from her second husband to Clinton, too.

Her husband didn't want her to talk to Dateline, she says, and she felt he always blamed her for letting Clinton come up to her room.

"Clinton was always just right there," she said. "He was always there between us."
But Baker gently points out, too, that while Broaddrick claims to be resolutely apolitical, her Twitter feed is increasingly filled with Clinton conspiracy-theorizing, rife with posts about Benghazi and the Clinton Foundation. She's retweeted posts that accuse Hillary of being mentally ill and evidently believes a far-right claim that Clinton White House Deputy Counsel Vince Foster was murdered by the Clintons. (He committed suicide).
Broaddrick's relationship with Donald Trump is also complex. She told Baker that Trump didn't have her permission to use her voice in a brutal anti-Clinton ad that aired in May:

"He starts to bite on my top lip and I try to pull away from him," says Broaddrick — the clip is from the 1999 Dateline interview — who audibly tears up while Bill smokes a cigar in the background.

Trump's campaign did not ask for permission to use Broaddrick's voice in his ad, she said.

"I was really hurt," she said. "You take the most awful part of my Dateline interview, where I'm crying, trying to relate what had happened to me, and put that in a campaign ad? I thought it was very tasteless."
At the same time, though, she credits Trump with having empowered her to use the word "rape" in connection with her own experience:
Before this year, Broaddrick had a tough time saying the word "rape" out loud, she said. Then, in January, Trump used the word to describe her claims on The Sean Hannity Show. Afterward, Broaddrick realized she "can't skirt around it anymore," she said. "That's the correct terminology."
Baker's story adds another chapter to this bizarre and deeply disturbing saga, one that's energized conservatives looking to counter allegations of misogyny against Trump, even as it's stymied progressives who take sexual violence seriously. As long as there's no definitive proof of what occurred—and there never will be— this story won't go away. Not for us, and not for Juanita Broaddrick.