Yesterday, the Florida State Attorney's office dropped the rape investigation against FSU football player Jameis Winston, and of course, the Internet was a dick about it. So behold: our guide on how not to talk about the Jameis Winston rape case, since it's so hard for people to figure this out on their own.
Don't Prioritize the Football Season over the Rape Charges
And from Bleacher Report:
Now, the quarterback and his Florida State teammates can shift their full focus back to the football field. Florida State, which is currently ranked first in the BCS standings, is set to play in the ACC championship game against Duke on Saturday.

A win in that game would punch the team's ticket to the national title game. Having Winston available without the investigation hanging over his head any longer is a positive sign for the Seminoles.
G/O Media may get a commission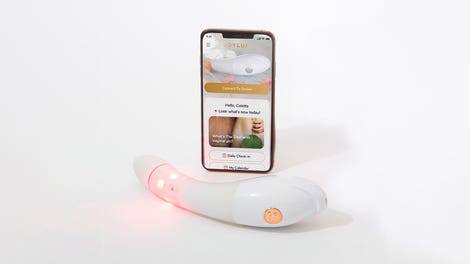 $50 Off
Joylux vFit Gold Device
I get mentioning FSU's record, or the fact that Winston is up for the Heisman Trophy. After all, Winston's star status is a part of why this story has gained the coverage that it has. But breathing a sigh of relief that he beat those pesky rape charges so that he can get back to more important stuff? That's tacky at best.
Don't Put Ron Burgundy First, Either
The collective "but the football" hand-wringing was so over the top in this case, that when I saw this Barstool Sports piece lamenting the cancellation of a Ron Burgundy-hosted SportsCenter, I reflexively thought that they were being serious.
Don't Write an Entire Article about the Accused's Girlfriend
Talk about irrelevant, the International Business Times seriously wasted ink on what it all means that Winston's girlfriend didn't tweet about the case.
Don't Speculate about the Complainant's Sex Life
This TMZ report needs to let you know that more than one person's DNA was found in the complainant's underwear. In the headline.
There's also this:
It doesn't matter that the 2nd person's DNA could've come from before the alleged rape happened, or after. Or even if the timeframe is suspect, maybe the second person had consensual sex with the complainant, while sex with Winston was not consensual. Lack of evidence may mean that we can't establish any of these possibilities, but it doesn't necessarily rule them out either. Comments and framings like these reinforce the notion that it's our right to judge a rape victim's credibility based on her sex life, without shedding light on whether the evidence is indeed insufficient.
Don't Automatically Assume that 'Insufficient Evidence' Means the Victim Is Not Credible
To counter the speculation that the toxicology report showing that the complainant had a .04 blood alcohol content, and that her unclear memory automatically means that she wasn't raped (see above Facebook comment, and this ESPN legal analyst's take), allow me to indulge in some speculation of my own.
Maybe a .04 BAC is enough for intoxication for this particular complainant. Maybe rape victims often unclearly remember the timeline of what happened to them, due to the trauma, and because memory is unreliable in general. Maybe we shouldn't take the Tallahassee police warrant at face value when it says that the complainant's memory is "very broken." After all, they've been accused of delaying this investigation, which State Attorney Willie Meggs himself criticized, and threatening the complainant for daring to ruin Winston's reputation by pursuing justice for herself.
I guess lack of credibility doesn't matter when it's the police, just when it's the accuser.
Don't Speculate that the Complainant Was 'Out to Get' the Star Football Player
This comment falls into the "women lie about rape all the time" trope, when in fact false rape reports are actually very low. Please also stop with the notion that star football players are the victims in these situations, when so many colleges have stopped at nothing to protect their athletes from such charges. This pattern, as well as all the tweets and Facebook comments supporting Winston shows that his reputation is probably okay, so cool it with the libel accusations.
If the above was all TL;DR for you, then here's the summary. Consider that those accused of rape are often defended and glorified, while survivors are automatically maligned, especially when athletes are involved. By all means, discuss Jameis Winston and cases like his, but don't do so by minimizing this crime, or the people who are victimized by it.
And last but not least:
Don't Laugh During the Official Press Conference
You bet your bottom dollar that it strikes the wrong note.