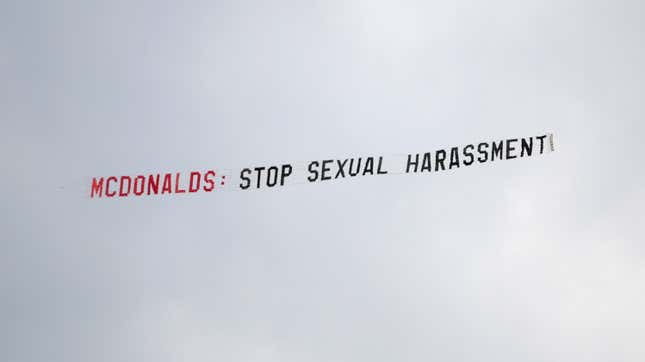 Last September, McDonald's workers in cities around the country walked off the job to protest the company's failure to take action to curb endemic sexual harassment in the workplace. Jamelia Fairley, who began working at a McDonald's in Sanford, Florida in the fall of 2016, was one of the workers who participated in the one-day walkout last year. She took part in the walkout to support two of her coworkers who had been sexually harassed, one of whom had joined nine other workers to file complaints with the Equal Employment Opportunity Commission that May.

Ana Gasteyer Satirizes the Girl Boss in 'American Auto'
"And then it happened to me," Fairley said on Tuesday during a press call. About two months after last year's walkout, one of the men Fairley worked with began making sexually explicit comments to her, telling her she had a "fat ass" and "I'll take you on a ride." The harassment didn't end there—he also would touch her without her consent, pinching her butt and rubbing his hand in her crotch. But when she reported his behavior, her coworker was simply transferred to another store, and Fairley's hours were cut from an average of 25 hours per week to about seven hours, a move she believes was clearly made in retaliation. When she asked to be transferred to a different location in March of this year, she was told that she could only be transferred to the McDonald's where her harasser worked.
Her take home pay now amounts to about $67 per week. "I can't afford daycare or half of my rent," Fairley told reporters on Tuesday.
Fairley is one of a new group of more than two dozen McDonald's workers who, working with the SEIU-backed Fight for $15 campaign, the ACLU, and the Time's Up Legal Defense Fund, have filed EEOC complaints and in some cases, lawsuits against McDonald's, charging that the company has done little to combat pervasive sexual harassment in both its corporate- and franchise-owned restaurants in cities around the country.
G/O Media may get a commission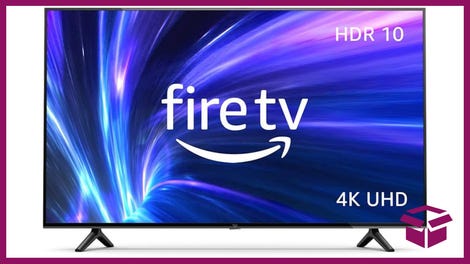 42% Off
Amazon Fire TV 50" 4K Smart TV
McDonald's CEO Steve Easterbrook recently stated that the company has trained its franchise owners on sexual harassment and "improved and clarified" its policies. In a statement emailed to the New York Times, a company spokesperson added that changes were implemented last year. "By strengthening our overall policy, creating interactive training, a third-party-managed anonymous hotline and importantly, listening to employees across the system, McDonald's is sending a clear message that we are committed to creating and sustaining a culture of trust where employees feel safe, valued and respected," she wrote.
But workers like Fairley say nothing has changed. "We haven't seen any training or any evidence of change," she said, adding that she has personally never received any training from the company on how to handle sexual harassment complaints. And the system that McDonald's set up to collect such complaints seems to have some major issues—when Latarsha Smith, a McDonald's employee in Myrtle Beach, South Carolina called the corporate hotline to report harassment, she was told to speak to the franchise owner, and when she returned to work, it quickly became apparent that word of her complaint had somehow leaked. She was fired a week later; her harasser was promoted to a new position in a different store. "How was it that I, a victim of sexual harassment, was treated worse than my harasser?" Smith said.
Fairley and Smith both want a union, and with all of the reporting on McDonald's endemic culture of sexual harassment, it can be easy to forget that one of the workers' central demands is for the right to form a union. McDonald's, which has long argued that as the majority of its U.S. locations are independently owned, they are not technically the employer of franchise workers, has actively resisted efforts by its employees to unionize. A case pending before the National Labor Relations Board could determine whether McDonald's is a so-called "joint employer," which as labor reporter Michelle Chen wrote in the Nation last year, "might pave the way for collective-bargaining rights, and hence unionization, under a broad contract for McDonald's employees nationwide." While the NLRB is currently stocked with anti-union Trump appointees, the Fight for $15 campaign is clear about its eventual goal.

The many, many complaints that women have filed against McDonald's have effectively highlighted the company's willingness to allow pervasive sexual harassment to continue, a chronic problem that is not limited to McDonald's but is industry-wide. But to truly have the power to hold companies like McDonald's accountable, activists say, workers need to have real negotiating power—and that can only come with a union.
"If the workers had a formal means to sit down and actually meet and discuss systems with McDonald's, that would be the most productive way to achieve change in the workplace," said Mary Joyce Carlson, the legal counsel for the Fight for $15 campaign. "That is precisely what happens when a workforce has the legal ability to have a voice in their working conditions."
If there were a union, "all the things we try to get through lawsuits could actually be negotiated," Carlson added. One of the important benefits of unionization? It would give workers like Fairley and Smith, both of whom say they have faced retaliation for speaking up about sexual harassment, recourse to fight back. "They would have a way to be protected from retaliation," Carlson said. "That would be one of the most significant ways it would help."