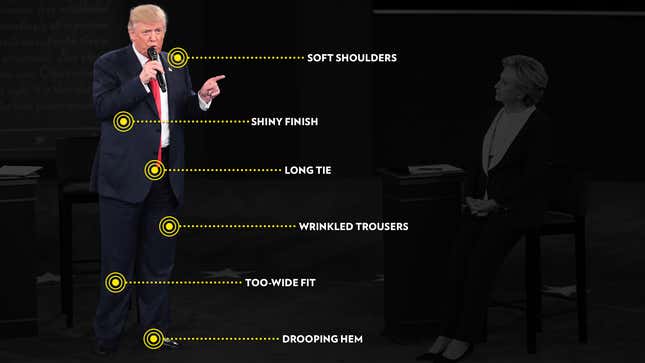 "Beauty and elegance, whether in a woman, a building, or a work of art, is not just superficial or something pretty to see," Donald Trump (or rather, Meredith McIver) wrote in the 2007 how-to Trump 101: The Way to Success. "Beauty and elegance are products of personal style that come from deep within. No matter how hard you try, you cannot buy style." Yes, well, that last point certainly seems to be the case!

Whether he's calling Rosie O'Donnell "chubby" and "a slob," allegedly forcing Miss USA contestants to submit to backstage judgments, or bragging on a hot mic about how easy it is to sexually assault "beautiful women," Donald Trump is unbelievably comfortable dehumanizing women and dictating their value based upon their outward appearances. His own appearance, of course, is a national joke, and although he wears a number of very expensive suits from several masterful tailors (Brioni and Martin Greenfield Clothiers—Obama's tailor of choice—among others, according to spokeswoman Hope Hicks), he can never quite pull them off.
To find out why, Jezebel reached out to Dominic Sebag-Montefiore, creative director/cutter at the legendary Savile Row tailor Edward Sexton. (This interview has been edited for length and clarity.)
---
JEZEBEL: So what, in particular, is going wrong for Trump in these two pictures?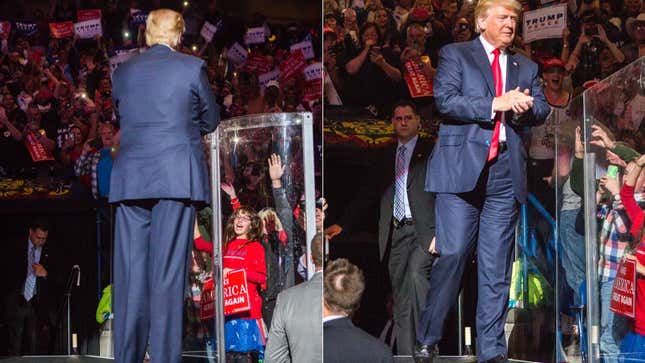 Dominic Sebag-Montefiore: One of the key problems is that it all looks very lightweight and very luxurious. I think he probably likes to feel quite comfortable in his clothes, so his trousers are quite full—and these luxurious clothes feel great to wear, but on a bigger guy, they don't necessarily hang quite as well. You know, they [don't] hang quite as well [on anyone].
He's also got quite a few shiny suits. It's quite showy to have a flashy suit, isn't it? It's a bit "showbiz"—that side of his personality comes through in these very shiny suits, and then he often goes for this very, very classic politician thing with the dark suit with the single color or the striped tie. And for me, the shoulders often look a bit pudding-y—lumpy—on him. They're not sharp, they're not crisp.
Why do you think that is?
I'm not sure. He might be buying ready-to-wear, and having to buy a size bigger in the shoulders to fit him around the waist.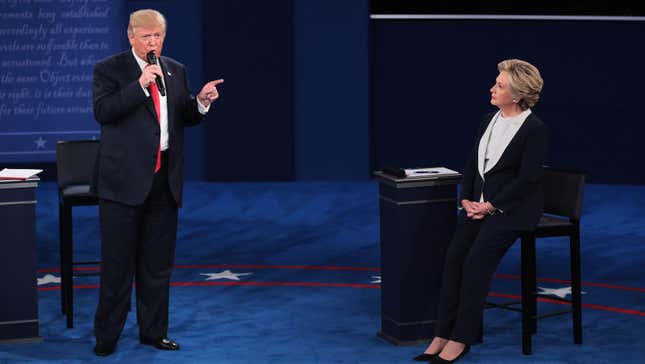 If you look at his left shoulder here, of the hand he's pointing at Hillary with, it's a lump and a bump—it dips down and falls off. I'd also like to make the bottoms of the trousers a little bit narrower, because it makes his feet look really small.
Do you think his ties are too long?
In the presidential debate, yeah. He also doesn't tie a very nice tie knot.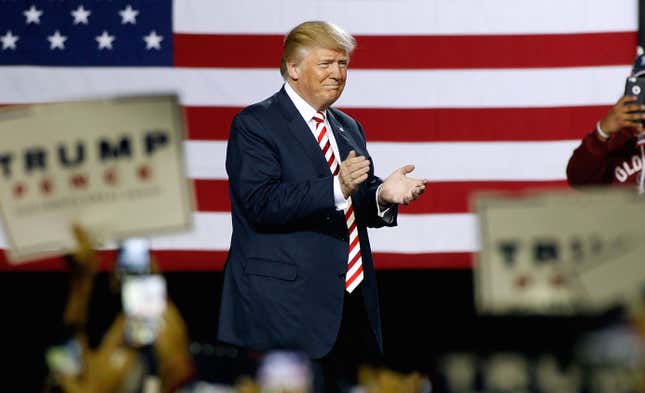 It all looks a bit plasticky around the tie and the collar, there's no—there's a word that the Italians use, it's called "sprezzatura," which means the beauty of imperfections. There's none of that expression in the right place, but there are these pudding-y shoulders and creases in the front of the trousers, which seem to be slipping down.

What could he have done differently?
For him I'd go with good solid cloth that won't fall into creases; you can see on the debate image, there are creases all over the front of his trousers. Come on, this is the presidential debate! So it might be a fit issue, but I think there's a cloth selection issue, he should be going for a sturdier cloth. If he wants it lightweight, if he gets hot, maybe that's an issue, but there are other ways to achieve that, like an open weave.
I think double-breasted would suit him well, keep it fastened and he'd look much smarter. He needs some work on his shoulders, and he wears a belt with a suit which isn't something that I would strongly advocate, so I'd like to see him wear a trouser slightly higher, with suspenders.
What are the qualities a man has to have to pull off a really nice suit?
He needs to be at ease with himself. You need to wear the clothes, the clothes mustn't wear you. And I think when someone has not an easy figure—he's not the hardest figure, but he's not the easiest; he's not Barack Obama, is he?—they need to be at one with that and allow the clothes to work with their weaknesses, as opposed to fighting against them. You can't interrupt your clothes, can you?
If Donald Trump came into your store, would you serve him?
We serve all our clients without discriminating against what they do or where they do it. We'd be more than happy to help Mr. Trump dress better—because at the end of the day, we all have to look at him.