White House Press Secretary Sean Spicer, a gum-horking obfuscator of Irish descent, is under a tremendous amount of pressure lately. Some of that pressure is showing up on his face, which appears to be turning a familiar shade of orange.
What, exactly, is making Spean Spicer's skin look like a different color? Why, exactly, is this happening? Is this happening, or are the photographs directly in front of me actually incorrect? And if so, did my cat vote illegally for Hillary before dying in the Atlanta attacks? These are ultimately unanswerable questions, as Spicer did not return my request for comment or put me in touch with his makeup artist, if such a person exists. However...
Some things we know: Trump is reported to care excessively about the appearance of his staffers. A source told Axios last month that "Trump hasn't been impressed with how his new press secretary Sean Spicer dresses," after which Spicer trotted out a series of less terrible suits.
Another thing we know: Donald Trump himself is inescapably, demonstrably orange, and appears to think that this is Good, because he keeps being orange. He is also close friends with Steve Hilbert, CEO of tanning bed/spray tan booth company New Sunshine.
And here is what I personally know, just free advice I'd like to share: The use of self-tanner, spray tans and/or bronzer is a treacherous dance when one's skin is quite pale, best mastered over years of practice.
G/O Media may get a commission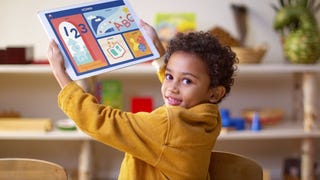 30-Day Free Trial
Homer Learn & Grow Program
Let's take a quick look at Spicer's mug over the past few weeks.
Above is Sean Spicer, then-communications director and chief strategist for the Republican National Committee, entering Trump tower on November 16, 2016. Life is amazing, the future is bright, and his face is sporting moisturizer at an absolute maximum.
Ahoy again! Nothing to see here, just the strained grimace-smile of a man who will soon face alleged disapproval from Donald Trump for being played by a girl on Saturday Night Live.
To reiterate what Spicer's face looked like before his press secretary appointment, here he is with a tiny salad going up the elevator of Trump Tower on November 29:
Approximately two months later, while giving the first of many relaxed and accurate statements to the press on January 21, it's clear that there are big changes afoot—both in terms of America's chances of getting nuked to hell, and Sean Spicer's chances of fucking up his pillows and comforter:

Someone looks healthy, except around the eyes, which remain pinkish-pale and bleary in a totally unique way.
Here is Spicer the very next day, looking pretty normal at a senior staff meeting:
Then, on January 23:
What has happened here? Only God and Sean Spicer and all of his enemies in the West Wing could possibly say.
A subtler look on January 25, although I'm still not seeing Sean Spicer's original skin color at all:
On January 30, Spicer proves himself to his boss by holding up papers with different colored highlights and forcing his face to blend into his hair:
And then, the next day... this:
Yes!
On February 2, we continue to have huge problems:
For comparison's sake, here's another image from the same press conference from Getty, featuring different lighting:
By February 7, things appear to have toned down quite a bit. (I'll note here that on that day's press conference livestream video, Spicer looked pretty normal, and that most people wear at least something on their face before going on television—although Obama's press secretary Josh Earnest doesn't appear to have had this particular issue.) Right in between Spicer's eyebrows, however, a stubborn telltale streak remains:
But today, on February 8:
Again, who knows what's going on here? Perhaps we're all actually dead right now, and I am writing this from the Central Well of Malebolge. But after all this alleged effort on his face—and additional efforts defending the president against claims that he wears a bathrobe, handing out misspelled lists of terrorist attacks against white people that the media didn't cover scarily enough, and supporting Jeff Sessions' nomination on behalf of Coretta Scott King—according to one source cited by CNN, Trump "regrets [hiring Spicer] every day and blames Priebus."

I'll add that Clearasil wipes work pretty well for streaks.