This year's Democratic Party Platform has been described as one the most progressive ever produced, particularly on the issue of sexual assault. "Democrats," the platform states, "are committed to ending the scourge of violence against women wherever it occurs —whether in our homes, streets, schools, military, or elsewhere." The platform's commitment to victim's services as well as expanding education was hailed by multiple women's groups, including the National Organization for Women.

That progressive commitment was reiterated on the stage of the Democratic National Convention, where Joe Biden highlighted the recent Stanford rape case and his work to end sexual violence on college campuses. Lena Dunham also praised nominee Hillary Clinton for advocating for protections for sexual assault victims. But at the convention itself, there was a gap between policy and practice.
On July 27, the third day of the DNC, Pennsylvania Bernie Sanders delegate Gwen Snyder says that she was sexually assaulted by a fellow delegate. Snyder, a progressive organizer from Philadelphia, told Jezebel she went to the bar at the Hilton DoubleTree, where Snyder and the entire Pennsylvania delegation was staying, to get a fork. While waiting, Snyder saw two fellow delegates and struck up a conversation about "shared frustrations." She was familiar with both delegates as a whip for the Sanders campaign.
She noted that both delegates had been drinking quite a bit and one of the men, in particular, had "been kind of tactile." When she went to leave the Hilton's bar, one of the men asked for a hug. Snyder said that for a variety of reasons, she felt pressured to consent to the hug. During the hug, Snyder says that the delegate sexually assaulted her, locking her in his arms, pushing his head into her chest and "aggressively licking" her breasts.
In response, Snyder says she "pushed him off, cursed him out, and 'got out of Dodge.'" She returned to her hotel room and, still angry and upset from the events, returned downstairs to find the Chuck Pascal, the head of Pennsylvania's Bernie Sanders delegation, to lodge a complaint. Snyder emphasizes that Pascal was empathetic and helpful, but he "didn't know what the procedure was," in large part because the DNC has no official procedure.
G/O Media may get a commission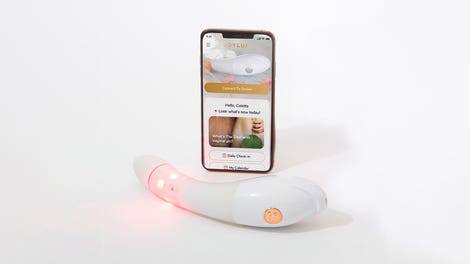 $50 Off
Joylux vFit Gold Device
"I was very insistent, I wanted [my assaulter's] credentials pulled," Snyder says, referring to the credentials that the DNC gives to every state delegate and which granted access to the floor of the Wells Fargo Arena. Unsatisfied with that answer, Snyder also met Cliff Levine, the head of the Pennsylvania's Clinton delegation, and a co-chair of the DNC's Host Committee, but again was met with the same response: concern and empathy but with no official procedure in place, state delegation leaders could do little to help.
So Snyder filed a police report. She says that even though she was reluctant to file a police report, she did so because she felt like there were no other options available to her. "I found a female cop," Snyder says, "there were a million cops on the street so it was like a ten-foot walk, I reported it, got the report number." She was told by the Philadelphia police that she would have to meet with their Special Victims Unit, which she did after the convention, during the first week of August.
After filing the report, Snyder met again with delegation leaders who reiterated that, to their knowledge, there were no official policies to address sexual assault between delegates. "Everyone [with whom]... I discussed my experience—both men and women—were almost universally supportive and empathetic," Snyder says. "They wanted to do something; there just wasn't a protocol or process in place to follow."
With no real recourse to have her attacker removed from the convention floor, Snyder had little choice other than to endure his presence. Snyder says that he was instructed to stay away from her which, she says, he did not do. He remained at the convention for the rest of the week. Video he appeared in even went semi-viral the following week. "It's so disempowering," Snyder says.
In an email to Jezebel, April Mellody, Deputy CEO for Communications for the Democratic National Convention Committee (DNCC), said:
As I said, no one on the DNCC staff was aware or has received any reports about this alleged incident. The safety and security of our delegates is our top priority and the Democratic Convention has no tolerance for harassment or sexual assault as underscored in our Party Platform. However, without additional information, it is impossible to comment.
But it's unclear what "no tolerance" exactly means. Neither the DNC nor the DNCC has a written policy on how to handle sexual assault complaints between delegates. In addition, there are no clear guidelines provided by the DNC or DNCC to state delegation leaders advising them on either when or how to remove credentials from a delegate accused of sexual assault.
Instead, a series of complicated decisions are left to a variety of people, including state party leaders, who appear to be unaware of that responsibility. According to the Pennsylvania Democrats' Delegate Selection Plan, a pledged delegate may only be replaced "when a delegate resigns or dies." It does not specially address removal or resignation for conduct, be it sexual harassment or assault.
It's a striking omission from the DNC and DNCC, particularly for an environment that publicly committed itself to inclusiveness and giving voice to sexual assault survivors. Ultimately, it's that very oversight that led Snyder to come to Jezebel. "I'm an organizer," Snyder says. "Action is how I process trauma and anger." Snyder would like to see the national organization establish guidelines to handle sexual assault complaints as well as a hotline so that she could "have contacted someone trained to deal with the situation instead of grasping at the people I thought might have been able to offer guidance." She added that the DNC and DNCC should have a "delineated procedure that empowers the survivor."
Snyder also emphasized that the lack of clarity and guidelines surrounding sexual assault was particularly disappointing given of the historic nature of Clinton's nomination.
"This convention was a very meaningful experience for me, as a woman and as a feminist," Snyder says. She notes that friends and colleagues helped her find her mother who was also on the convention floor so that they could watch Clinton's nomination together. "Sitting together as mother and daughter, watching as a woman accepted the presidential nomination for the first time ever felt deeply historic and moving," she added.
Snyder says she hopes that the DNC will put guidelines in place that will consider the particular safety needs of their woman delegates.