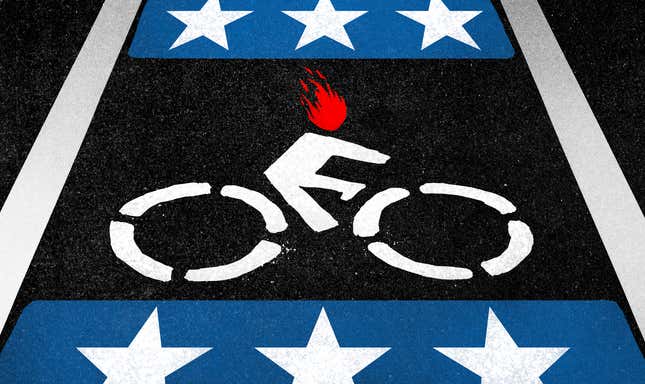 One day after Republican New Hampshire State Representative Robert Fisher was revealed to be the creator of radically misogynist Reddit forum "The Red Pill," a progressive bike activist running for a Los Angeles city council seat across the country faced a surprisingly similar uproar.

Taylor Lautner Doesn't Even Remember Saying 'Bella! Where the Hell Have You Been Loca?'
Last month, former bike shop owner and District 1 City Council candidate Joe Bray-Ali, 38, was reported to have participated in a number of racist, fat-shaming, transphobic online forums, seemingly including, for a brief time, Red Pill. Although the specifics of their actions differed substantially, Bray-Ali, like Fisher, didn't seem to find these reports politically disqualifying—he remains happily on the ballot in Tuesday's runoff election.
The Los Angeles City Council wields more authority than city councils in other large U.S. cities, with just 15 seats (only one currently filled by a woman, I'll note) each representing over 240,000 people. The runoff—the city's fourth trip to the ballots since November, thanks to a special election to replace former Rep. Xavier Becerra—has gotten a lot of local attention, though it's unlikely to attract a ton of actual voters. Bray-Ali's campaign followed a massive increase in local grassroots activity around the country from Democrats horrified by the results of the 2016 election, and in March, following a spirited primary campaign, he managed to secure a spot in a rare runoff between himself and District 1 incumbent Gil Cedillo.
"There was an incredible surge of community energy starting in November [after Donald Trump's election], when people really wanted to get active," former Bray-Ali campaign manager Ari Bessendorf told Jezebel in an interview.
Los Angeles is dominated by Democrats, but some of them take money from people like Trump-supporting billionaire developer Geoffrey Palmer; traditionally conservative-aligned special interests have found ways to exert influence even within a sea of blue. Cedillo, a liberal Democrat with a reputation as an advocate for immigrants, has been accused of being unresponsive to community needs and defending the interests of developers, billboard companies and oil companies. Bray-Ali, meanwhile, also a liberal Democrat (the seat itself is nonpartisan), was hailed by some as a kind of Sandersian challenge to an inadequate status quo.
Though the phrase "bike activist" may seem ridiculously small-scale when Donald Trump sits in the Oval Office, Los Angeles saw an appalling increase of traffic deaths by nearly 43 percent in 2016 from the previous year, and 53 percent of those killed were cyclists and pedestrians. Cedillo, who's backed by Gov. Jerry Brown and LA mayor Eric Garcetti, has not historically supported bike lanes, while Bray-Ali, a former bike shop owner, has been referred to as a "bike lane fundamentalist." Street safety and infrastructure overhauls are significant issues for progressive L.A. voters—though disagreements linger concerning the most equitable way forward—and Bray-Ali's campaign also focused on affordable housing and the environment, other important issues for the residents of a smog-choked, increasingly gentrifying city.
The runoff soon took a fairly explosive turn, as city council elections go. LAist reported in late April that Bray-Ali had left now-deleted comments as recently as a year ago in Voat, a sort of worst-of-Reddit sanctum for hate speech and #PizzaGate theories (also known as a "censorship-free community platform"). LAist's Aura Bogado found that under the username ubrayj02, Bray-Ali had commented in a discussion titled "v/FATPEOPLEHATE" about the rape of a minor (titled "Fat fuck holds down her daughter so her boyfriend could rape her. Absolutely disgusting."). "If they keep her on her diet, that won't be a long lifetime," he'd said, referring to the woman's prison sentence. "Just thinking of the amount of weight being applied to their joints when jogging … ouch," he wrote on another post just a year and a half ago in response to a video of an overweight woman jogging at the gym; this was his best-rated comment.
Elsewhere, he mused that the expense and risk of gender reassignment surgery "sets a high bar for other people who want to behave as another gender," labeling it a "shameful excess." Bray-Ali was also found to have participated in the astonishingly racist forum "v/Niggers," where he commented uncritically on a video of two black teenage girls fighting (called "Sheboons fighting at a gas station"). "If you actually had long hair you'd be fucked vs. a chick with a weave!" he wrote on the video. In other instances, he took a mildly more argumentative stance, lightly challenging some racist commenters. Not only did these comments seem to pretty clearly undermine the candidate's ability to preach progressive politics, they raised disturbing questions for area progressives, echoing some of the darker implications of the 2016 election within the Democratic party—namely, that racism, sexism, and a general insensitivity towards the concerns of marginalized groups is not a problem that exists solely on the far-right end of the political spectrum.
Bray-Ali's username, which he used frequently on a variety of platforms, had been flagged a week earlier when the Los Angeles Times reported on a YouTube video he'd made about a decade ago. In the video, which then-spokesman Michael Atkins said was meant to be a question for OC Weekly editor Gustavo Arellano's "Ask a Mexican" column, Bray-Ali said: "Dear Mexican, I'd like to know why all my neighbors think that the doorbell is a car horn. They wake up my baby." Bray-Ali, who the LA Times notes is of Indian, Hungarian and Irish descent and whose wife is Mexican and Chinese, apologized through his spokesman, referring to the video as "stupid."

Bray-Ali's response to the unsurfaced Voat comments veered from apologetic to obdurate to bizarre. He apologized to the LA Times, then claimed that he had been trying to "track" racist behavior. "Many of the things that I wrote, I didn't even believe them when I wrote them," he said. "I was trying to have an argument with racists online. I found a place where they go and I tried to spark an argument with them." He referred to his comments on gender reassignment surgery as "ignorant," saying "I didn't know what I was talking about" and that his views had since changed.
The next day, he gave the following response to a pretty straightforward question:
On Thursday, Bray-Ali spoke to CBS2's Dave Lopez. While he sounded somewhat contrite, Bray-Ali was asked by Lopez if he was a racist or a bigot.

Rather than just saying "no," he replied, "You know, that's a hard question to answer—it's like when did you stop beating your wife?"

He added, "I've lived a life that I think has clearly shown that those aren't things I believe in, those aren't values that I believe in."
Bray-Ali also told Lopez: "This is what I apologize for. I apologize for engaging in the cesspool of the internet." Later, in a KRCW interview, he referred to the LAist article as a "complete mischaracterization of who I am, what I said and what I believe," and said "I do not think [my statements] implicate me as anything other than someone with a bit of a morbid fascination in what people I disagree with are saying."
On May 1, LA Weekly found that Bray-Ali appears to have also participated in the aforementioned Red Pill forum, which proudly describes itself as "discussion of sexual strategy in a culture increasingly lacking a positive identity for men." Although his comments—left as recently as two years ago—lacked the shocking, bluntly pro-rape level of misogyny generally associated with the forum and its illustrious founder, here, as on Voat, ubrayj02 appeared to be quite engaged. On May 8, Bray-Ali was the subject of a scathing article by Sahra Sulaiman, the communities editor for Streetsblog Los Angeles, where she detailed a number of negative interactions she'd had with Bray-Ali and flagged even more insensitive comments he'd made online (one example, from a 2016 tweet: "I have read three straight months of trade reports hair-on-fire 'we need to embrace women and POC' articles.").
(Bray-Ali's campaign did not respond to multiple requests for comment.)
Sulaiman, who has advocated for the increased presence of marginalized voices in the debate surrounding bike lanes, referred to Bray-Ali as a "self-righteous bully" who "seemed to take particular delight in trolling me":
Despite his claims of being a "trained anthropologist" and of harboring a genuine interest in learning from people whose views differed from his own, he was much more forgiving of the racists he was supposedly "provoking" in the dark cesspools of the internet than he was of me and the lower-income black and brown voices I try to amplify through my work at Streetsblog L.A.
The candidate did not take kindly to Sulaiman's post, and opted to argue with her publicly about it on Twitter: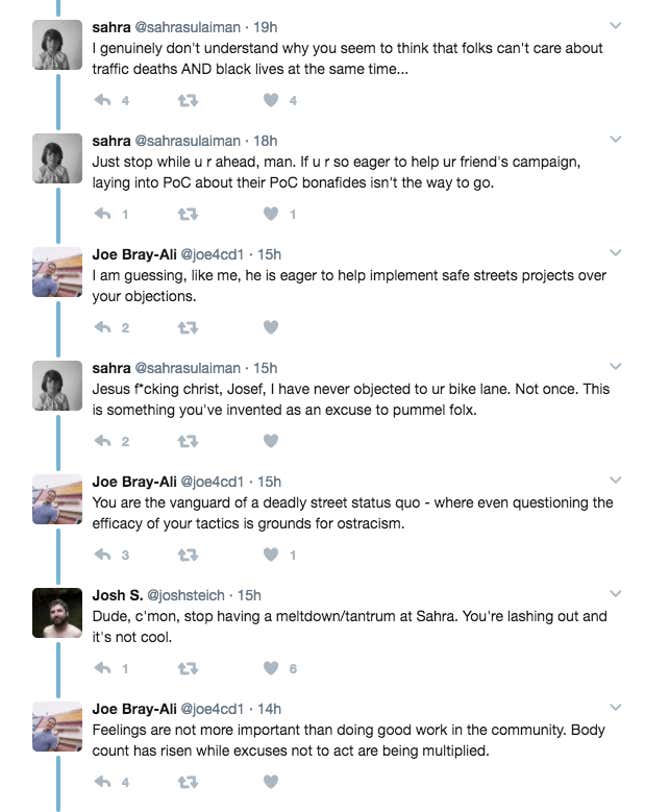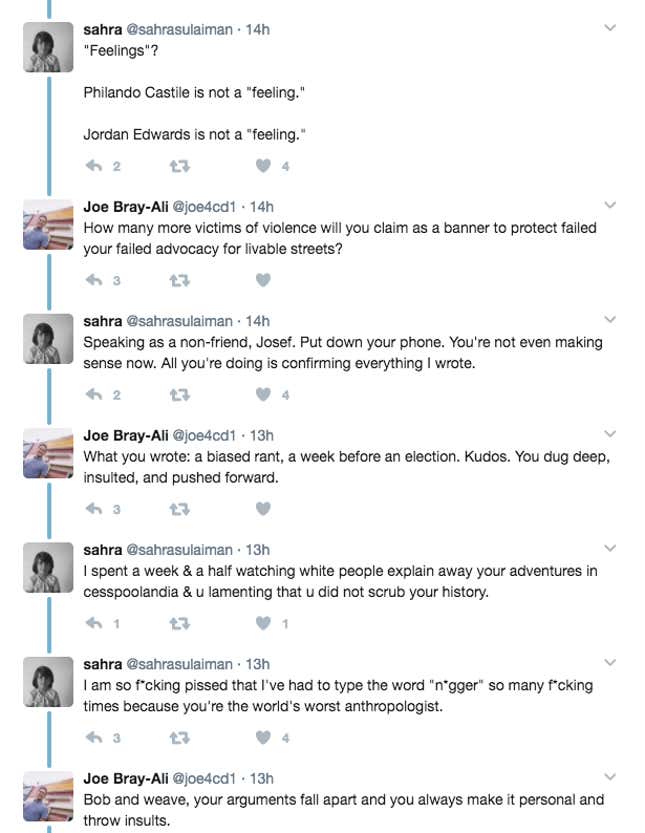 In her blog post, Sulaiman, who declined to comment for this article, wrote that Bray-Ali "is a product of this community and all that it represents."

"Most notably," she wrote, "how poorly it is able to examine and address its own implicit biases or acknowledge the extent to which it actively silences voices of color and others on the margins."
Following LAist's initial report, Bray-Ali lost prized endorsements from City Councilman Mitch O'Farrell, the Los Angeles Times, Bike the Vote LA, and the East Area Progressive Democrats. The Times editorial board, officially rescinding an endorsement "for the first time in recent memory," wrote that they'd backed Bray-Ali "because he seemed refreshingly energetic, well-prepared on the issues, knowledgeable about land-use policy—and likely to shake up what had become an entrenched political system." But the revelations, they said, raised "serious questions about both his judgment and his character."

In a Facebook post published on Friday of that week, Bray-Ali made the ill-advised decision to go ahead and vomit up additional negative information about himself before anyone else could, including some startlingly callous admissions of marital infidelity and failure to pay taxes. The post, which opened with "Here's the dirt on me," included the following (via LAWestMedia):
— "Flying Pigeon-LA LLC owes the State Board of Equalization for a failure to pay an audit and several quarters of sales taxes. The amount is ~$48,000 the last time I bothered to open the envelope."

— "I slept with several other women from 2011 to 2014. Not my wife. For a time I even had a Tinder profile."

— "I painted bike symbols (sharrows) in the middle of the night with friends, and on camera with German documentary filmmaker."

— "I have said many profane, rude, statements to people I've gotten into arguments with online."
That post has since been deleted. A week after the LAist story dropped, CBS Los Angeles reported that Bray-Ali had "shaken up" his campaign staff, with new communications director Rhonda Ammouri indicating that former campaign manager Ari Bessendorf and former communications and fundraising director Michael Atkins (Atkins had previously worked on a New Jersey congressional campaign) were replaced out of a need for "experienced" campaign staffers.
In separate interviews with Jezebel, Atkins and Bessendorf disputed the implication that they were fired. Both former staffers say they resigned the weekend after the LAist story broke, having hoped Bray-Ali would withdraw. Atkins and Bessendorf both said they had not previously seen Bray-Ali exhibit any problematic behaviors surrounding race, gender, or trans issues, and that they had not known about the online comments until just days before the story broke.
Bray-Ali's strong internet presence and comfort with Facebook Live had initially been seen as a campaign advantage, but "one of our volunteers started to pick up on The Red Pill stuff" in mid-April, Bessendorf said. This followed a few incidents that Bessendorf, a lawyer and consultant, sees retrospectively as having been red flags: first, Bray-Ali's "uncontrolled" livestream endorsement, against Bessendorf's advice, of Arturo Carmona in the special election to replace Rep. Xavier Becerra (in the livestream, Bray-Ali interrupts himself several times to talk to his dog). Carmona later faced accusations of sexual harassment, and Bray-Ali's reaction to the accusations was, Bessendorf felt, far from ideal: "A political hit piece is hard to trust this close to an election," the candidate wrote in a comment on Facebook, directly underneath a post where he'd written, ostensibly in response to the accusations: "Women are repeatedly held back because sexual harassment is condoned through reflexive dismissals."
And after the Cedillo campaign accused Bray-Ali of having once registered as a Republican, he initially claimed he didn't remember which parties he'd registered with in the past, but later divulged that he had registered as a Republican in 2012 to vote for Ron Paul because he was "an anti-war candidate."
"This is when I started to figure out that maybe he had a candor issue," Bessendorf said. After imploring Bray-Ali to work with the campaign to disclose the comments before the story broke, Bessendorf recalled, the candidate resisted. "I said Joe, we need to get ahead of this, and he was like whatever, man, no one's going to care about these comments. And then a week later all hell broke loose."
"From Joe, there was pressure to not give any 'smear' credence," Atkins recalled.
"I left because I didn't want to be fighting with someone, defending someone, who's not being truthful to me, and who is not making themselves fully available to the public," he said. The former staffers were protective of those continuing to work on Bray-Ali's campaign, however. "I don't begrudge anyone who's still working on this," Atkins said.
"There's a transit revolution going on in Los Angeles right now," he continued. "It's a robust conversation that now has this divisive, cannibalizing figure at the core of it. I hope advocates don't become gun-shy and slow their civic engagement."
According to multiple staffers, the reaction in the campaign headquarters after the comments went public was one of shock, surprise, and hurt. "Everybody was always very encouraging, it was a total safe space," said Allysa Avila, 24, who had worked under Bessendorf as an administrative staffer and quit the campaign when he did. "Leaving was not easy," she said, although she described Bray-Ali's comments as "really hurtful and not right, period."
"I'm not college educated but I always felt equal [in the office]," she added. "It was a good campaign, and there were good people working there, and we were all working hard so that Joe could make these changes in the community."
Correction: A previous version of this post misspelled Aura Bogado's surname.