When I was a kid, there were two best-selling books by photographer Jill Krementz that I read over and over, attempting to soak up the images, the words, the spirit of the narrative. One was A Very Young Gymnast. The other was A Very Young Dancer. In today's New York Times, we find out what happend to the little girl from A Very Young Dancer. "It's kind of a sad story," Stephanie DePierro tells writer Helene Stapinski.
The book followed Stephanie when she was a 10-year-old student from the School of American Ballet who landed a starring role as Marie in New York City Ballet's Nutcracker — a part for which she was handpicked by George Balanchine himself.
As a young reader, it was easy to believe that Stephanie's life was what other little girls only dream of: Dancing on stage, in wonderful costumes, for real audiences, on her way to being an actual ballerina. But Stephanie's life was actually far from perfect.
The book did not tell the whole story. Classes at the school were sometimes laborious and unpleasant, with strict, demanding teachers. Her attendance, she says, wasn't the best. She'd get headaches and miss class. Though she never argued or talked back, she says, she demonstrates how when she was really angry at a particular teacher, she would rise out of a plié, her hand extended outward, her middle finger up.

"I wasn't the poster child of the most dedicated student in school," she admits. "But when it came to performing I was 100 percent dedicated."
Basically, when she was about to turn 13, Stephanie was kicked out of the School of American Ballet. She and her mother told people she'd quit, but in reality, she was asked to withdraw. Of this news, she says, "I cried my eyes out." Her life following her early success, which abruptly came to an end, was all over the place: She worked in a monastery. She worked with the homeless. She fell into a depression.
At one low point she took a stack of the books to the Salvation Army and shoved them down the donation chute.
G/O Media may get a commission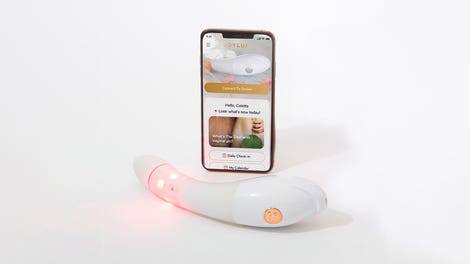 $50 Off
Joylux vFit Gold Device
Now an evangelical Christian, Stephanie lives in Wyoming, where she has lots of space and horses. You have to imagine that hers is just one of many, many stories of incredibly young girls gobbled up and spit out by the ballet world. There's so much pressure, so many physical and emotional demands. The Times calls Stephanie a "Storybook Ballerina." But the happy ending isn't quite what you'd expect. By the way: The subject of A Very Young Gymnast, Torrance York, is now a photographer.
Storybook Ballerina's True-Life Adventure [NY Times]