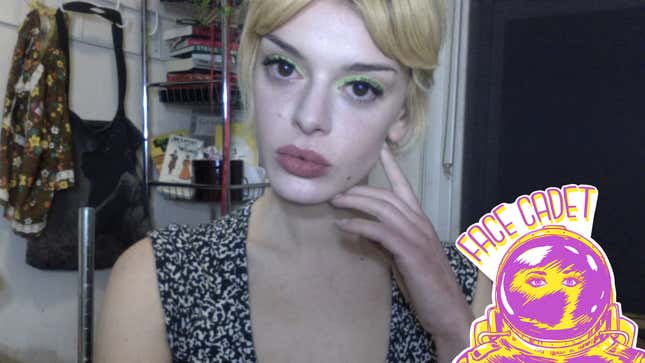 I'm Amy Rose, your prime Face Cadeteur, and hello. By way of introduction, here is my face sans interference. (Well, mostly—I wear semi-permanent eyelash extensions, so they're in this photo, too.)

I have a little bit of acne, a little bit of a lot of rosacea, and eyes that tell you exactly how much I never sleep. It's cool! I like it. But I also like doing long, contemplative makeup paint-by-numbers on my face whenever I can. As a years-running cosmetic maximalist, I have accrued both a professional reputation and slight credit card debt relating to this way of mustering, in front of my bathroom mirror, whatever decent mood I'm able. Applying makeup is a failsafe way for me to come back to myself, and if that's occasionally the case for you, too, let's swoon and grouse over it together.

I'm picking the products probed within each column on a scientifically slapdash formula of whether I think they're kind of new, kind of have to do with a Beauté Trend, and/or are generally interesting-looking. God knows that, if you are into makeup, you have read all the Glossier reviews you need as of now—and if you're not, you will probably be like, "Glossier than what, can you just tell me which kind of mascara to use." So, in the spirit of combining these two cosmetic approaches: Let's explore the outer (and inner) reaches of our face-spaces both known and -un.
A note: Some of these products were provided by PR companies per our request, and most were purchased by us. Every product reviewed here stands only on its own merits.
Milk Makeup Coverage Duo in Fair, $30, Sephora
What it is/is supposed to do:
Per the packaging, this is a "highly pigmented concealer duo infused with coconut oil, gingko biloba, ginseng, and aloe."
What it actually does:
Two fairly different things, both to an acceptable (but not $30-acceptable) degree. I'm typically bewitched by a two-for-one, so in choosing this product, I was smitten by the concept of "value!!!" as it is defined in makeup stores. However: I can't pretend that a total of three ounces of product in a Tic Tac–sized dispenser is a steal of a deal, and especially not when it's supposed to be couple of concealer powerhouses, both of which apply, in reality, kind of like limp BB cream you'd get at the drugstore. This bag of chips was mostly air: You have to use a good deal of either formula to notice any considerable change. I liked the rollerball, particularly under my eyes, because the dual effect of the light fluid/wrinkle-massaging applicator meant makeup wasn't just paving over the lines, tar-like, the way heavier concealers can. The "marshmallow concealer" was heavier, and difficult to maneuver: It globbed onto my finger in paste-like clumps and looked scarcely better on my face. This masqueraded as an okay preserver of time and money, but "value!!!" can only get you so far before you realize that, when it comes to s'mores and concealers, the marshmallowy twain should never have probably never met.
Most of the time face makeup is more expensive than other color cosmetics, but the twofer was distracting from the fact that this is literally two point five ounces of product. At one point while testing this, my friend began to sing "Concealla" to the tune of "Controlla." This is going RIGHT back.
Maybelline Volum' Express The Falsies Push Up Drama Angel Mascara in Blackest Black, $7.50, Target
[Note: You can see this mascara on my right eye through the remainder of the photos and GIFs in this article!]
What it is/is supposed to do:
Per the brand's website: "The Falsies effect gets angel wings! Exclusive Push-Up Wing brush sweeps lashes to the side, while lifting and plumping from the roots." Exclusive!
What it actually does:
Acknowledge and understand that I am a card-carrying DRAMA ANGEL! (Everyone says it.) That, plus a false-lash devotee, so I feel uniquely qualified to comment on this mascara's performance, which is perfectly decent. It has a skinny, comb-shaped plastic applicator that very gently imparts the mascara gunk—it took me three coats to wind up with a discernibly different lower lash line, but when I did, my eyelashes were threadlike in their definition and weight, four times their normal stub-length, and looking nice, generally, if we accept that nice is what you say when there's nothing else to note. I recommend this mascara if you want to apply every one of the world's best adjectives and nouns-as-adjectives to your head at once, given this product's name, and particularly if you like long, delicate, individualized lash looks. Also, being nice and a Drama Angel at the same time, which I truly do.
Maybelline Volum' Express The Colossal Spider Lash Mascara, $6, Target
[Note: You can see this mascara on my left eye through the remainder of the photos and GIFs in this article!]
What it is/is supposed to do:
Per the brand's website: "Volum' Express® The Colossal Spider Effect™ Mascara delivers bold volume and maximum length for dramatic eye makeup looks."
What it actually does:
Sit just fine with me. Its oblong wand tapers usefully from the width of a pencil point to a pinecone-lookin' fat base, and pointing the slender side to your outer lashes means hitting your inner ones with the broader part of the spire—which, in turn, means success. This isn't for those of us who are after precise lash definition—but if you are not only fine with but rabidly desirous of volume above all, you'll likely be into this. One coat, stroked on like you're oil-painting with a feather, is more than enough, and your lashes get that glopped-together triangle look if you decide otherwise (an effect which I also love, but am trying to be equanimous about, given that I imagine both card-carrying Tammy Fayes like me and no-makeup Margarets alike are reading this jawn). Never put this on in a car.
Make Up For Ever Pro Sculpting Face Palette, $45, Sephora
What it is/is supposed to do:
Per the product copy on Sephora: "A four-in-one cream palette that naturally and easily transforms your face with the power of light."
What it actually does:
Not so very much! The coverage and pigmentation were both too sheer to transform much of anything, whether I used my Beautyblender or my fingerprints. The lightest pearlescent shade made me look pallid, which the brown contour shade contrasted with too harshly. That wasn't so bad, though, because it was barely true. Using this palette was kind of like when, as a teenager, I was told you could get high on oregano: You try it out, and then spend double the time you did using it trying to convince yourself you notice any difference. I am insulted on behalf of the "power of light," and that you are expected to pay almost half a sawbuck for these flimsy nothing-creams—I'm bummed, too, because this product comes in an inclusive shade range, which is on the rarer side when it comes to contouring/highlighting products. The one upside is the coral/rose square: I had never used a reddish shadow to contour my forehead before, and doing so with this palette resulted in a pretty, biological-looking smear of color, for the little it showed up. I'm looking forward to trying that color-blend in actual existence. In the meantime, for those desirous of an adjustable contour kit: This one from Cover FX comes in a range of shades.
NYX Cosmetics Lip Lingerie Liquid Lipstick in Exotic, $7, Ulta
What it is/is supposed to do:
Per the product copy on Ulta: "Slip into something seductive with NYX Cosmetics' Lip Lingerie Liquid Lipstick, a weightless liquid lipstick with a plush matte finish. Available in a range of color-kissed nudes, each sultry shade will coat the curves of your lips with irresistibly creamy color."
What it actually does:
PRETTY MUCH EXACTLY THAT, PLUS WIN ME OVER IN TOTAL, AND PROMPT MULTIPLE CUTENESSES TO MACK IT TO ME AT A FRIEND'S BIRTHDAY. (God, I am so bad at even fake-flirting now that I have had a partner for a while; I told one of these strangers that I was "loyal, like a dog" and another that they should "try an IV drip of Soylent sometime"—these remarks made about as much sense in the moment; the lipstick still heroically made up for that.) I really love this matte, which is excellent both on its own merits and if you are looking for an even less expensive cognate for the less-expensive cognate for Kylie Kizzez Lip Gritz. The color is instantly rich and uniform, and the effect is both understated and a fucking transformative revelation. The wand lets you line your lips if you're careful—like, incredibly careful, 'cause this formula sticks to whatever region it lands on (another wonder; the birthday party went on for four hours/mad drinks, and, with no reupholstering whatsoever, my lips looked extremely decent when I got home). Tonight, I made a ham, spinach, and parmesan panini for dinner, and this lipstick didn't care at all. I'm going to leave it to itself in my last will and testament. A must-cop.
Sephora Collection Colorful Shadow & Liner in Fresh Limeade, $14, Sephora


What it is/is supposed to do:
Per the product copy on Sephora: "These jumbo pencils create a range of effects, from bold lines and blended effects to thin, defined lines. Resistant to water, heat, and humidity, their creamy, high-pigment formulas apply smoothly. […] Each is formulated with exclusive waxes and pigments to assure maximum color intensity that stays put for 12 hours."
What it actually does:
Make me happy as fuck. This is a lovely color, and I find it looks best on natural, un-made-up or otherwise shadowed eye-skin: You can experiment with negative space, like leaving a line of unpainted surface area between your eye itself and where you place this color higher up, or just do like I have here and paint in one thick block of product that overtakes lots of room. I also like that this color is buildable, and that, though it lasts forever, you can just wipe it off with your finger as easily as though you were erasing it, should you make an application-based mistake—this is, I think, because it's wax-based? That makes up for the fact that, as with most eye color pencils, you don't have the most acute sense of control, but you don't need it. (I also imagine you'd have to sharpen this a lot). Weirdly a better contour than the contour? More definition. My eyes are slightly different shapes/sizes, and this made that seem less true, plus shone out beautifully from their corners. Get it in this ideal lime color, or the gold I almost got instead and am going back for immediately, or any strong color you've worried might flake off/look dumb in powder form. Going forward, I intend to Roy G. Biv up my zones with as many of these as poss.
Benefit Defined & Refined Brow Kit in Shade #3, $34, Sephora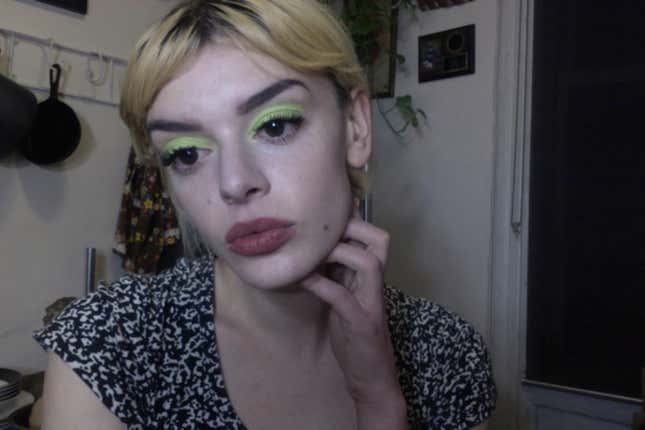 How this looks, aka like a little too much for my tastes, but a strong brow isn't so bad if that's your bag.

What it is/is supposed to do:
Per the packaging: "Shape 'em up like a pro with this precision brow kit!" This is a four-piece eyebrow intensive that includes the brand's Browvo! Conditioning Primer, a "brow mapping tool," a High Brow Pencil highlighter, and Precisely, My Brow Pencil, a retractable brow liner and spool brush combo.
What it actually does:
The useful products included in this li'l toolkit are limited to the brow pencil, which is good enough, and the High Brow pencil, which is difficult to apply over any face makeup you might have applied around your eye area without messing it up. The "brow mapping tool" is fake-math landfill filler: It takes the true and basic premise that you can use any skinny, non-poisonous cylindrical object to line up your brows (here's a guide that uses a pair of tweezers) and adds a useless miniature ruler and some of the kit's retail cost. Skip skip. Brow primer is also a capitalist lie; skip skip. I do love this brow pencil, though, with which you can outline your natural brows, extend thin tails, and then brush them into pronounced, but still natural-looking, windowpanes to yer soul. If you're looking for a brow pencil/spool double-down, I think you should just cop that individual item (Sephora has it for $24, which is kind of expensive for this non-life-changing quality). High Brow is another extraneous product whose work is probably better achieved by a highlighter you already own, or by a less $$$ product, like these great under-$10 illuminators from e.l.f. cosmetics and Maybelline.