Zooey Deschanel's breach-of-contract lawsuit against Steve Madden — who agreed, and then reneged, on a deal to produce a line tentatively called "Zooey's Shoes And Accessories" — reveals some details of how the celebrity-clothing-line sausage gets made. And paid for.
Women's Wear Daily, which has seen Deschanel's full complaint, has the money quote:
[T]he court documents allege that Madden approved a $2 million up-front payment to Deschanel in order to use her name and likeness, plus a 5 percent domestic royalty fee and a 4.5 percent international royalty fee.
Celebrity clothing and accessory lines have proliferated in recent years. Lauren Conrad has her Kohl's line. The Olsens sell a line at J.C. Penney. Nicole Richie is in jewelry, accessories, and apparel. Lindsay Lohan, despite her legal troubles, is diversifying into handbags for spring. Sarah Jessica Parker says she takes her role at Halston very seriously. Jennifer Lopez and Marc Anthony just announced a deal with Kohl's. Alexa Chung did a collection for J.Crew's brand Madewell. Miley Cyrus has her Wal-Mart line; Selena Gomez has her "Dream Out Loud" line for K-Mart. Madonna is killing it with her Macy's tween line, which is planned to be only the first of her many apparel licenses under an agreement with Iconix. And while you may believe the Kardashians are already a Beverly Hills cottage industry of licensing, a full Kardashian "lifestyle" line, including everything from swimwear to denim, is planned for 2011.
Sometimes these deals fizzle — even the ones that sort of make sense, like Natalie Portman's short-lived line of vegan shoes for Té Casan — and of course quickie celeb clothing lines aren't really a new frontier in retail. Joan Collins had a jeans line in 1978. Her business partner was Philip Green, who would later found Topshop, which had a line with Kate Moss until earlier this year, and so the whole thing comes full circle.
G/O Media may get a commission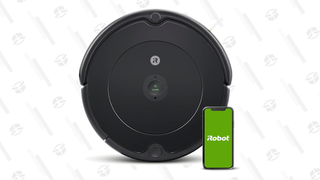 35% Off Black Friday Deal
iRobot Roomba 694 Robot Vacuum
But while celebrity clothing lines may not be "new," they are a growing retail category. And as common as it now is, that weird consumer experience of seeing a top or a pair of shoes in a store and turning over the label to find Jessica Simpson's face on it, and as much blog and tabloid noise is generated by every deal announcement and line release, the overall phenomenon has been very little analyzed. Why, it's almost as though the celebrities were there not to design clothing at all, but to generate headlines and sales momentum while distracting the public and the media from certain less savory aspects of apparel production, like environmental degradation and labor abuses! And when it comes to celebrities and their clothing deals, numbers — verifiable numbers, signifying money — are rarely part of the discussion.
So assuming Deschanel's deal with Steve Madden is typical of the genre — and an up-front fee plus a percentage of sales is the usual structure — what does this tell us about who makes money on these deals? Well, for starters, it means that stories like this should never be written:
With her southern charm and girl-next-door appeal, it's hard to believe that Jessica Simpson is in fact a fashion powerhouse, sitting at the helm of a nearly $1 billion empire.
People was cribbing from a Women's Wear Daily piece that began:
In the here-now, gone-in-a-flash world of celebrity fashion lines, there's one surprise survivor who might be on her way to becoming a $1 billion fashion powerhouse: Jessica Simpson.
Simpson, whose name is licensed to 22 different kinds of products, realized $750 million in retail sales in 2010. Apparently, "selling three-quarters-of-a-billion-dollars worth of crap" is the new "having a billion dollars."
It's not clear from WWD's excerpt of Deschanel's lawsuit whether the royalties she would have earned from the Madden line were to be calculated based on gross revenue — the licensed brand's total sales — or on net income — sales less expenses. But if we assume that Simpson has a similar deal, and if we assume (generously) that her royalties are against gross, not net, then 5% of $750 million in sales is $37.5 million. Which sum Simpson would have to split in some fashion with the manager who negotiated her deal. Is that still an incredibly generous payday for a celebrity whose duties might include a meeting or two with the designers doing the actual work, tending to a handful of official promotional engagements, and submitting to the indignity of actually "spontaneously" wearing the relevant licensed tat in public once or twice? Duh. (Deschanel, astonishingly, was set to earn her $2 million fee + points for a contracted 13 days of work.) But it's still nothing akin to "a nearly a $1 billion fashion empire." And the people really making bank on these deals are the stars' industry partners: Bob Galvin and Vince Camuto of the Camuto Group, in Simpson's case, and convicted felon Steve Madden, in Deschanel's. The rag trade! It's rich men you've basically never heard of getting quietly richer, always.
Zooey Deschanel Sues Steve Madden [WWD]
Jessica Simpson Building $1 Billion Fashion Empire [People]
The Sellebrities [WWD]
Jessica Simpson: Fashion's Billion Dollar Baby [WWD]
Steve Madden Begins His Prison Term [NYTimes]