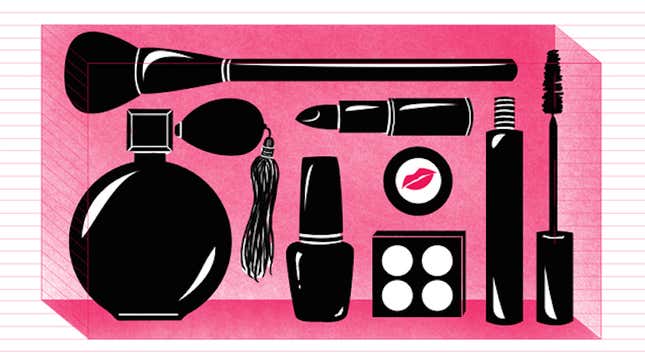 Welcome back to our review of subscription beauty boxes. Which ones are worth it? Which ones are full of junk? Reader Brandi Morgan Kirchgessner guides us through this world of mystery treats. Here's what she's received recently.
Taylor Lautner Doesn't Even Remember Saying 'Bella! Where the Hell Have You Been Loca?'
Petit Vour ($15 per month, $23 to Canada)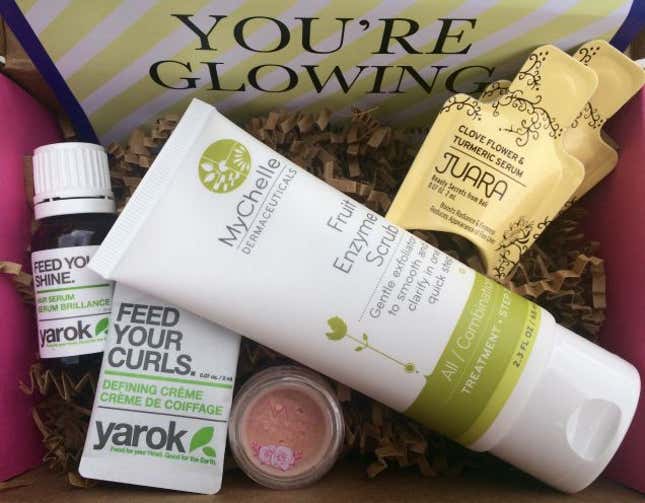 The August Petit Vour contained:
This box was worth $37.92. Petit Vour is a vegan, cruelty-free subscription. The theme this month was "You're Glowing," so all the products are meant to make your skin or hair glow. The teeny packet of Feed Your Curls Defining Creme wasn't included on the product card — it was just thrown in as a little extra, so that was a nice surprise. This box was sent to me free of charge, so, for ethical reasons, I gave the products away after reviewing them.
I had heard of MyChelle before, but this is my first time trying one of their products. I absolutely love scrubs, so I was happy to see this was full size. The exfoliating bits were very fine, so it did not feel like I was tearing my skin up as some exfoliators do. It was a little different from other scrubs I have used because after applying it and massaging it into your skin, you have to let it set for a few minutes to let the enzyme do its thing. It has bamboo extract to exfoliate and then fruit enzyme to help repair skin. My face felt smooth and soft after using it. I really love this product and am so happy I finally had the chance to try out a MyChelle product!
The Modern Minerals Tea Rose Finishing Glow gave me a very pretty, subtle pale pink shimmer. I'm really not into finishing powder as it always seems to look obvious on me, but this one is better than the others I've tried. My main complaint about this is the packaging. While I am sure the full size of this is much easier to use, this sample size container has a small mouth, making it impossible to get a big, fluffy brush inside the container to collect the powder.
There were two very small packets of the Juara serum. I love trying new serums. They are usually so expensive, so I never buy them. While I was a little disappointed in the size of the packets, I liked that there were two of them. You can get at least a few uses out of each one. This serum felt a little thicker and oilier than other serums I've used. I liked it a lot.
The Yarok Feed Your Shine sample was a really good size. A few drops of the oil really upped the shine on my hair. I don't have curly hair, so I didn't try the little Feed Your Curls sample out.
I really liked all of the Petit Vour products this month! Petit Vour has turned into one of my favorite subscriptions. I loved the theme and thought all the products fit the theme really well.
---
Beauteque BB Bag ($24 per month plus $3.95 shipping to US; ships everywhere, check website for international shipping rates)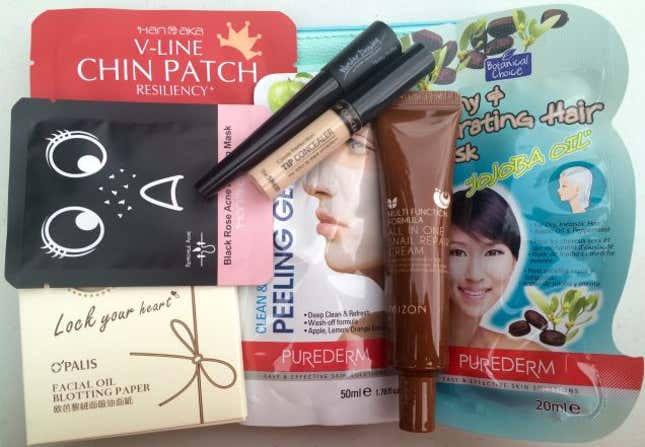 Here's what I got in the August BB Bag:
The August Beauteque BB Bag was worth $48.72. The Black Rose mask was thrown in as an extra bonus to say thank you to subscribers. Overall, this is was a good month for Beauteque.
Pure Derm peeling gel is your average face peel. It sloughed off all the dead skin from the surface and made my skin feel refreshed and like it could breathe again. I love peels, so seeing this in my BB bag made my day.
The Pure Derm jojoba hair mask is a moisturizing mask. I let my girlfriend, Emily, use it because her hair has been dry this summer. She really liked it and found her hair looked a lot better afterward.
You were able to choose from a few shades of the Saem concealer, so I chose the lightest. It was still a little dark on me and it had more golden undertones, while I have pink undertones. It also was very, very thick, even for concealer, and it looked very obvious. This won't be getting much use from me.
I needed a new liquid eyeliner, so I was happy to see that there was one in this bag. It was a thinner liquid than I am used to, so it was a little hard to control at first. I got used to it pretty quickly and found that it was great for tightlining because the eyeliner was so thin. It wasn't quite what I was looking for, but I like to tightline, so this will get a lot of use.
The V-line Chin Patch struck me as a little strange. I am not sure how a sheet mask that loops around your ears and rests under your chin is supposed to change the shape of your face to make it more v-shaped. Emily wanted it because she thought her chin needed some firming. While she thought her skin felt soft after using this, it did not become more v-shaped. No real surprise there.

The Palis blotting papers were quite average as far as blotting papers go. They absorbed oil from my face midday without messing up my makeup.
Ever since I have started getting Korean beauty boxes, I have wanted to try a snail treatment! I finally got one! Snail mucus is collected by having snails move around and collecting the little trail they leave. The snails are not harmed. Snail mucus is supposed to speed up healing, so it is the perfect thing to use if you have popped a pimple and want to improve its appearance quickly. I noticed that the little cuts I put it on did seem to heal faster than they normally do. I am a snail mucus convert.
Finally, we had the little bonus Black Rose acne mask. My face has been breaking out terribly this summer, so I was happy to see that! I was surprised it looked and felt like sticky black tar on my face. It was just about impossible to wash off, but my face felt nice and tight after using it. I just used it last night, so I am not sure how well it fought acne, but I am hopeful.
I really loved Beauteque's BB bag this month. Korean beauty boxes are, for me, all about trying stuff you would never find in the U.S., so the products that have unconventional ingredients are what I am really looking for. Beauteque did not disappoint.
---
Mask Maven ($15 per month plus $3.95 shipping US; ships everywhere, check website for international shipping rates)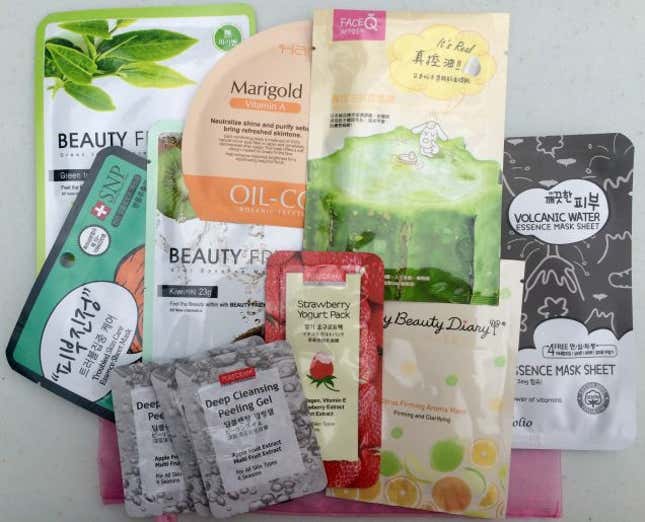 This is a new subscription for me! It is put out by the same company as the BB Bag, but it has only masks in it. I actually got one last month, but it was a couple of days too late for the article, unfortunately. I loved last month's, which included a foot mask and an eye mask (both things I had never tried), and then some great face sheet masks. I couldn't wait to get this month's Mask Maven. The August theme was "Troubled Skin: Acne and Pores," which, as I mentioned above, is something I could really use help with this summer!
Here's what was in the August Beauteque Mask Maven:
The August Mask Maven was worth about $18.96. It was hard to find prices on many of the masks, so I had to estimate on the masks that aren't linked to a website above.
There are only so many sheet masks you can use in a short period of time, so I haven't been able to try all of them yet. I'll do a quick rundown of the masks I haven't had a chance to try yet and tell you what they are supposed to do. The SNP Troubled Skin Care mask is meant to heal and nourish skin and help keep your skin from breaking out. The Beauty Friends Green Tea mask is full of antioxidants and moisturizes your skin, while their Kiwi mask contains vitamin C and cleans and moisturizes skin. The Pure Derm Strawberry Yogurt pack cleans and softens skin and contains vitamin E and collagen.
On to the masks Emily and I have had a chance to try. Emily loved the My Beauty Diary Citrus Firming Mask. It's meant to moisturize and reduce oil. Emily enjoyed the citrus smell and thought her skin felt amazing after. She was sad there was only one of these.
I was a big fan of the Esfolio Volcanic mask. The volcanic ash is said to kill harmful bacteria that cause breakouts. My skin started to calm down a bit after I used this. This is, I believe, my first time using a volcanic ash product, but I would love to try more in the future.
I have often seen dried loofahs, but I had never seen what a loofah looks like after it is picked. There is a picture of it on the mask package of the FaceQ luffa mask, so I thought that was interesting. I hadn't realized that loofah extract reins in oil production. My face felt a lot less oily in the T-zone after I used this mask, so I need to find myself some more loofah.
As you may remember, I got the Hanaka Marigold Oil Control Sheet Mask a few months ago in the Beauteque BB Box. My ex tried that one and absolutely loved it. Her skin was working overtime on oil production and she found this really helped her face stop looking so shiny for a few days.
There were three Pure Derm Deep Cleansing Peeling Gel packs, two as part of the normal subscription, and a third thrown in as a thank you to subscribers. This peel worked well. I could see the dead skin accumulating while I was massaging this peel into my skin. It gently exfoliated and my face felt so soft afterward.
I am a huge fan of Mask Maven! I absolutely love sheet masks, so this is the perfect subscription for me. It's fun to use sheet masks during spa nights with friends. I liked the theme a lot and felt that the products fit the theme well. I can't wait to see next month's Mask Maven!
---
Kloverbox ($25 per month, US only)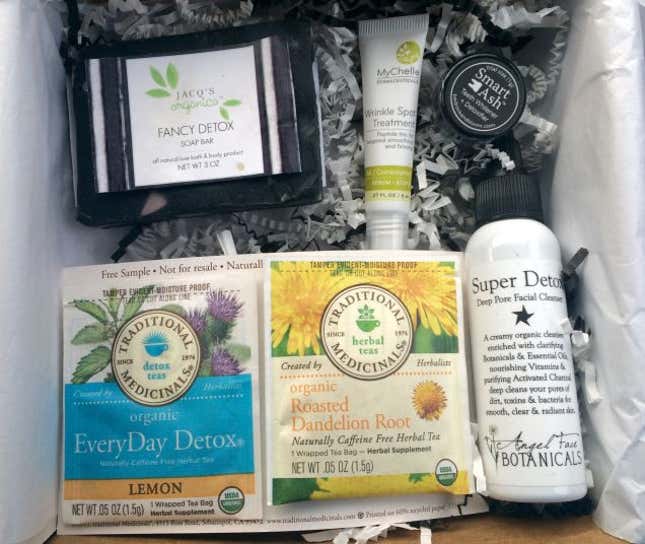 The following items were in the August Kloverbox:
The total value of this was $59.00. Kloverbox is one of my favorite boxes, so I am always excited to get it in the mail. It is a box that is natural and organic. Most (often all) of the products are vegan. The theme this month was "Detox and Diminish" and I thought the theme was a great one for the end of the summer and the products fit the theme well.
I could not wait to try this new soap from Jacq's. Bar soap isn't all that common in beauty boxes, so it was nice to get something I don't have twelve of already. It's a pretty black bar of soap with pink and green confetti bits along the side. The black color is from activated charcoal, the pink is from rose clay, and the green from olive oil. Activated charcoal is an amazing detoxifier, so I love seeing it in beauty products. The bar smells wonderful and my skin felt so soft after I got out of the shower. The Angel Face Botanicals cleanser contains activated charcoal, too. I had forgotten when I went to use it that it had charcoal in it, so I was momentarily surprised by the dark grey color of the liquid when I squeezed it out of the bottle. It also has argan oil and vitamins and is meant to clean your pores out. I am a big fan of this and like that it is somewhat affordable.
I got a Bedrock and Bloom Smart Ash sample in my Vegan Cuts box last month and adored it, so getting another sample of it in the August Kloverbox was a welcome surprise. Again, this has activated charcoal in it. I've had a chance to use the Smart Ash more and I've definitely noticed a slight whitening of my teeth. You just need the tiniest amount of powder each time you brush your teeth, so even though this sample is very small, it will actually last you quite a while.
I got a MyChelle Dermaceuticals item in my Petit Vour, and now I get one in my Kloverbox, too. This is a full size wrinkle spot treatment that retails for $38.50, so this was a nice surprise. It has a rollerball applicator and you just roll it over wrinkles to help smooth out the skin and make it firmer. I am lucky that at 33, I don't have any real wrinkles yet, but I gave it a try on some parts of my face that had fine lines that look like they might eventually turn into wrinkles. They looked better after just one application, so I was impressed. I would love to hear how it worked for people who have wrinkles, so if you've given this a try, tell me all about it in the comments.
Finally, there were two tea packets, both meant to detox your liver and kidneys. One was a lemon detox tea and the other was a roasted dandelion root tea. I haven't had a chance to try these out, but I thought it was a nice inclusion to help round out the box.
Kloverbox knocked it out of the park yet again. The curation is simply wonderful each month; it is clear that the person responsible is putting a lot of thought and care into each selection. Having themed boxes is always fun, but sometimes the themes can be a little nebulous or the products have questionable connections to the theme. That isn't the case with Kloverbox. Kloverbox has been coming very late in the month, so do be aware of that if you order it. The woman running Kloverbox was doing it all by herself, but she has now hired two people, so she is hoping to get the boxes out earlier in the coming months.
---
Onyxbox, $25 per month (US only)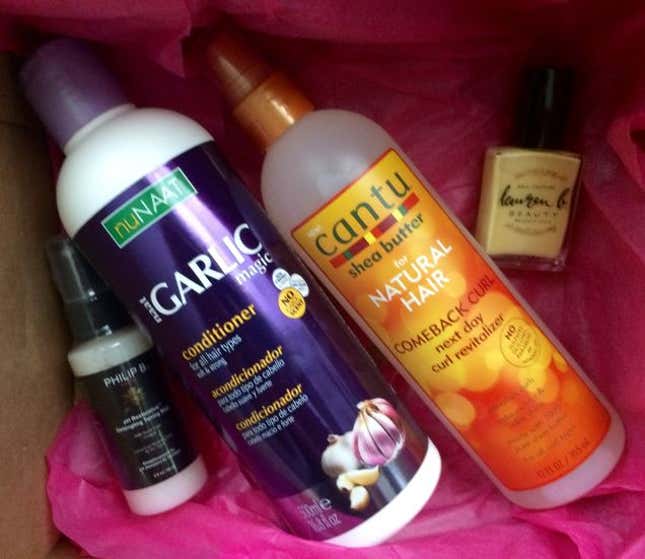 I got another box from Onyxbox, the subscription by and for black women. For this box, I got the help of my friend Tina in testing the products. This box was sent to me free of charge, so the products were given away after testing.
In the July Onyxbox were following items:
This Onyxbox was worth $42.18. The value has risen since the last time I reviewed the Onyxbox, so I was happy to see that.
Tina really liked the Cantu curl revitalizer. It is for natural hair, so it was a perfect choice for her. Her curls sprung back to life after spraying this product on.
I was a little weirded out at first by the nuNAAT Garlic Conditioner. I know I am in the minority, but I hate garlic and can't stand its smell. The bottle said it had no garlic odor, but I was a little skeptical. It was telling the truth. Because this conditioner is for all hair types, Tina and I both tried it out. We loved how our hair felt after using it and didn't notice any garlic odor during use or in our hair after getting out of the shower. This is a relatively inexpensive conditioner, so that is another big plus. Tina is interested in trying out other items in this haircare line.
I have gotten the Philip B mist in another box, so I was already familiar with this product. It is good for any hair type. Tina and I both liked the detangling power of this mist. It also adds some shine and manageability. Whenever my hair gets a certain length, I often get a little rat's nest where my head meets my neck. This eliminated that tangled mess, so it's a powerful product. The travel size of this product lasts quite a while.
Last but not least, we have the Lauren B nail polish. I've been getting Lauren B polish in a lot of boxes lately. I thought the pale yellow creme Zuma Beach Bum was a gorgeous color, but it wasn't all that flattering on me. Fortunately, it was beautiful on Tina. She fell in love with it instantly! I really like the Lauren B polish formula. As an added bonus, it is also vegan and 5-free, meaning it is free of potentially harmful ingredients.
Tina and I both loved this Onyxbox. We both wished the box contained some makeup or skincare. Hair products are great, especially when most beauty boxes fail to send subscribers hair care products that are appropriate for natural, textured hair, so I understand why Onyxbox focuses so heavily on that category. Tina finds, though, that many of the makeup products in other beauty boxes are completely inappropriate for her dark skintone. While I urge all beauty boxes to begin tailoring boxes that are appropriate for women of all races, colors, and hair types, until that day comes, black women are counting on Onyxbox to fill that gap. I hope we see some makeup and skincare products in their future boxes.
---
Glossybox, $21 per month US and Canada (also has many international versions)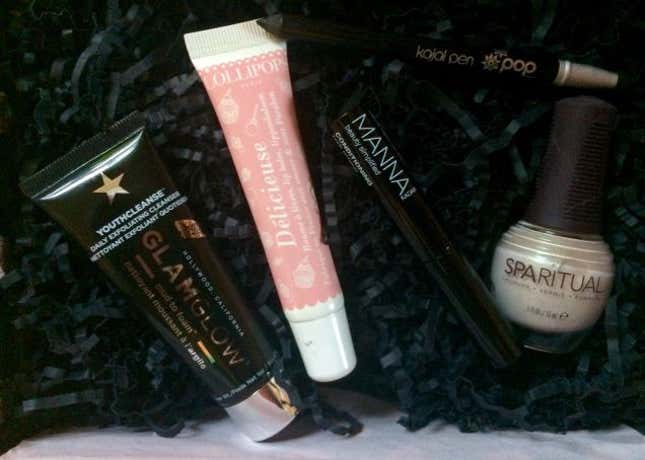 The August Glossybox is one of my least favorite of all the Glossyboxes I've gotten. It wasn't horrible, but I have come to expect a lot from Glossy. This box just wasn't up to their usual high standards.
Here's what was in my August Glossybox:
This month's Glossybox was worth $59.30. The value is on the lower end of Glossybox values, but it is still almost three times the cost of the box.
First, we had the Pop Beauty Kajal Pen. I got this eyeliner in purple from another beauty box a couple of months ago. As you all know, I am swimming in black eyeliner. I think black eyeliner is probably the most common beauty box product. Beauty box companies, I assure you that your subscribers have all the black eyeliner they need and beseech you to stop including it in boxes. Also, Pop Beauty doesn't make the highest quality products, in my opinion, so I never like seeing them in my boxes. The eyeliner didn't go on as smoothly as I would have liked. However, the inclusion of a smudger on the other side of the pen is nice.
I was excited to try out the SpaRitual nail polish because the color, Water Lily, a pearly white, was gorgeous. The color looked great on my nails, but the formula was absolutely terrible. It took forever to dry, and, even once it was dry and had a topcoat on it, it had a very soft feel to it and chipped off easily. I can't recommend this polish.

When I first heard of lash primer last year, I was a little skeptical. I already use foundation primer, eyeshadow primer, and lip primer — do I really need to use yet another primer?! I tried one lash primer and found it did nothing. The Manna Kadar Lash Primer, though, has changed my mind! This lash primer is simply amazing. It gives me so much more length, more volume, and better definition than I get with mascara alone. This is a game changer for me. On top of making my lashes look even more fabulous than normal, it also conditions lashes. I highly recommend this product.
I'm already a huge fan of GlamGlow (although I am certainly not a fan of their prices). I tried a single use packet of their new Youthcleanse earlier this year and loved it, so I was happy to see that I was getting a bigger sample of it in this month's Glossy. The Youthcleanse exfoliates and deeply cleanses skin in order to keep you looking younger. Whether or not this makes me look more youthful is up for debate, but it feels good on my skin. The exfoliation is gentle, which I like. I hate when I feel like I've rubbed sandpaper all over my face after exfoliating, so gentleness is a big plus. I have to say that, after using this, my skin has never felt so clean. If you're looking for an anti-aging cleanser, this is a great choice.
The last product in my August Glossybox was the Lollipops Makeup Lip Balm. Lollipops is a French company and it does not appear that their products are sold in the US. I did not like this one bit. The balm was thin and clear. It had a very sweet smell and taste to it. My lips felt wet and greasy when I had it on.
While I adored two of the five items in this month's Glossybox, the other three items were just no good. The GlamGlow Youthcleanse and Manna Kadar Lash Primer were fantastic, so this month was far from being a total fail. I hope September is better.
---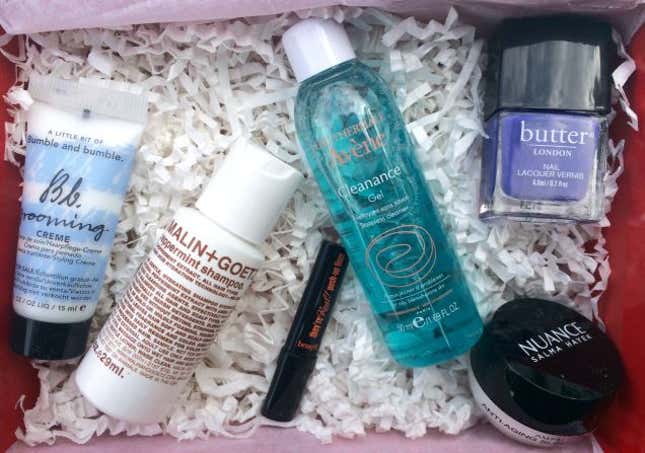 I really enjoyed the Malin + Goetz Peppermint Shampoo. It smelled great, made my scalp feel a little tingly, and left my hair looking great. My only complaint about this is that the sample size is so small. I like to give shampoos a few uses when sampling them, but it can be hard with how little shampoo samples generally are in beauty boxes.
I hadn't realized Salma Hayek had a beauty products line until I received the Anti-Aging Super Cream in my August Allure box. The cream felt nice on my skin and was very moisturizing. It was also nice that it is meant for morning and night use so I would have to pack only one moisturizer if I were to go on a trip. I wish I could speak to the anti-aging properties of it, but I will have to give it more than a week's use to determine how well it works in that department.
My hair type and style do not require Bumble and Bumble Grooming Creme, so I made Emily try it out. She needs a lot of moisture and texture, so she was eager to try this product. It definitely gave her some good texture that held through most of the day. Her hair seemed a little less dry, but not significantly so. She liked it, but not enough to spend $30 on.
I got a Benefit They're Real Push-Up Liner in one of my very first beauty boxes. I didn't have much luck using it the first time, but that was a long time ago, so I was willing to give it another try. The shape of it is supposed to make it hug your lash line. I found that it did follow the lash line well. My main issue with it is that the eyeliner seemed really dry and it was hard to use because of that.
The Butter London Violet's Revenge is a beautiful color, so I could not wait to give it a try. It just never wanted to dry, so every time I tried to use it, I ended up messing it up and having to start over. This was a bit of a disappointment.
Finally, we have the Eau Thermale Avene Cleanance Gel. I loved this! It smelled so good, it felt smooth and soft on my skin, and it gave my skin a deep cleaning. It also got the makeup off that I had missed with my makeup remover. This isn't terribly expensive, so if you're in the market for a good facial cleanser, give this one a shot.
I liked Allure quite a bit this month. Not every product was a major hit with me, but half were. The Eau Thermale cleanser is one of the best beauty discoveries I have made recently, so I was very happy about that. I am definitely seeing some serious improvement now that Allure has completely taken over curation of the box.
---
Choosing a winner is hard! There were some great boxes this month. Onyxbox, Allure, Kloverbox, Petit Vour, BB Box, and Mask Maven were all fabulous. This is my least favorite Glossybox in quite some time, but I am hoping they will make a comeback next month. I can't wait to hear all about your beauty boxes in the comments!
---
Brandi Morgan Kirchgessner has always loved getting mail and wearing makeup, so she was ecstatic to discover beauty boxes. She lives with her three dogs and five cats.

Illustration by Tara Jacoby.