In her new installation at the Winkleman Gallery, Jennifer Dalton picks apart the lack of female guests on the Daily Show with Jon Stewart, among other programs. (Image courtesy of Dalton and the Winkleman Gallery.)
Jennifer Dalton's latest exhibit began with an inkling. She was watching the Daily Show, in which some male guest was expounding at length about something when she realized she couldn't remember the last time a woman had sat in that place. "I thought it was me, that I was just looking for that," she says. "Then I went into the archives and I was like, 'No fucking way.'" Dalton counted up all of the guests listed on the program's online archives for all of 2010. During this time, 79% of the Daily Show's guests were men and only 21% were women.*
She then went and performed the same exercise on a bunch of her other favorite programs. All of them featured an overwhelming majority of male guests. The Colbert Report had a guest line-up that was 82.5% male. Charlie Rose came in at 80%. Bill Maher had 74%. And Rachel Maddow - Rachel effing Maddow! - featured dudes 80.5% of the time. Public radio fared somewhat better: Leonard Lopate's guests were male 66% of the time, while Brian Lehrer came in at 68%. Fresh Air, however, which is hosted by a woman, checks in with a low lady-guest ratio. More than 79% of Terry Gross's guests are male. (Bands and other groups were counted as single guests, hence the fractionals.)
Dalton's "What does an important person look like?" (Click to supersize.)
"My gut is that it's entropy," says Dalton. "It makes me think that people are lazy. Like they're just reblogging the same stuff." The artist, who has previously charted the ways in which female cultural figures have been visually portrayed in the New Yorker (hint: cheesecake), has used this research to create new works for her latest solo show at the Winkleman Gallery. The central piece (shown at right) is devoted to the Daily Show, the program that spurred Dalton's recent quest. In it, she has organized the guests by subject areas (authors, athletes, etc.) and placed the men in gold frames and the women in silver ones. The colors say it all.
G/O Media may get a commission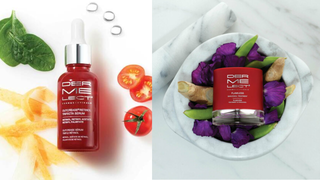 Save $19
Retinol Renewal Kit
Dalton says the piece was born of equal parts rage and glee. "These are heroes of mine and I think they're doing really important work," she explains of figures such as Stewart and Colbert. "But I just end up confused. It's like are you with me or against me? I think of you as on my team, but maybe you don't think of me as on your team?" She hopes that her work might get someone in some aspect of the media business to think a little bit more critically about what they do: "I would just love for these producers to be like, 'Here's a pile of women we rejected. Did we reject them too quickly?'" In order to do that, some of these programs might have to start by hiring a few more.
Jennifer Dalton: Cool Guys Like You is at the Winkleman Gallery, in Chelsea.
Carolina Miranda is a freelance writer based in New York City. She blogs at C-Monster. Follow her on Twitter at Cmonstah.
This post originally appeared on C-Monster. Republished with permission.