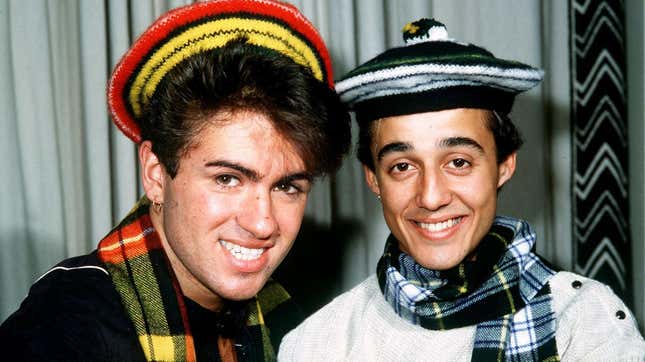 "Everybody at the time was like, how did these two idiots become so bloody massive?" George Michael reflects in a voice over in Wham!, the new Netflix documentary about the relatively short-lived duo that served as a launchpad for his superstardom. Before that, though, Wham! was a pop force in its own right, a proto-boy band duo consisting of Michael and Andrew Ridgeley that racked up a stunning string of hits in its relatively short lifespan—their first single, "Wham Rap! (Enjoy What You Do?)," was released in June 1982, and their farewell show at London's Wembley Stadium took place some four years later, on June 28, 1986.

Wham!, directed by Chris Smith (Fyre, Operation Varsity Blues), hurtles through that four-year frame at a giddy clip, tracing the duo's early days of showing up at record companies, demo in hand, trying to sell themselves to unconvinced execs, to their very public goodbye in front of a crowd of 72,000 spectators. Those who followed the story or paid attention to the deluge of retrospective media in the wake of Michael's 2016 death—the documentary Freedom, James Gavin's excellent and exhaustive 2022 biography George Michael: A Life, Ridgeley's 2019 memoir Wham!, George Michael and Me—will find little new information in this breezy, 92-minute doc. Though its promo copy does tout "remarkable and never-before-seen footage," the main story points have been accessible for a while now. Wham!'s failure to break news is not a big problem, though, given the high gloss packaging. It's a fitting tribute to a group that prized style—at least as much as substance.
For a documentary consisting of archival footage, Wham! is surprisingly intimate. That's because it's almost entirely narrated by Michael and Ridgeley (via "rare, candid, and previously unheard interviews"). In a format similar to Asif Kapadia's 2015 Amy Winehouse documentary Amy, disembodied voices play over and weave together pictures and footage from Wham!'s archive. Ridgeley explains that his mother started scrapbooking as soon as he and Michael got their deal; she'd go on to fill 40 such books, and many of her collages feature in the doc. We watch Michael and Ridgeley grow up before our eyes—their hair in various states of frostedness (and in Michael's case, puffiness). Because Michael broke out as one of the titans of '80s pop after his tenure in Wham!, Ridgeley has long been seen as a hanger-on, little more than a backup dancer. What the documentary makes clear—and this is backed up by Michael's testimonial—is how integral a role Ridgeley had in Wham!'s success. He was responsible for coaxing Michael from his shell when they met at Bushey Meads School as preteens. He came up with the band's name, styled them in sportswear, and co-wrote many of their early songs, including "Careless Whisper," which was marketed as Michael's first solo foray though the group was still together at the time of its release.
There's a palpable tension that comes when Michael explains his takeover of songwriting duties during the creation of the group's second album, 1984's Make It Big. "Andrew and I got it out of the way very quickly, and then we never had to discuss it again," we hear Michael say. Ridgeley, meanwhile, voices something like displeasure, as he enjoyed songwriting, as well.
But Ridgeley was smart enough to get out of Michael's way during his supersonic ascent. We get the sense that the positive feedback in the UK from the early Wham! singles like "Bad Boys" and "Club Tropicana" only pushed Michael to achieve more. Make It Big retained the group's bubblegum DNA but it was less cheeky and teeny bopperish (they had by then abandoned the affected rapping that took up their first three singles). Most importantly, the album contained music that was entirely Michael's vision as he took on production duties, including "Wake Me Up Before You Go-Go," and "Careless Whisper." The original single version of the latter had been produced by the legendary Jerry Wexler at the famed Muscle Shoals Sound Studio in Sheffield, Alabama, but when it came out sounding "a bit limp" according to Michael (and "average" according to Ridgeley), he scrapped it in favor of one that Michael had produced himself. The bold move turned out to be the right choice—the song was a global smash and Wham!'s second No. 1 on the U.S.'s Billboard Hot 100.
Wham! revisits a time in Michael's life before things got really dark for him by most reports; he had a particularly rough time following his Faith solo world tour that ran for most of 1988 and well into the next year. Wham! was a bit of a pisstake, as they say in the UK—as Michael describes the boozy shoot for their ridiculous "Last Christmas" video, he says, "I think our joint humor went into so much of what we did, I think there was a deliberate attempt at avoiding true slickness at all costs." But the duo's fame was not without its difficulties: Michael knew he was gay at an early point in Wham!'s trajectory (Ridgeley recalls Michael coming out to him when they were in Ibiza filming the video for their fourth single, "Club Tropicana") and keeping it hidden became of paramount importance, especially as their fanbase was overcome by screaming young girls. "In reality, the turning point with Wham! was nothing to do with Wham!," Michael says in the documentary. "The turning point with Wham! was me as I suddenly thought, 'Oh my god, I'm a massive star and I'm gay and the depression was about that.' It was about the way I boxed myself in. You know, be careful what you wish for."
There didn't seem to be much hesitation from either side when Michael's profile overtook that of his band and the natural next step was a solo career. Wham!, to hear Ridgeley tell it, came into the world with a shelf life. "Wham! was never going to be middle aged," he says. The result is a legacy completely preserved in time, and the documentary serves as wormhole back to a goofier, simpler era. The fact is that even if Michael's solo career had gone nowhere, Wham!'s short time together left an indelible mark on '80s pop, and paying tribute to that alone makes Wham! a more than worthwhile endeavor.