Cool news everyone, Justice had a change of heart and decided to be a Republican after all! After a mere six months in office, Democratic West Virginia Governor Jim Justice announced alongside President Trump on Thursday that he's deiced to become a Republican.

"Like or not," Justice told his supporters on Thursday night, "but the Democrats walked away from me.… West Virginia, I can't help you anymore, by being a Democratic governor." And, just like that, the Democrats hold a record-low number of governorships nationwide.
So, what the fuck happened here? Well, it's not entirely clear, and apparently the Democrats were just as blindsided as everyone else. Washington Post reporter Amber Phillips wrote of Justice's about-face, "This appears to be more of a personal decisions. Justice didn't give his now-former part or his new party a heads up." Nor did he bother to tell the Democratic Governors Association that spent $1.5 million helping him get elected.
Further clues lie in the fact that Justice was once a member of the Republican party and one of the only leading Democrats to announce he wouldn't vote for Hillary Clinton in the presidential election. Also, Justice is a longtime friend of Eric Trump and the rest of the President's children.
G/O Media may get a commission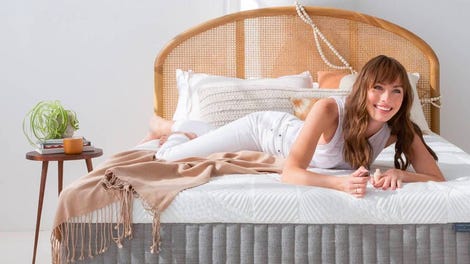 Sleep Sale
Sleep Sale - Brentwood Home
Trump took the occasion of Justice's party switch to launch into a monologue about how the investigation into potential ties between his campaign and Russia is a "fake story that is demeaning to all of us." According to the New York Times, Trump went on at some length, "Most people know there were no Russians in our campaign; there never were….We didn't win because of Russia; we won because of you. Are there any Russians here tonight? Any Russians?"
We also learned from this fiasco that Trump's epithet for Justice is, apparently Big Jim. "Having Big Jim as a Republican is such an honor," the President told the crowd. "Fantastic man, fantastic guy."

Big Jim will officially change his voter registration on Friday.