The school district of Mercer County, West Virginia—population 61,984—has been thrust into the national spotlight now that a lawsuit, filed by the Freedom From Religion Foundation, challenges the constitutional legality of the county's voluntary weekly Bible study class for elementary and middle public schoolers.
The Bible study program is not state-funded and is instead run on annual donations from parents and the community. It does, however, take place during the school day and, though voluntary, non-religious parents (which are few in Mercer County) say that their children are not offered an alternative and often face scorn for sitting out.
As plaintiff Elizabeth Deal, an agnostic with a daughter in public school, tells the Washington Post:
Even though the class was optional, Deal said there weren't any alternative lessons or activities for those who opted out. Her daughter was told to sit in the computer lab for that half-hour and read a book.

Bypassing the class left her vulnerable to bullying. Deal said other students told her daughter that she was going to hell. One day a student saw her daughter reading a "Harry Potter" novel and told her, according to the mother: "You don't need to be reading this. You need to be reading the Bible."
Defenders of the class, and there are many, argue that they're in compliance with the law and there is no harm in letting it continue.
"It's not teaching religion, but it teaches character and respect and how important it is to tell the truth," teacher and parent Courtney Tolliver tells the Post. "The kids love it and the ones who don't participate aren't made to feel left out."
G/O Media may get a commission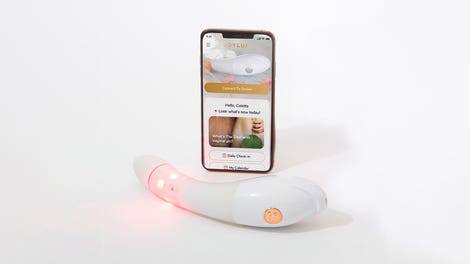 $50 Off
Joylux vFit Gold Device
"There is a great deal of not just poetry and prose in the Bible, but from what I've read almost every piece of history that's in the Bible has eventually been proven," says Rev. Ray Hurt, who preaches in Mercer County. "We see the Bible not just as a book of faith but as a pretty accurate account of history that informs us about a lot of things that happened."
But, according to the plaintiffs, teachers are not just using the Bible as a historical—and historically flawed—text:
The suit alleges that the lessons in the Mercer schools are similar to what a child would hear in Sunday school and that they advocate the Ten Commandments and treat stories in the Bible as historical fact.

The suit quotes from one lesson: "If all of the Israelites had chosen to follow the Ten Commandments, think of how safe and happy they would have been." Another lesson asks students to imagine that humans and dinosaurs existed at the same time. It says: "So picture Adam being able to crawl up on the back of a dinosaur! He and Eve could have their own personal water slide! Wouldn't that be so wild!"
Then, of course, is the issue of equating learning the Bible with learning to be an ethically and morally sound human being. (For that, you might be better suited reading Harry Potter, which—unlike the Bible, though Christ narrative in its own right—is relatively free of incest, slavery, and sibling-murder.)
While some supporters argue that the Bible study class is the equivalent of an elective, the suit states that it makes no difference because West Virginia does not offer electives to elementary and middle school students.
The case will be tried by Judge David A. Faber of the U.S. District Court for the Southern District of West Virginia, with the school district being represented by non profit law firm, the First Liberty Institute, who requested the case be dismissed late last week. That said, constitution experts are not optimistic about the program's fate.
"This is a loser for the school district," Charles C. Haynes of Washington DC's Newseum tells the Post. "It's difficult to satisfy the First Amendment in elementary school when it comes to the Bible. Students at that age really aren't prepared to tell the difference between what is history and what is religious conviction."
As per the 1948 Supreme Court ruling in McCollum v. Board of Education, public schools cannot set aside time for religious instruction or "utilize its public school system to aid any or all religious faiths or sects." Mercer County is one of the last in the U.S. to offer Bible studies to elementary and middle school students.