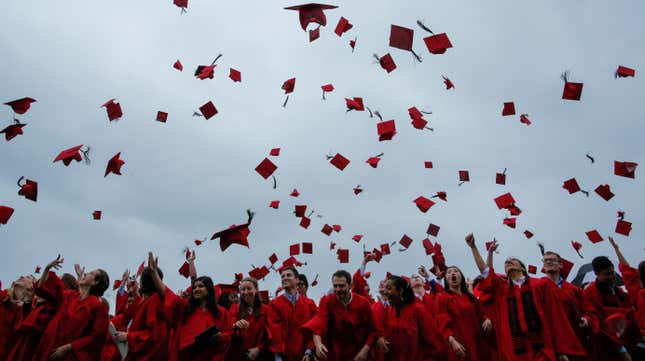 Wesleyan University, a private college in Connecticut, is ending legacy admissions, the practice in which schools give preference to the children of alumni. The move comes three weeks after the Supreme Court used its conservative supermajority to strike down affirmative action for college admissions. Since that ruling, politicians—including President Joe Biden—have called for the end of legacy admissions, and activists are formally challenging Harvard University's policy, but Wesleyan appears to be the first school to actually take action and send a clear message.

On June 29, the Supreme Court sided with plaintiffs who argued that affirmative action programs discriminate against white and Asian people based on their race. Chief Justice John Roberts wrote that colleges are somehow violating the 14th Amendment, which the liberal dissenters noted was adopted in 1868 explicitly to address the harms of slavery. Justice Clarence Thomas, who personally benefited from race-conscious admissions at Yale Law School, wrote in a concurring opinion that affirmative action encourages "permanent victimhood." Justice Ketanji Brown Jackson handed him his ass in a scathing dissent: "With let-them-eat-cake obliviousness, today, the majority pulls the ripcord and announces 'colorblindness for all' by legal fiat. Deeming race irrelevant in law does not make it so in life."
After the ruling, we were among the many to note that legacy admissions is, functionally, affirmative action for wealthy white people. Black, Latino, and Indigenous applicants are more likely to be first generation college students, both due to our country's racist founding and because of Jim Crow-era laws that impacted wealth creation and barred non-white students from attending certain colleges and universities. Public opinion also favors ending the practice: A 2022 Pew Research survey found that 75 percent of Americans oppose using legacy as a factor in admissions decisions.
Wesleyan president Michael S. Roth told the New York Times in an interview that, in recent years, legacy admissions played a "negligible role" at the 3,200-student school, but it was becoming a distraction and "a sign of unfairness to the outside world." Roth added that in, in the past, legacy status had been used as a tiebreaker in admissions decisions. He said he wants the school to focus on improving diversity, like recruiting more veterans and students from rural areas, and to avoid discussion of "the embarrassing fact, actually, that you got a leg up because of your parent or grandparent."
Wesleyan joins other selective schools that dropped legacy admissions before the Supreme Court ruling, including Amherst College, Carnegie Mellon University, and Johns Hopkins University.
In the complaint against Harvard, the Boston-based non-profit Lawyers for Civil Rights referenced data unearthed in the Supreme Court case showing that 70 percent of Harvard's legacy and donor-related applicants are white, and having legacy makes a student about six times more likely to be admitted. They submitted the complaint to the Department of Education.

"A spot given to a legacy or donor-related applicant is a spot that becomes unavailable to an applicant who meets the admissions criteria based purely on his or her own merit," according to the complaint. Ivan Espinoza-Madrigal, the executive director of Lawyers for Civil Rights, said in a statement. "Why are we rewarding children for privileges and advantages accrued by prior generations? Your family's last name and the size of your bank account are not a measure of merit, and should have no bearing on the college admissions process."
Last year, the AP surveyed the country's 30 most selective colleges on the share of their legacy students and only eight schools responded. At those schools, legacy students in the freshman class ranged from 4 percent to 23 percent—that eye-opening top-end figure comes from the University of Notre Dame. Legacy freshmen outnumbered Black freshmen at Notre Dame and three other schools: Cornell, Dartmouth, and the University of Southern California.
As more elite colleges surely adopt similar policies, we look forward to conservatives getting mad at schools for being prejudiced against rich people, like the Arthur meme.