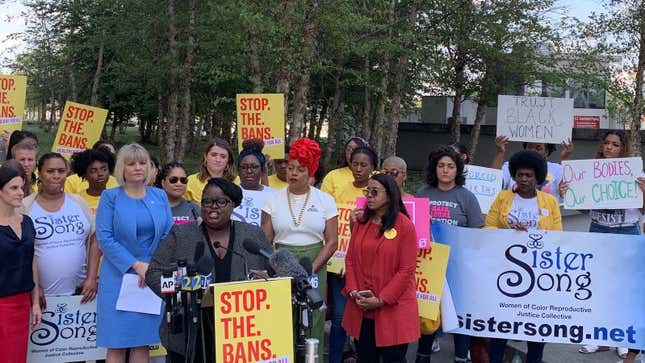 Last week, the American Civil Liberties Union, Planned Parenthood, and the Center for Reproductive Rights filed a federal lawsuit against Georgia Governor Brian Kemp challenging the constitutionality of HB 481, which effectively bans abortion after six weeks, before most people know they are pregnant. (It is scheduled to go into effect on January 1; similar bills in Alabama and Indiana have been struck down, and a Missouri bill has been temporarily stayed.)

Taylor Lautner Doesn't Even Remember Saying 'Bella! Where the Hell Have You Been Loca?'
SisterSong v. Kemp—which names the long-running Atlanta group SisterSong Women of Color Justice Collective as its lead plaintiff along with nine service providers and individual doctors—is a powerful document (embedded in full below). Rooted in the language of reproductive justice, the suit outlines in plain terms the way the Georgia ban will affect the lives of the most vulnerable—low-income Georgians, Georgians of color, and rural Georgians in particular. By explicitly citing these people and the instances in which they might find themselves in the position to seek an abortion, SisterSong v. Kemp centers and focuses abortion access as a specific issue of class and race. The language of the suit also clarifies that it is using "women" as a shorthand, but that it includes "people of all gender identities"—and leverages the grassroots work the organization has been doing for 20 years advocating for people of color and other marginalized folks.
From the suit:
As SisterSong represents the needs and rights of the most oppressed communities, absent an injunction, H.B. 481 would force SisterSong to divert its scarce time and resources away from other aspects of its crucial work to help Georgians access abortion care out of state and otherwise adjust to H.B. 481's sweeping impact. SisterSong is already fielding inquiries from Georgians panicked about obtaining abortions because of H.B. 481. Its members are among the people who would be most devastated were H.B. 481 to take effect.
A few hours after the suit was filed Friday, Jezebel spoke by phone with Monica Simpson, the executive director of SisterSong, about the organization's involvement in the legal challenge. At a press conference held that morning, she said that her organization's involvement was, in part, "making it clear that our organized resistance is going to win. It is our duty to win." On our call, she further emphasized her determination to protect the reproductive rights of Georgians, and acknowledged the magnitude of the filing. "I do think that it says a lot," she said, "for an advocacy organization—in particular a black women-led advocacy organization—to take on this level of pushback and resistance."

Our conversation has been lightly condensed and edited for clarity.
---
JEZEBEL: SisterSong v. Kemp—even the name of the suit feels impactful and representative of where how far you as an organization have come. How did you put it together with the ACLU, and how did the language within come about? It is very direct and powerful.

MONICA SIMPSON: We were fighting House Bill 481 at the state legislature, we got to the point that it was passed, we got to the point that it was signed into law, and all along this way—as an organization and part of a larger coalition of organizations—we had to use every strategy, including a legal strategy. We took our time to really think about what that meant for us as an organization to be prepared to take on that level of leadership, and also putting ourselves on a different terrain, so to speak, from a legal perspective.
We also thought about what it meant as an advocacy organization, because a lot of these legal cases around abortion access are [taken up by] service providers. This is no diss to service providers, but we take on movement-building work and organizing work in our everyday work, helping to harness the power of people on the ground and to be moving them toward these issues and to be activated around them. So I think it says a lot for an advocacy organization to put themselves out there in this way.
We were really able to lean on the ACLU a lot, and I think they really leaned on us about language, and how do we really want to talk about this? How did we want to frame this particular lawsuit? We were consulted and brought into the process in a way that really did feel like we were a team moving this thing forward. We were really able to make sure that our voice was presented how we wanted it to be, and move forward very much in line with our values.
One thing that felt noteworthy to me, reading it, was the specific way that it codified black maternal mortality rates into a legal document about abortion access. Can you talk about that framework?
I think this is what makes this particular lawsuit even more unique, because it really is rooted in a reproductive justice frame, which I think is important to note, right? It's not just talking about making sure that we have access to the services and that these clinics stay open, because that's always what we want. But it was also about the impact this type of legislation has on the whole life of individuals.
So I think that by broadening it and really bringing to light in this lawsuit [it centers] the really real, lived reality of folks in Georgia. It was important for us as a reproductive justice organization stepping into this role as lead plaintiff that this lawsuit was rooted in that. I think the ACLU knew, in bringing us onto this, that they could not have done it any other way. [Laughs]

You know, reproductive justice allows us to talk about the full life of individuals, what is needed for us across the full spectrum of our lives to be able to survive or to thrive or to live to be the beautiful people that we are. And I think to only focus on one part would do our folks in Georgia a disservice. This is an important moment for us to talk about our full lives, and not separate one aspect of our reproductive life out. I guess it just feeds into the fact that this lawsuit was really put forward in a reproductive justice light.
What has been the reaction so far?
This is kind of a tangent, but it's in line with the energy that we've got going on right now: When we dropped the announcement on Twitter, Ed Setzler, who was a sponsor of the bill, singled SisterSong out specifically, and said that he couldn't believe that an organization such as SisterSong would do something like that. He tried to drop this language around like, "millions of black babies die every year," and I was like, Really?
You know, we had to combat this type of messaging back in 2010, with billboards shaming black women for their reproductive decision-making, and we are not about to take it from you. I just said this at the press conference, but long gone are the days that we're just sitting here and allowing you all to put forth policy that's just rooted in white supremacy, patriarchy, sexism. We will not allow that to happen anymore. The message that sends is that you know what's best for us, that your way is the right way. It also sends the message that We're gonna take control of your bodies whether you like it or not. And none of that resonates with any Georgian, and it definitely doesn't resonate with me.
I've lived my entire life in the South, and I know the history of this region very well. And what I don't want is to live in a state, or anywhere, that puts policies forward that makes it seem like the state is trying to take control of our bodies. I'm not going backwards; we're not going backwards. This is a bigger issue that is absolutely about abortion—and it's absolutely bigger than that. I think what's making this issue resonate with so many people in a different kind of way, it's like: Whoa, y'all are taking it too far. It doesn't even matter whether you like abortion or not, or whether you have issues with it or not. I think the bigger issue that people are understanding is that this is about control. It is about bodily control, and it is about stripping away our bodily autonomy. And that is not the world that anybody wants to live in.
So I think that this is giving us an opportunity to find ourselves connected with different allies, to deepen relationships with other folks. Because, yeah, this is very much about abortion. We're absolutely about abortion access—out loud and unapologetically. But this is about control. And we say no to that.
Your enthusiasm and resolve is really heartening, particularly since the more recent developments around the country about abortion have felt increasingly urgent and dire.

Alabama did give us a little glimmer of hope. We're seeing that [lower courts] are not really trying to take this thing all the way up [to the Supreme Court]. So we have to hold onto that hope, and push as hard as we can to make sure that the same thing happens in Georgia. And if for some reason that doesn't, that we have our collective resistance ready for the long game as well. But I truly believe that we will win.
SisterSong v. Kemp by Jezebel on Scribd