The "A Day Without a Woman" rally on 59th street was one of hundreds of gatherings around the country connected to Wednesday's general strike, and the first of two taking place in Manhattan. Midsize but bursting with energy, the event was tightly packed by the time a colleague and I arrived about 20 minutes after noon.

The crush of smiling women in red felt miles away from Trump Tower, which is just down the block. Anna Merlan and I had decided to meet there out of some mixture of curiosity and desire for bathroom facilities. Mostly emptied of oglers since its primary inhabitant decided to spent our tax dollars sleeping at Mar-a-Lago, we were free to admire the overwhelming smell of chlorine without many human distractions. Dozens of security guards and police officers milled around. A skinny young man in very large khakis took several photos of a group of empty tables; seemingly satisfied, he wandered away. In a sea of dated marble, we rode up the escalators as far as we could go, to a "public garden" made entirely of concrete, then rode them back down. "Wouldn't it be embarrassing if I fell and died in Trump Tower on International Women's Day?" Anna asked, staring at the shiny floors.
On the way out, I approached a tourist who had been looking at a glass-encased photo of Eric and Lara Trump. "Are you a Trump fan?" I asked. She let out a nervous laugh and walked away.
By the time we arrived at the rally, the crowd of about 1,000 was separated into two large chunks by 5th Avenue traffic. A Dutch passerby read signs in an awed voice to her companion, continuing to signal what felt in the moment like a kind of seismic American shift from gawker to gawked-at. Here, in contrast to Trump Tower, the phenomenon seemed markedly more positive. Streams of midday sunlight drenched the red-tinted crowd of mostly women—and some men—many with babies (occasionally, dogs) strapped to their chests, or friends attached to their arms. The actor Chris Lowell, whom I recognized, for some reason, from Private Practice, strode by with roses pinned to his shirt.
G/O Media may get a commission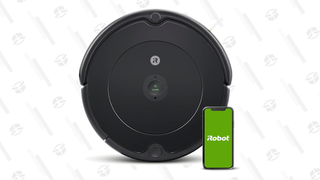 35% Off Black Friday Deal
iRobot Roomba 694 Robot Vacuum
Activist and LIFE Camp founder Erica Ford, one of several speakers, pumped up the crowd. "Every day, we have to take a minute in the morning and just stop and breathe, and be still," she told the rapt audience.
"Because if we're not preparing our minds for this work, then we get destroyed by judgment, by jealousy, by ego, by envy, and a lot of other things that keep us as fabulous women from working together. Your issue is not greater than my issue, my struggle for freedom is not greater than your struggle for freedom. Because I am a black woman in America does not make anyone better than me."
Mirna, 25, took a personal day from working at the MOMA bookstore to join the strike. "I come from a family of immigrants, [and] I have a few friends and family members who are undocumented," she said, and "without hope."
"I hope this president sees that we're still fighting, that we're not gonna stop and we're not gonna sit down for the next four years."
A group of women I approached to interview ended up being staffers from Complex, another media company. "We've been really fortunate because our company completely backed us today," Rachel Mossberg, a Facebook Live producer, told Jezebel. They weren't sure what to expect while planning their strike.
"We started planning this privately on email threads without sharing certain people on it, because we were worried about the legality—would we have our jobs if we went on strike at the same time? Is there going to be any fallout?" she said. "We had lawyers look at our contracts to make sure nothing like that happened, and then we were all pleasantly rewarded with a company that completely threw themselves behind the cause."
As the speeches ended and the crowd began to lurch westward toward Trump International Hotel, the artist Lambastic, dressed in a red suit and a Peruvian waq'ollo mask, kneeled next to a sheet plastered with dirty women's underwear. "It's part of a national underwear audit," she said, explaining that the Cunt Quilt project solicits underwear to sew into anti-Trump protest banners. "It's basically a call for women to give me your poor, your tired, your huddled drawers yearning to breathe free."

Eventually, I left the Cunt Quilt to join some stragglers walking arm-in-arm toward the second location. "Thanks for the food and the cleaning and the loving y'all give us," a man selling t-shirts hollered, as the crowd chanted "My body my choice!" Midway to Columbus Circle, I stopped to chat with Rose, a 70-year-old retiree. She had never joined a protest before Trump became president. "I missed the sixties, I was raising children!"

"We're from a small upstate community, and it's really good to be with people of like mind. It gives hope," she said quietly. "It is disheartening when some of your best friends are Trump supporters. It's just... things are different now.
"I'm concerned for my grandchildren, you know? I want them to have the kind of life that I enjoyed, and I see that that is being threatened."
Up ahead, organizers Linda Sarsour, Paola Mendoza, Bob Bland, Carmen Perez and Alyssa Klein and several others were about to be arrested for blocking traffic in Columbus Circle (they have all since been released). Across the street, facing the Trump International Hotel, other protesters were yelling, "Don't check in!" at guests entering the building, and cheering happily at the waving tourists driving by.
The crowd, still lively several hours and a dozen arrests in, would eventually join up with a second rally down at Washington Square Park hosted by the International Women's Strike, where dancers in shiny leotard finery vogued around a police car and fashionably-outfitted students waved signs with Audre Lorde and Margaret Sanger quotes. As the sun began to fade, the Washington Square Arch glowed golden-red, as if lit by the bodies below.

Check out more pictures from both rallies below.