Simone Biles didn't invent gymnastics, but she may as well have, so thoroughly has she pulverized the competition. She just earned her third gold medal, this time in the vault, and I think we're all scraping the bottom of the barrel for ways to describe her total dominance.

"Biles Wins Gold" hardly qualifies as news at this point—of course she won, who else would win?—but these things still have to get written, and reporters are starting to get...creative. Maybe too creative?
"Biles owned the vault. Now she's owning the podium." — L.A. Times
"Sunday at Rio Olympic Arena, Biles collected a third gold in as many events — this one, on vault, the apparatus that most closely resembles the sofa and upholstered chairs that served as her launching pad so many years ago — outscoring her nearest competitor by 0.700 points." —Washington Post
"Today in, 'Nah Doy" Olympic news, Simone Biles just crushed the competition on the vault to take home gold." — Cosmopolitan
"Already being called the greatest gymnast of all time, she won gold in the vault on Sunday by sitting in a green folding chair at the Rio Olympic Arena." —the Guardian
G/O Media may get a commission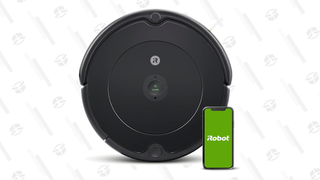 35% Off Black Friday Deal
iRobot Roomba 694 Robot Vacuum
"All-around champion Simone Biles scooped her third gold medal at the Olympics when she soared to victory in the vault final." —AOL
"Simone Biles continued her dominant display of excellence at the 2016 Rio Olympics with a gold medal in the vault finals." —CBS Sports
Let's not shoot our whole load here, guys. She's got two more medals to win, after all.