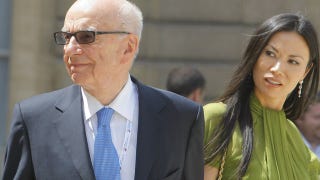 Depending on who you talk to, Rupert Murdoch getting cream pied in the face was hilarious, deserved, disgraceful, embarrassing, silly, or some combination thereof. For Murdoch's wife, 43-year-old Wendi Deng, the act was a call to arms- or rather, hands. Footage of the incident shows Deng leaping to her husband's aid and delivering a series of devastating blows on the pie wielding prankster before the man was escorted from the room.
After the incident, a British MP remarked,
Mr. Murdoch, your wife has a very good left hook.
Now, Deng is being hailed as a folk hero in China, having been described as a "guardian angel" and "tiger wife" since the incident. The Daily Mail reports,
An online poll by Chinese news site Sina found that her actions had made 46.1 per cent of respondents believe in love again, while 30 per cent said her actions had changed their attitude towards her.
Made almost half of survey respondents believe in love again? That's quite an accomplishment for an enraged barrage of blows.
Of course, no assessment of a famous woman would be complete without the input of a "body language expert," and it looks like the Daily Mail just happened to contact one of the top ones!
Top body language expert Judi James called 'the slap' Mrs Murdoch's 'Pippa Middleton moment'.
She wrote: 'Her spontaneous and aggressive defence, launching herself out of her chair to slap her husband's attacker clearly shows she is someone who likes to get stuck in.
'Even when security guards intervened, Wendi was still on the attack, she was like a rottweiler.
'This is Wendi's Pippa Middleton moment - where she upstages the father and son double act. What's even more astonishing is that she managed to still look elegant as she attacked - a true Amazonian, powerful woman.'
Calling Deng's defense of her husband a "Pippa Middleton moment" seems a little disingenuous, as Pippa Middleton never smacked the angry little flower girl around to knock some happiness and respect into her. Nonetheless, Deng has proven, on an international stage, that she is not a woman to be trifled with.
The Internet Finds a New Hit in Murdoch's Tiger Wife Wendi [Daily Mail]