For reasons that are beyond me (it's always money), Disney and Guy Ritchie are making a live-action Aladdin movie starring Mena Massoud in the titular role, Naomi Scott as Jasmine (she was the pink Power Ranger in 2017's Power Rangers movie) and... Will Smith as the Genie. Entertainment Weekly has the exclusive first look, which means it's as good a time as any to point out that it's too late to stop this from happening.

"Whenever you're doing things that are iconic, it's always terrifying," a goatee-d Smith told EW, presumably with the knowledge that one "Disney exec" genuinely described his role as "part Fresh Prince, part Hitch." He also acknowledged how impossible it is to top Robin Williams's Genie in the 1992 Aladdin: "The question is always: Where was there meat left on the bone?" Smith continued. "Robin didn't leave a lot of meat on the bone with the character... I think it'll stand out as unique even in the Disney world. There hasn't been a lot of that hip-hop flavor in Disney history." That's a fair observation, but why not a new story? Why Aladdin?
They've also added a friend for Jasmine to help her find a mate, which is supposed to be empowering. (Everyone's thirsty for feminist Disney characters.) From EW:
Jasmine actually has a female counterpart to bounce her ideas and dreams off of, not just her pet tiger Rajah (who will still be in the movie). Saturday Night Live alum Nasim Pedrad plays the newly created role of Dalia, Jasmine's handmaiden and best friend, who helps Jasmine navigate the suitors attempting to win her hand (like actor Billy Magnussen in another new role, Prince Anders of Skånland). "Jasmine is so resilient and independent in this version, she's focused on things other than which boy she's going to end up with," Pedrad says. "She really wants to be a leader, and Dalia really supports that but at the same time wants to make sure she doesn't get in trouble."
Here's another questionable passage, direct from Ritchie, who addresses concerns of appropriation (emphasis mine):
Ritchie was also assisted by "an army of cultural advisers" on set, adding that the film, while steeped in this Arabian world, is what he calls "principally a human challenge rather than an ethnic one." "The challenges that the individual has to transcend are the same for any ethnicity or culture," Ritchie says. He adds, "I'm loathe to shine a light on culture or color or ethnicity, because I feel as though that's shining a light on the wrong part of the stage. The question should be, how sensitive are you towards humans?"
G/O Media may get a commission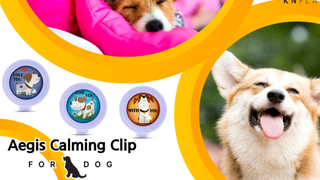 20% off
Aegis Calming Clip for Dogs
Maybe he needed some different advisers.
At the least, Abu is cute. The new Aladdin is out May 24, 2019.