Not much to say here that wasn't said in the headline, but let's talk it through anyway. So it appears that estranged wife of Johnny Depp, Amber Heard, has been friends with estranged spirit of Nikola Tesla, Elon Musk, "for several years." But according to TMZ, their relationship has evolved somewhat over the past few months, and that the two have been..."hanging out" a lot.
They write:
Just last weekend Amber and her sister were hanging out in Elon's hotel bungalow in Miami. We're told she had a 1-on-1 dinner at his L.A. house 2 weeks ago. We're told she recently went to Elon's L.A. area office to spend time with him. And we're told he's paid several visits to her home.
Amber's team say they're just friends, but that they've "definitely" been seeing each other lately. You know, they pour a couple glasses of a nice 19th century Bordeaux, sit beside each other on his couch made entirely out of blue whale skin, and have conversations like:
ELON: So do you like cars?

AMBER: Love them.

ELON: And do you like sex?

AMBER: Love it.

ELON: What about cars?

AMBER: Cars are great.

ELON: And sex?

AMBER: I treasure it. Really.

ELON: Let's go back to cars.

[TMZ]
---
What would you say if I told you a mysterious man in a grey suit poisoned Chuck Norris's 53-year-old son, Mike Norris, at the premiere of his controversial movie last month as a "warning" because it's about "how the U.S. government engineers a power grid failure to impose martial law and seize guns from private citizens"?
G/O Media may get a commission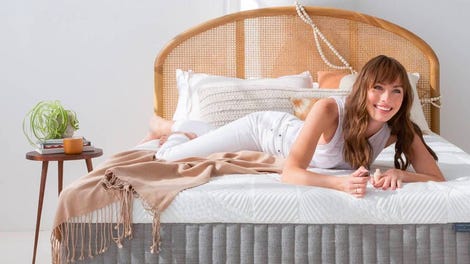 Sleep Sale
Sleep Sale - Brentwood Home
Would you say, "Bobby! Baby! What are you talking about, my man?"
Or maybe, "Chuck Norris has a 53-year-old son?"
What about, "Was Alex Jones there?"
No, you'd probably just say, "Sounds about right."
---
---
Tom is Taylor's [convenient Rhode Island] rock. [ONTD]

Demi Lovato and Nick Jonas are "friends" again. [People]

Speaking of Jonases! [Just Jared]

(Sorry for speaking of Jonases.)

I love that Celine Dion is style sisters with Zendaya. Actually, I just love that Celine knows who Zendaya is! [Radar]

THIS IS A MUST-READ FOR ALL RESIDENTS OF PORT HAWKESBURY, NOVA SCOTIA. [Just Jared]