Omarosa Manigault, alum of The Apprentice and former Al Gore staffer, has been named director of African American Outreach for the Donald Trump presidential campaign, which is both as fitting and as horrifying as it seems.
Ana Gasteyer Satirizes the Girl Boss in 'American Auto'
Omarosa—AKA one of the original contestants who was exploited and then later embraced the "angry black woman" stereotype on reality television—announced the news this afternoon on MSNBC.
Apparently she previous worked as the Vice Chair of the national diversity coalition for Trump, so I suppose this a promotion if you value being evil.
In an attempt to spin this disaster of candidate, campaign and alliance as something just south of a disaster, Omarosa argues that even though Trump is polling at a smooth 0% in certain states, the polls are not representative of the opinions of most black people.
OK girl.
She also claims she recently "met" "300" "black" "people" who "support" Donald Trump. I'd like to note that she does not disclose whether all 300 people were from the same state or even in the same room (of course they weren't). Regardless, you can find 300 people who believe a lot of stupid shit that is directly against anything resembling their best interest. I bet I could could find 300 people in under an hour who would willing set their eyeballs on fire.
G/O Media may get a commission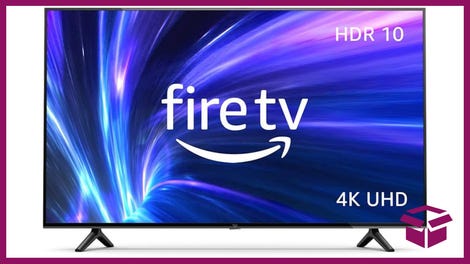 42% Off
Amazon Fire TV 50" 4K Smart TV
Long gone are the days when Omarosa read Bethenny Frankel for filth over her white privilege. Now she's doing this, and we all have to watch. Still, we should have seen this coming when she totally threw Kwame under the bus. Just think, he could be married to Giuliana Rancic with a canceled E! reality show right now. Thanks a lot, Omarosa.
Image via Getty