Picture yourself in the razor aisle at CVS. Cast your mind's eye upon the plethora of options. Perhaps you have a preference; perhaps you buy whatever strikes your fancy on any random Tuesday after work. Either way, it is probably not the most important moment of your week. Now, imagine the hushed offices where the decisions are made that put all those ultimately inconsequential options on the shelves. Those offices are being rocked to their very foundations.

In a story urgently headlined, "Gillette Faces New Attack From an Old Razor Rival," the Wall Street Journal reports that Schick is starting its very own online razor subscription service in hopes of siphoning off customers Dollar Shave Club-style: 
Edgewell Personal Care Co., maker of Schick, the No. 2 U.S. brand, is mounting a direct challenge to the Procter & Gamble Co. unit with an online subscription service that sells blades that fit on a Gillette handle but cost less.

"Men are creatures of habit, and anything we can do to lower the barrier of entry to try our product will be helpful," said Patrick Kane, who runs Edgewell's men's shave business.

The move comes as P&G is scrambling to ward off competition from online razor startups and cheaper competitors. Gillette's share of the U.S. market, close to 70% in 2011, fell to 54% last year, according to Euromonitor.
Blood in the water, my friends! And not from a small cut on the chin while shaving!
A Gillette spokesperson tells the Wall Street Journal that, slightly higher price notwithstanding, only Gillette has the superior engineering capable of delivering the optimal shave: "Razor technology is a matter of microns—and how every single component comes together matters," and men "shouldn't have to choose between convenience, flexibility, quality and value."
G/O Media may get a commission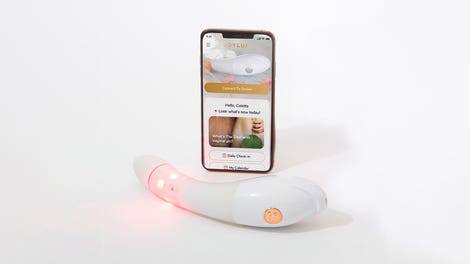 $50 Off
Joylux vFit Gold Device
Gillette, it should be noted, already has an online delivery service. In fact, they are currently making some tweaks:
Edgewell said it would target what it considers a weak point of Dollar Shave Club: an inflexible delivery plan that leaves many men with a stockpile of blades. P&G said its research found the same annoyance, which is why the company this month overhauled its online service with a system called "Gillette on Demand" that allows customers to order razors via text message.
And so the corporate world turns.
Of course, the real outcome here will be another round of unnecessarily strong razor takes, about safety razors or straight razors or proper unguents or whatever you people are arguing about these days. Have a ball!