If you're anything like me, you miss back-to-school shopping and annually attempt to fill the void with books, books, books. Here are some of the titles that'll be hitting shelves this month.
As always: Hop in the comments and share what you're reading, what you've got preordered, anything you'd like to evangelize with the fervor of a drunk frontier missionary.
Currently, I'm several books behind in French's Dublin Murder Squad series. That's not because they're anything less than utterly wonderful; it's because I'm still recovering emotionally from the last lines of The Likeness. The Secret Place follows Detective Stephen Moran as he investigates a kid's murder at a girls' school, "and the private underworld of teenage girls can be more mysterious and more dangerous than either of the detectives imagined." Well sign me up, obviously.
G/O Media may get a commission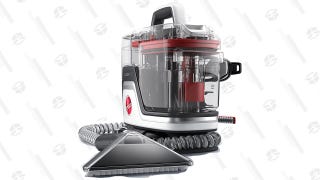 Save $10
Hoover CleanSlate Plus Carpet & Upholstery Cleaner
This collection of personal essays with a very groovy cover will be everywhere this fall (especially considering that Random House paid $3.7 million for it). Get a peek via this excerpt that ran in the New Yorker, about her childhood experiences in therapy.
If all you know of David Mitchell is the Wachowskis' overblown adaptation of Cloud Atlas, I beseech you to give him another shot. His latest novel starts with a sensitive 15-year-old girl subject to psychic shit, whose life takes a strange turn when she briefly goes missing one weekend.
Follows Diane Sawyer, Katie Couric and Christiane Amanpour as they broke into the broadcast news boys' club. This one's getting a lot of side-eye-worthy gossipy advance articles , as juicy bits and bobs leak to the press. Either way it sounds like an interesting read.
The author of Sin in the Second City (about prostitutes!) follows the stories of four women—"a socialite, a farmgirl, an abolitionist, and a widow"—who took up spying during the American Civil War. I think that's pretty much all I need to say.
London, 1922. A widow and her spinster daughter are obliged to take in boarders. "Passions mount." Alternatively you could read anything Sarah Waters has ever published and enjoy it immensely, probably.
Wouldn't be September without some public figures trying to catch that back-t0-school wave! First up is Wendy Davis, of the famous filibuster, pink shoes and DGAF attitude. She's currently running for governor, so that's the kind of book you can expect from Forgetting to be Afraid. Along the same lines, Gabby Giffords and Mark Kelly are releasing Enough: Our Fight to Keep America Safe from Gun Violence.
We got the first peek at Gillibrand's book this week, when she told People about her gross-ass male colleagues comments about her post-baby weight. Generally, Off the Sidelines looks like another Lean In-style memoir/guide to getting involved—"a playbook for women who want to step up, whether in Congress or the boardroom or the local PTA."
Bliss examines the anxiety about vaccines as just one manifestation of broader, pervasive modern nerves about, well, everything. A vastly more erudite examination of the debate than you'll find in your Facebook newsfeed!
The perennially popular Hairpin column is now a book! True story, I recently picked up a novel whose back cover made reference to Old Hollywood Glamour and I got 25 pages before realizing it would be nothing like Scandals and just abandoned the damn thing at my in-laws' house.
86-year-old Halbreich has worked as a Bergdorf's personal shopper for decades, so I assume she's got more secrets than the president. (When Lauren Bacall died, the Wall Street Journal called her immediately.) Get a taste of her voice in this New Yorker interview, as she compares sequined dresses to tomatoes.
What else y'all got?