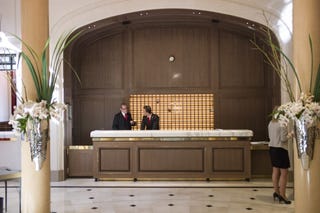 I always thought the draw of online shopping was that you do it recumbent and alone, marinating in your secret shame.

Apparently I have a thing or two to learn from gender-neutral fashion label NINOBrand, which, as The Cut reports, announced recently that it will be offering concierge service for hotel guests beginning in October.
Using this luxury service entails: 1. booking a hotel room at the Hotel Palomar in Philadelphia and 2. calling up a living breathing person, one employed as a concierge, whom you might encounter in the lobby later or maybe the hallway, and asking them to fetch you hundreds of dollars worth of plain gray tops. But no bottoms, please—this is, after all, a vacation.
According to the Philadelphia Inquirer, the five items in the collection are less expensive than the designer's normal line and range from $75 (the tee shirt) to $550 (for a coat).
The promotional video for the collection makes many tempting claims. The word "clean" comes up sometimes, and so does "weather protective." They don't use draping, but they do use "fabrics that are technical."
Please take care when packing for a trip, folks! It will lessen the odds of you answering the door to your suite with a high-thread-count pillow case pulled over your head.