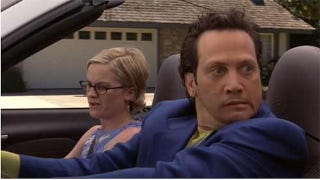 Today in weird scams, three enterprising Spaniards bilked men out of over $70,000 by charging them fees to register as gigolos.
According to the Telegraph, a married couple and the woman's brother took out ads in Spanish media offering men lucrative jobs as escorts for women. They managed to trick 180 men into paying fees of up to $1400 each to register with "reputable agencies." But the agencies didn't exist, and the men never saw the rich female clients they'd been promised. The scam was discovered when several men complained to the police that they hadn't received the work they were promised. The idea of guys telling the cops that their gigolo agencies aren't up to snuff is a bit surprising — but then, prostitution isn't technically illegal in Spain.
Believe it or not, this isn't the first scam of its kind. Earlier this year, a club operator in Taiwan was accused of charging soldiers money for training as male prostitutes, then claiming they didn't qualify and keeping their fees. In response, the Taiwanese military will apparently start teaching soldiers how to avoid scams — maybe they could offer some classes in Spain as well.
Fraudsters Who Conned Men Into Signing Up As 'Gigolos' Arrested In Spain [Telegraph]