Dallas evangelist Lance Wallnau has been making a name for himself by saying he helped Donald Trump win the election with his book God's Chaos Candidate, which I guess could be believable. It's no less likely than this story he told about a gay man finding Jesus and heterosexuality after eating some dessert.
Dallas News reports that Wallnau frequently hosts Periscope chats with his followers and asks them to send him their prayer requests. In a recent live-stream, he told the story of a bar owner he describes as "gay and very adamantly anti-Christian" in response to someone asking about what to do with the homosexual in their life. Before diving into how this bar owner was "cured," Wallnau acknowledged that the story was, well, a little out there.
"This is crazy," he said. "Now, I'm not saying this is going to work for you. But some hookers in his bar got saved."
So what do sex workers do after they find God? They bake. They got out the mixing bowls, hit preheat, and before you knew it they had a beautiful cake to gift to the owner of the bar where they met their savior, a "regular" who brought them to Jesus. But wait, it wasn't any ole thank you pastry. "It was an anointed cake, and they made the cake and gave the cake as a gift," explained Wallnau, adding, "I know this is strange."
Not at all. My cakes are consecrated too. The danger of eating a consecrated cake is that it'll go to your head and you'll catch religion, which is exactly what happened to this very real and not made-up bar owner. He ran back into his establishment and found the regular who had converted all those amateur Mary Berrys and asked for a baptism. "When he gets baptized, the guy gets delivered and the spirit that was working him got broken off," says Wallnau, by which he means it washed the gay away.
G/O Media may get a commission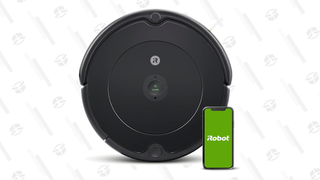 35% Off Black Friday Deal
iRobot Roomba 694 Robot Vacuum
Not to poke too many holes in this story, but if a baptism is all it takes to change someone's sexuality, why go through so many additional steps? Baking a cake takes hours, and then you have to wait for it to cool before you ice it.