In addition to the bevy of women Anthony Weiner "romanced", there are a few others Weiner communicated with online, and apparently not all of them were over 18.
A 17-year-old Delaware girl began following Weiner on Twitter after seeing him speak on a school trip on April 1. Weiner then reportedly began following her on Twitter, and eventually sent her a direct message on April 13.
The content of the message has yet to be revealed.
Of course, Weiner is claiming the messages he sent to the girl "were neither explicit nor indecent." They were just, you know, the kind of totally normal messages that any married man in his late 30's would send to an underage girl.
G/O Media may get a commission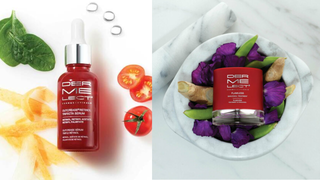 Save $19
Retinol Renewal Kit
Local police are now investigating the matter:
Two officers from the New Castle County Police Department went to the home of the high school junior at 4:30 p.m. local time to question the girl and her mother, according to FoxNews.com. A third officer arrived a short time later.

"I'm doing OK," the girl reportedly said.

The police officers left the house after about 30 minutes and were followed by the girl and her mother, who left in their own car. It was not clear if the girl and her mother were going to continue the conversation at another location.
But wait! There's more!
The girl's family told the paper that the messages were "harmless" but they were concerned that Weiner had written to the high school junior via private messages.

At the end of May, Weiner sent the 17-year-old high school junior three private messages via Twitter, one of which was a response to her comment on a YouTube video of him giving a speech where she wrote "My true love."

Weiner wrote to her in a private message: "I came back strong. Large. Tights and cape."

The shocking "super hero" reference is almost verbatim what he sent to the 40-year-old blackjack dealer Lisa Weiss on September 20, 2010 when he was sexting with her.

Anthony Weiner: computer back up? no sense in you being clever if nobody can read it. good morning.
Lisa Weiss wrote: hi honey! computer's back up…what's up with you? busy saving my country from this f***in tea baggers?
Anthony Weiner: Yep. Cape. Tights. Looking for my sidekick.
The Delaware girl's family has responded to the news by saying:
"I am angry," a family member told The Times. "This is surreal and unbelievable. It is absolutely crazy. We are just regular people who go to baseball games and basketball games, as ordinary and plain as can be."
It's still unclear if she was the only underage girl Weiner was messaging. However, at a press conference on Monday, Weiner said he believed none of the women with whom he communicated were underage.
Anthony Weiner Used Same Super Hero Reference To Teen As In Tweets To Vegas Dealer [Radar]