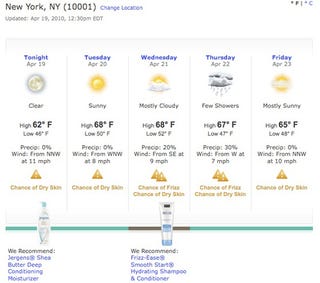 Finally, a weather forecast ladies can use! The Beauty Forecast on The Weather Channel's website warns that today, New Yorkers will experience dry skin with a frizz front moving in on Wednesday. Luckily, TWC has beauty recommendations.
Since ladies in New York will be experiencing a chance of frizz and dry skin, they should make sure to throw some Jergens Shea Butter Deep Conditioning Moisturizer and Frizz-Ease Smooth Start Hydrating Shampoo & Conditioner in their purses today. Los Angeles will be experiencing very similar weather conditions, but apparently these Jergens and Frizz-Ease products are better suited to the East Coast.
Miami readers: Did TV networks break in to programing today to alert you that you're under a High Frizz Alert? Expect long lines at the drug store and shortages of Jergens Natural Glow Healthy Complexion Daily Facial Moisturizer and Frizz-Ease 100% Shine Glossing Mist as women in the area brace for impact.
Looks like a good time to get out of the States. Just be sure to check The Weather Channel before you pack for your Japanese vacation, because you'll have a whole new set of weather worries in Asia. Is there nowhere on this planet where women can enjoy hydrated skin and smooth, shiny hair in peace?
OK, clearly we're not safe in Iceland.
Or Kenya. There's got to be a wingnut joke in here somewhere, but we don't know where it is.
Five Day Beauty Forecast [Weather Channel]