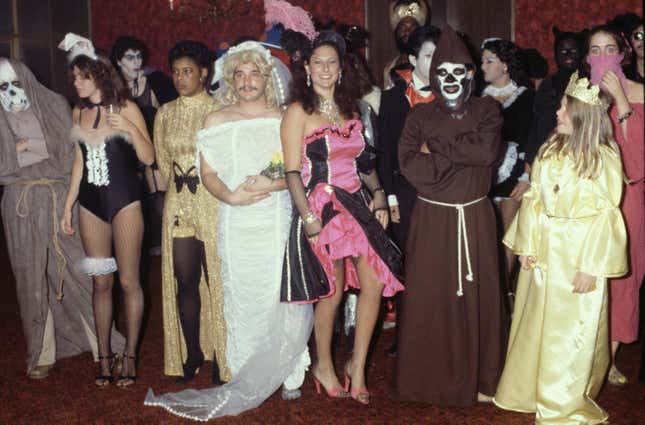 After tediously scrolling through five or six pages of outfits on the "Wedding Guest" tab of [insert online clothing retailer], my eyes begin to glaze over, my brain becomes smooth, and I lose the will to carry on. Slinky spaghetti straps bleed into strappy sandals which meld with fringe-lined hems, which inevitably become indistinguishable from handkerchief hems.
I check the dress code on the invite again, like a hiker lost deep in the woods seeking guidance from my map."Cocktail attire," it reads. Useless. I click on. Before me appears the Annabelle dress in Mulberry. Have I seen this one before? A thousand times? Am I walking in circles?
This is, so often, what shopping for wedding attire feels like. And it's not necessarily because the dresses themselves are uninspiring, but instead because I've read the phrase "dressy casual" so many times that any meaning it once held has been eroded away by me turning it over and over in my mind. "Dressy" makes me think "well-dressed"—or even "formal." But then "casual" is slapped on there like a bumper sticker on a Bugatti. What more couples throwing weddings need to do is provide fun, inspiring, specific, creative dress codes.
A unique dress code doesn't have to mean wacky outfits or even a theme (though it could!) Even a slight turn of phrase can guide your guests out of the dense outfit shopping thicket I find myself stuck in again and again, roughly one month before a wedding.
I asked my networks for memorable dress codes they've been urged to follow for weddings. For the last wedding school teacher Caitlin Foye went to, "the bride requested 'color' as the dress code." Foye wore a hot pink mini dress and matching blazer-cape. "The bride said color, I delivered," she told Jezebel. A friend of mine, Teddy Swenson, attended a wedding last year that prompted guests to "dress like a disco ball," which resulted in a lots of fabulous sequins and glitter outfits. "Barn-chic" and "hot girl summer" were two others shared with me.
Similarly, years ago, I was invited to a wedding whose invitation instructed me to "dress sharp." Guests arrived in neatly tailored, brightly colored suits and dresses and matching sets with chic silhouettes. I chose baby blue chunky mules over my standard midnight-blue wedding flats. "Dress sharp" nudged me to go bolder, venture a bit out of my comfort zone, beyond where my flat feet might feel their safest. And even though some guests' interpretation of "sharp" was softer than others, the excitement to execute was there. It also, very importantly, made my decision about what to wear much, much easier; I'd been instructed to go with the sharper option, whether that was in my closet or on that wedding guest attire tab—this was not the wedding for a romantic floral midi dress. Noted.
Last fall, Libby Rasmussen posted a TikTok of a wedding she attended where the grooms requested guests "upstage the bride." The video unsurprisingly went viral: People were obsessed with the grooms' lookbook of outfit ideas which included lace, leather, sequins, studs, pearls, latex and fringe. "The options are unbounded and the fantasy is cosmic. Please for the love of God, just turn it," read a message from the grooms. And according to Ramussen's video, everyone looked delicious.
I've also heard of weddings where the couple asks the guests to wear a certain color palette to help create a uniform look. I'm all for this specificity—as long as the request is a general black and white, or "earth tones," rather than a shade of red found only at the bottom of a volcano. A wedding dress code should be a stimulating motivation, not a mandate, in my opinion.
Of course, there are always going to be some guests who will stick with their default wedding look, and getting them to budge on that is a battle not worth fighting while you're also deciding on table linens. (Nor should you! Not everyone is comfortable getting creative with their outfits and, after all, you want your guests to be primed for having the best possible time.) However, for guests with a bit more gumption in the garment department, a specialized and unique dress code can be a compass amongst a sea of been-there suggestions.
"Cocktail attire" or "semi-formal" stir about as much within me as a bride walking down the aisle to Johnny Mercer's "Fools Rush In", which is to say very little at this point. I've just seen it too many times. In the (hopefully) long necklace of our lives, each big, fun event gets to be a bead along its strand. Coming up with a fun and specific dress code for your wedding gives that bead its own beautiful, funky, glimmering character. Go for it!!