This morning I woke up to a tweet from an account called Tx3. Nobody I knew. Probably nothing interesting. "We'd really appreciate if you would Check our cover song!" they wrote. "Retweet!! :) Thanks so much!" I usually ignore self-promotional spam, but for some reason—some spontaneous, fortuitous reason—I clicked "play" on the embedded video.
And this happened:
"This is like Entitlement: The Band," I said to my boyfriend. Medium-handsome white dudes always assume that just because they make a thing it deserves to be seen. What is the point of this? And why am I watching it all the way through?
After the video was over, I clicked back to their Twitter page and was like WHUT.
G/O Media may get a commission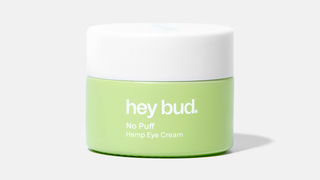 15% off
Hey Bud - No Puff Hemp Eye Cream
They're "identical triplets"!?!?!?!?!
HOW DID I WATCH THAT ENTIRE VIDEO AND NOT EVEN NOTICE THAT THOSE DUDES ALL HAVE THE SAME FACE. I guess white people do all look alike.
Tx3 is the stage name of the Tindall Triplets—Lance, Jordan, and Miles—who moved to Los Angeles from Chester, Illinois with big, big, big dreams. As "the only triplets that Sing, Dance, and Play musical instruments" (sweet catchphrase!), the Tindalls clearly believe that through sheer force of will, Twitter-spamming, and being three dudes who all look the same, they can shoehorn their way into the public consciousness as the next One Direction. Three Direction. You guys can have that.
Well, congratulations, Tx3! You have officially captured the fascination of the Jezebel staff, and we have been talking about you ALL DAY. And we have some questions.
1. What is this.
2. Are you satire.
3. Are you really identical triplets? Is that rare? Does that mean you all came from the same, um, zygote? Embryo? What are science?
4. WHO IS WALTER.
5. Who is Walter.
6. Who is Walter.
7. OH MY GOD WHO IS WALTER.
8. Will you go on a triple date with three randomly selected Jezebel staffers? If we pay?
9. Jordan, how do you know which one is you and which one is Lance? Do you ever wake up and think, "...Am I Miles?"
10. Lance, you've described yourself as "the wildcard of the trio; you never know what I might do next." Give us a hint. What might you do next? Wear a beanie cap really far back on your head? Hook your thumb in your belt loop and do a cool-guy thing with your face? Just crush a caramel Frap?
11. Miles, WHY DO YOU HAVE A "BODYGUARD."
12. Why do you have so many Vines where one of you pretends to be "homeless" and then the other ones beat the shit out of him? [Edit: Apparently the triplets have now deleted this Vine, but it was a Vine of one of them pretending to be homeless while the other ones beat the shit out of him. Here's another one. Enjoy it while you can!]
13. Don't you know that homeless people are human beings?
14. Seriously, what is wrong with you?
15. Jordan, why do you refuse to follow your #1 fan site on Twitter, @tindalltriplets, whose mission statement is—and I quote—to "fangirl about that guys, here to support that talented triplets lets join to their dreams"? Miles and Lance are following. What's YOUR problem, Jordan!?
16. How are those marching-in-place lessons coming along?
17. What does Wayne Brady smell like?
18. Oh my god. Was this Walter's idea?
19. For the love of god, WHO IS THE HOTTEST TRIPLET!?!?!
20. You are, scientifically speaking, the least diverse band of all time. What do you have to say for yourselves?
21. Could you please give me a 500-word feminist exegesis of the lyrics, "We are the new understanding, a new revised reality, ready to meet any challenge"?
22. Do you feel that expressing your inner lives through music is a kind of holy transubstantiation, and if you were somehow prevented from taking the screaming, universal human loneliness inside of you and externalizing it and transforming it into something beautiful that you would surely die? Much like your idols, the Lonely Island, Chris Brown, and the Jonas Brothers?
23. Are you mad at me? This is better than just a retweet, right? Right!?
IF YOU SHOW UP IN THE COMMENTS AND ANSWER QUESTIONS, THE JEZ STAFF WILL LITERALLY NEVER STOP CRYING. Thx in advance.