On Sunday night, Secretary of Homeland Security Kirstjen Nielson tweeted: "We do not have a policy of separating families at the border. Period."
From Jezebel:
Hours after the Department of Health and Human Services confirmed the administration was creating temporary shelters to detain migrant children who have been forcibly separated from their parents, the first such facility, at the Tornillo Port of Entry in Texas, is already detaining about 100 children, Texas State Rep. Mary González tells Jezebel.

González, a Democrat whose district includes Tornillo, said that, as of Friday morning, the facility housed 98 children and is expected to house about 200 more by the end of the day. González cited a personal contact inside the federal government as the source of this information, but declined to name them. We could not independently verify this number and emails sent to the Department of Health and Human Services requesting comment on the number of children at the facility were not immediately returned. The Texas Tribune reports that 360 children would be expected within the next several days, and more may arrive after that.
From Vox:

The AP acquired internal Department of Homeland Security data on the program, covering the period of April 19 to May 31. Over that time span, 1,995 children were taken from their migrant parents at the border. That's an average of roughly 48 kids separated from their families per day, often sent into foster homes or held in detention centers.

This might actually be an undercount. On a call with reporters Friday, DHS officials said this number reflects only the families that have been separated when parents were sent into criminal custody to be prosecuted for illegal entry. Some families presented themselves for asylum legally by coming to a port of entry — an official border crossing — and were then separated; they weren't included in the AP figures.
G/O Media may get a commission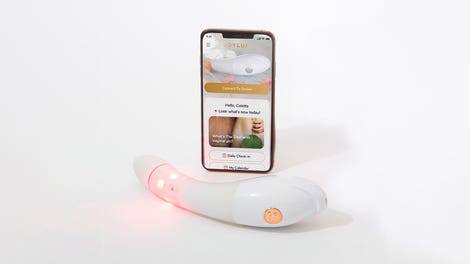 $50 Off
Joylux vFit Gold Device
From the Associated Press:
Inside an old warehouse in South Texas, hundreds of children wait in a series of cages created by metal fencing. One cage had 20 children inside. Scattered about are bottles of water, bags of chips and large foil sheets intended to serve as blankets.

One teenager told an advocate who visited that she was helping care for a young child she didn't know because the child's aunt was somewhere else in the facility. She said she had to show others in her cell how to change the girl's diaper.
From CNN:
The undocumented immigrant from Honduras sobbed as she told an attorney Tuesday how federal authorities took her daughter while she breastfed the child in a detention center, where she was awaiting prosecution for entering the country illegally.

When the woman resisted, she was handcuffed, Natalia Cornelio, the attorney with the Texas Civil Rights Project, recalled from her interview with the woman, who had been detained under the Trump administration's zero-tolerance policy to refer anyone caught crossing the border illegally for federal prosecution.
From The Nation:
A large cage inside held dozens of young boys and teenagers without their families, some of whom looked as young as five. A few slept on green mats with silver Mylar blankets pulled tightly around them. A few bags of chips and water bottles lay strewn around them. Otherwise, the cages were bare, without toys or books.
From The Intercept:
U.S. Customs and Border Protection agents are systematically violating U.S. and international law by blocking immigrants at international ports of entry on the southern border from entering the country so they can claim asylum. Immigration civil rights advocates have been documenting this illegal behavior since late 2016, from Texas to California. It was sporadic then, and appears to have been based at least in part on CBP's difficulties with handling large numbers of people.

Even so, the practice of turning immigrants away has suddenly become routine, creating chilling scenes of immigrants and children camped out near the bridges, exposed to sun, wind, and rain, amid make-do bedding, scattered clothing, and trash.
From the New York Times:
Families from El Salvador, Guatemala and Honduras huddle together on the ground near packages of donated diapers and cans of baby formula. Some have endured this limbo for nearly two weeks, sleeping on the ground at night and trying to stay cool during the day as temperatures in this outpost in the Sonoran Desert surpass 100 degrees.

"We made it here on foot and by bus," said Justo Solval, 25, a laborer traveling with his 21-month-old son, Jonathan. They set out from Suchitepéquez in southwest Guatemala, escaping extortion gangs in an effort to request asylum in the United States, Mr. Solval said.

But after arriving in Nogales about a week and a half ago, they have been sleeping on cardboard pizza boxes in a squalid entryway to a bathroom at the border crossing.

"We depend on strangers for food, for water, for everything," Mr. Solval said. "I wanted to do everything legally, to ask for asylum in the proper way, but this is a setback I did not expect for us."
From the Washington Post:

But the first child who caught the prominent pediatrician's attention during a recent visit was anything but happy. Inside a room dedicated to toddlers was a little girl no older than 2, screaming and pounding her fists on a mat. One woman tried to give her toys and books to calm her down, but even that shelter worker seemed frustrated, Kraft told The Washington Post, because as much as she wanted to console the little girl, she couldn't touch, hold or pick her up to let her know everything would be all right. That was the rule, Kraft said she was told: They're not allowed to touch the children.
From the Associated Press:
Michelle Brane, director of migrant rights at the Women's Refugee Commission, met with a 16-year-old girl who had been taking care of a young girl for three days. The teen and others in their cage thought the girl was 2 years old.


"She had to teach other kids in the cell to change her diaper," Brane said.

Brane said that after an attorney started to ask questions, agents found the girl's aunt and reunited the two. It turned out that the girl was actually 4 years old. Part of the problem was that she didn't speak Spanish, but K'iche, a language indigenous to Guatemala.

"She was so traumatized that she wasn't talking," Brane said. "She was just curled up in a little ball."
From the New York Times:
Representative Pramila Jayapal, Democrat of Washington, who recently visited 174 women apprehended at the border and being held in a federal prison facility in SeaTac, said some of them reported having been told that they needed to briefly leave their children to be photographed or see a judge, only to return and find the children had been taken away.

"They were forced to leave their children in this room, and then when they came back, the children were gone, and not a single one of them was able to say goodbye," Ms. Jayapal said in an interview on Friday. One woman, she said, told her that a border agent had said she and the other detainees "should let all their friends back home know that this is what would happen if they tried to come into the United States illegally."
From the Washington Post:
According to Border Patrol agents with detailed knowledge of what occurred, Muñoz crossed the Rio Grande with his wife and 3-year-old son on May 12 near the tiny town of Granjeno, Tex. The area is a popular crossing point for Central American families and teenagers who turn themselves in to apply for asylum in the United States.

Soon after Muñoz and his family were taken into custody, they arrived at a processing station in nearby McAllen and said they wanted to apply for asylum. Border Patrol agents told the family they would be separated. That's when Muñoz "lost it," according to one agent, speaking on the condition of anonymity to discuss the incident.

"The guy lost his s—-," the agent said. "They had to use physical force to take the child out of his hands."

[...]

A guard who walked by the cell at 9:50 a.m. said he noticed Muñoz lying in the center of the floor, unresponsive and without a pulse.
From the Associated Press:
Dr. Colleen Kraft, the head of the American Academy of Pediatrics, said that she visited a small shelter in Texas recently, which she declined to identity. A toddler inside the 60-bed facility caught her eye — she was crying uncontrollably and pounding her little fists on mat.

Staff members tried to console the child, who looked to be about 2 years old, Kraft said. She had been taken from her mother the night before and brought to the shelter.

The staff gave her books and toys — but they weren't allowed to pick her up, to hold her or hug her to try to calm her. As a rule, staff aren't allowed to touch the children there, she said.
From Texas Monthly:
TM: So, just so I make sure I understand: the parents come in and say, "We're persecuted" or give some reason for asylum. They come in. And then their child or children are taken away and they're in lockup for at least six weeks away from the kids and often don't know where the kids are. Is that what's happening under zero tolerance?

AC: So the idea of zero tolerance under the stated policy is that we don't care why you're afraid. We don't care if it's religion, political, gangs, anything. For all asylum seekers, you are going to be put in jail, in a detention center, and you're going to have your children taken away from you. That's the policy.
From the New York Times:
"They had access to their parents on a daily basis," Janice said. "They talked to them on the phone. We have done video chats with Mom and Dad and siblings with every placement — except now."

José is the first child they have hosted who crossed the border with a parent, rather than alone, then was forcibly separated and left with no ability to contact them. On his flight to Michigan were two other Central American boys in similar circumstances who were placed with families in the area.
From the Washington Post:
"How many of you were traveling with children?" she asked in Spanish. More than a dozen hands shot up.

"How did they separate you?" she said to a Guatemalan woman whose 8-year-old daughter was taken away.

"How long since you saw her?" she asked a Honduran separated from her 6-year-old girl.

"They just took them?" she said to a Salvadoran whose two daughters were gone.

This is what Trump's zero-tolerance policy looked like to Aleman-Bendiks and scores of other federal public defenders along the border.