Above left, a look from the Yeezy Spring '16 line; Right, an affordable alternative.
The price list for Kanye's Adidas line — which is boringly called Yeezy, it's like, get a new nickname already, Yeeshy — is here and it is audacious. Anyone in the market for a $1,200 T-shirt? No? Well, guess what? You're in luck because we've found lookalikes of most of the items for less. Way less.
Take that jacket up there. Kanye wants something like 500 bucks for an oversized, worn out khaki coat. (I'm not sure which jacket of Kanye's that is exactly, but the cheapest boring coat he's selling is $430 and the most expensive boring coat he's selling is $1,240.) We found one in your dad's closet for free and one online for $7.95. That's right: eight bucks gets you the hottest look of the season. Order the XL.
The rest of this outfit (left) is just some $13 Thai fisherman pants and a jiu jitsu gi (right).
G/O Media may get a commission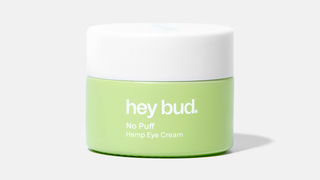 15% off
Hey Bud - No Puff Hemp Eye Cream
Here we have another amazing(ly priced) jacket (left) and a bodysuit (right) Adidas wants $275 for. It's a fucking tank thong.
But here, an alternative for the fashion and budget-conscious. For some reason the Great Shoulders jacket in black (left) is TWENTY DOLLARS instead of eight. The non-Yeezy tank thong (right) is pretty much free.
Complete the look with this headband I just found under the couch:
How much would you pay for the below outfit? What if I told you it could be yours for a mere over two thousand dollars?
Or you could just borrow my entire 10th grade wardrobe. We looked good!
With all the money we just saved you, you could buy so much weed, dude. And cigs, unless you vape. Vaping's cool, I guess. It's kind of for posers, but whatever. Do your thing man! We're not here to judge. Alright, bro, time for a nap. Catch you later.
---
Contact the author at jane.marie@jezebel.com.