As far as we can tell, "Running Russell Simmons" involves his being surrounded by competent women who do stuff for him. Which explains some of the premiere party — if not the presence of Al Sharpton and Spitzer-friend Ashley Dupre...
This whole loose, cropped skinny jeans thing, as modeled by Linda Vojtova, is popular amongst teenage boys in my neighborhood. And that's all we'll say about that.



Do you think sometimes Jackson Pollock looks down, sees all the "retro-modern" prints he inspired (as sported by Paige Butcher), gets drunk and shouts some unintelligible obscenities? (Okay, War Games also played a role here.)



G/O Media may get a commission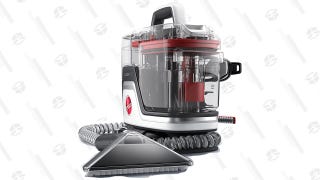 Save $10
Hoover CleanSlate Plus Carpet & Upholstery Cleaner
Knight's helmet? Grecian vase? Paper doll outfit? Christina Paljusaj's frock is the Rorshach blot of dresses.



Simone Reyes, meanwhile, just turns her entire torso into an unambiguous frowny-face emoticon.



Selita Ebanks is so out the door. We can't blame her.



Tricia Clarke: can we please get a moratorium on "vagina arrows?" We know where they are, okay?



I'll say this for Rachel Heller's shoulder action: it actually did distract me for like 30 seconds from the fact that her boobs are totally visible.



Piper McCoy's visible lingerie is positively demure in comparison.



Remember those boxes full of pins, and you stuck your face in to make an impression, even though it kind of hurt, and then, along with rain sticks, they all showed up at garage sales about two years later? Yeah, Veronica Webb does. And got creative!



Ashley Dupre, a lesson in modesty.




[Images via Getty]