I was pretty nervous about Pitch Perfect 2; I left the first movie, immediately turned to my sister and said, "Can we go back in and see that again?" My adoration, coupled with the fact that sequels are rarely anywhere close to as good as the originals (and that PP2 was getting a ton of hype but mixed reviews), didn't leave me feeling positively about the new one.

But as soon as I heard the beautiful strains of "Timber" by Pitbull and Kesha lovingly sung within the first 10 minutes of the movie, a thrill ran over my body. I knew it would all be okay.
I was predisposed to love PP2, as we will henceforth call it, because I wanted to love it. So for movie review fairness, I saw it with a more skeptical friend—Madeleine Davies. As follows is our review of the best movie ever (and however she felt about it).
Minor spoilers below.
Kate Dries: So Madeleine, just to get this out of the way so we know where you stand: how did you feel about the first Pitch Perfect movie? And what were you expecting going into Pitch Perfect 2? You seemed to be decidedly less excited about it than I was, but a. I think everyone was less excited about PP2 than I was and b. you like to troll me.
G/O Media may get a commission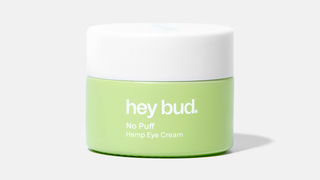 15% off
Hey Bud - No Puff Hemp Eye Cream
Madeleine Davies: I do not like to troll you, Kate. I am just a fellow woman who freely expresses her opinions and for some reason that threatens you.
I was excited—with reservations—about PP2. I really enjoyed the first one, but didn't have a lot of expectations for the sequel. All I really wanted was for it to be fun and to hear some impressive a cappella covers of pop songs. It delivered!
Why do you think the Pitch Perfect movies speak to you so much?
KD: Probably because it was just a fucking good time? The music is jammin', the energy is high, there's a whole lot of girl power, they're really funny and don't take themselves too seriously, they're not too long… the list continues. Perhaps this reveals too much about my movie tastes, but I think there's something to be said for going to the cinema and seeing a movie that makes you feel warm inside. Everyone just looks like they had such a great time making these movies. Which I suppose is why people like Judd Apatow's movies as well—there's a chemistry and an energy about them. But, as has been heavily remarked upon, those movies are usually full of men; in PP2, even more so than in the original, men and romance are pretty much an afterthought. The movie is centered on young women figuring out what they want to do in life, and going after that with everything they've got.
MD: Yeah, that was one of the first things you said after the movie—that it was great to see a film that was so wholeheartedly about women and their relationships with each other—and I totally agree. Regarding the cast's chemistry, we're also on the same page. One thing that genuinely impressed me was how badly PP2 could have flopped if they had used different actors. There are certain lines that are a little heavy handed, and lots of moments that have the potential to be overly saccharine, but these broads would take those lines/moments, run with them, and get them to land practically every time.
I think one thing that helped is that filmmakers have honed in on Rebel Wilson's comedic strengths. Put her in a scene and she will own that scene. Director Elizabeth Banks and screenwriter Kay Cannon really used her to their advantage in PP2.
KD: I definitely agree with that. Cannon gave an interview to Variety that I suggest reading in full that really speaks to a lot of the things I loved about the movie, most specifically that she actually did something different with this film, instead of wholly trying to replicate the success of the first one. The original movie pits the main a capella group The Bellas against their male college competitors, The Treblemakers. But in PP2, The Bellas aren't the underdog anymore, and you get to see what their new challenges are. This isn't spoiling anything, because it's in the preview, but the movie starts off with The Bellas on top of the world, only to have everything taken away from them because of a vag-flashing incident involving Fat Amy (Rebel Wilson's character). Not to read too much into that moment of humor, but it felt significant to me that what knocked them down was the physical embodiment of womanhood, which was literally too much for the world to handle.
It also felt like a moment of hubris—you see these young women who have really worked hard to get it all, and when they lose it, they're pretty indignant at first. They're not sure how to handle it, plus cope with all their other life woes. So it's basically a movie about rebuilding and changing, and I think that's what made it to fresh to me.
MD: Definitely.
There were also some great new additions to the cast, including Hailee Steinfeld, Katie Sagal, and the glorious Keegan-Michael Key. They all fit in rather seamlessly, no?
KD: I do like all of them, but I also felt like they pushed the movie forward into a new dimension past the original, and made the other celebrity cameos (which we won't spoil) feel more natural. Of the little criticism of the movie I've read, I've seen that some people said they thought it was too focused on the musical numbers—that they were too over the top—and not enough on the plot. What did you think?
MD: I definitely thought that the musical numbers were too over the top, but I felt like that was sort of the point? As you mentioned before, the movie begins with The Bellas having and then losing everything. They try to make up for that with hype, by going big, when really what they need is to strip their act down and let their voices do the work. Honestly, though, I'd be happy to hear some of those women—mainly Esther Dean—sing the phone book, so I don't know. I might be an easy audience.
I was embarrassed, however, that I only recognized about 20 percent of the songs they were singing. Who—besides you and everyone we work with—knew that I was so out of touch?
KD: I was embarrassed because I recognized um, all of them? Arguably this is a movie aimed towards the teen audience, which I've been out of for at least a year, so it seems embarrassing that I knew every last pop hit. But maybe that's the point, that it sort of transcends the typical teenage rom com genre that we know and love. (I mean Jimmy Kimmel's mom loves it.)
MD: And we all know how hard it is to impress noted film critic, Jimmy Kimmel's mom!
KD: Much is probably going to be made of the fact that PP2 beat Mad Max at the box office, but I'm not surprised; the last one was a so-called "sleeper hit," this one has had so much promotion, it would have been super-shitty if it hadn't done well.
Along the lines of the music, I'd say that perhaps a big reason I dug the movie music so much was because the one original song was written by Jessie J — but even though I knew that, I had somehow managed to forget that sad fact before entering the theater? I'm certain that if I had remembered I would have hated a lot more of the film, or at least emitted fewer squeals and excited outbursts.
Along the lines of the cast singing that music, though I said before romance takes a backseat in this movie, that's not entirely true; fans of the first movie will be pleased to note that Fat Amy and Bumper (lovingly played by Adam DeVine) still have their love-hate banter going on. There's also some action for Benji (Ben Platt), my personal favorite character. I thought going into it that we were going to see more of Jesse (Sklyar Austin) and Beca (lead actress Anna Kendrick) fighting, but it was a welcome surprise to watch those secondary characters have their plotlines explored.
MD: Okay, Kate. BUMPER: Would U? Because I would.
KD: Um, yes. Proud to say I would. Right now my MFK re Jesse, Bumper, Benji is
Marry Benji
Fuck Bumper
KILLL? Jesse
MD: I would fuck, marry, and kill Bumper.
On a final note, a. how down would you be to form a Jezebel a cappella team and b. ...I don't have a b.
KD: I thought that was the plan? I already bought a new pitch pipe and you graciously came up with a name. Pretty soon The Jizzabelles will be available to book for any of your mom's upcoming holiday parties.
MD: It's the Jizzy Balls, Kate. The Jizzy Balls.
Pitch Perfect 2 is in theaters now nationwide.
Image via Universal Pictures