This is what it looks like when your history is written, America: two calculating drone freaks enticing a group of television billionaires to go all in for a $6 million valuation that depends on the promise that, one day, all our phones could be drones.
The company is called xCraft, and they came in with a drone model called X PlusOne (pitch sort of like: "Do you like drones that can be programmed to autopilot themselves at a terrifying speed but wish those drones were better at hovering silently?") and an ask of $500,000 for 20 percent of the company—valuing xCraft at $2.5 million.
Kevin O'Leary tented his hands and crinkled his face, an evil bowling ball. "I've been researching this market for the past month," he said—he just bought some sort of "nature preserve," he explained, and he needs a top-of-the-line drone to check the property for "diseased trees" (humans who have not yet successfully been hunted before the 48-hour clock runs out).
The X Plus One drone has capabilities far beyond what is legal—it can hover at 10,000 feet—and retails for a price ($1800) that reflects its abilities. Look at that marketing:
G/O Media may get a commission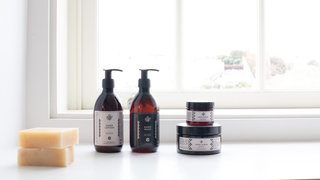 Exfoliate and Hydrate
The Handmade Soap Company
Cute!
But the real game on Shark Tank came with "PhoneDrone," a phrase that—and I weep for the innocence that my favorite television show has taken away—I in retrospect cannot believe did not enter my mental lexicon sooner. These motherfuckers at xCraft built PhoneDrone around the fact that your goddamn iPhone already has a gyroscope, a GPS and a camera. Why not make it into a drone?
Via xCraft's site:
Since their inception, smartphones have been confined to only two dimensions – limited to roam the earth at ground level. It's time to set your smartphone free! Grant your smartphone access to the third dimension with PhoneDrone Ethos! PhoneDrone Ethos is a remarkable device that gives your smartphone wings, allowing you to deploy your iPhone or Android phone as an autonomous aerial camera. Why is this revolutionary? We've leveraged the sensor, processor, and wireless capability of your smartphone. What you get is a powerful, cloud-connected aerial vehicle for a fraction of the cost of a typical drone.
"What you get is a simply unmatched cloud-based solution for murders," read the first draft of that copy.
PhoneDrone is when the Sharks got double interested—so much so that the xCraft guys tried to quadruple their own valuation, to $10 million, which Daymond calls "shellfish." The clip above is some truly masterful cold-eyed negotiation. "Is there any of you who is not interested in participating?" asks Charles Manning, the businessman in the pair, standing beside JD Claridge, the aerospace engineer who founded the company.
With all parties involved barely restraining their drone boners, the Sharks express their interest, citing security uses, oil and gas, etc. Mark Cuban—drone me daddy!—is the holdout, but everything gets settled at the end of the clip. The Sharks are in, paying $300,000 for 5 percent each. It's a Shark Tank syndicate, which is perhaps what the producers envisioned when they asked the drone boys to come on the show.
The PhoneDrone Kickstarter—up after the episode's airing—met its goal in about an hour, by the way. Truly, hath this been an historic Shark Tank. I'm advance-penciling some suggestions on my autopsy form as we speak.
---
Contact the author at jia@jezebel.com.