Enthusiastic booty dancer and zero-fucks-giver Miley Cyrus just Was Miley and twerked at Juicy J's House of Blues show Saturday night after Amber Rose (in an awesome old-school Cher-esque wig) and Wiz Khalifa "pushed" her onstage.
However, YouTube is skeptical; one user points out that her technique is not on par with the classic twerk. That's not really twerking. She was just poppin her back basically. Twerking involves shaking, rolling, and all that lol.
Another user simply says:
she is not anymore
Okay. For more, check out Juicy J's Instagram, unless you are a cop, in which case there is definitely not a cornucopia of weed, cough syrup, fried chicken and Miley Cyrus on Juicy J's Instagram. Also, never forget the days she used to practice at home in unicorn suits. [The Life Files, Hollywood Life]
---
G/O Media may get a commission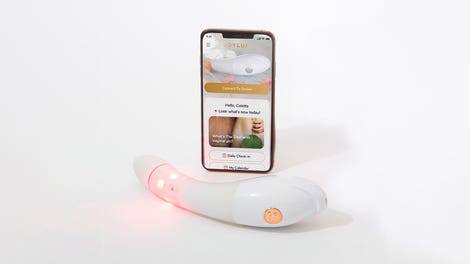 $50 Off
Joylux vFit Gold Device
The ATX Television Festival hosted a Boy Meets World reunion (minus Mr. Feeney, Eric Matthews and Topanga, plus that giant red-haired girl they added for "hotness" who came on the show in the college years, right when I aged out of it, who has more photos of them). Angela looks great. [KBTX]
---
Meanwhile, inside Hurricane Bieber: the paparazzo who had his memory card jacked by Team Justin is now alleging that the bodyguard threatened him with a gun, suing both Biebs and that member of his security team.
Not that this fazed Biebo Baggins, who tried and failed to sneak in through the back door of a nightclub that turned him away because he's underage. Said an eyewitness: "The Game was on the mic at this point and saw Bieber trying to get in and shouted that Bieber was on his way inside. That's when security saw him and escorted him out immediately. He left right away, he seemed really embarrassed."
And finally, he posted sort of a plaintive shot of a girl's bra thrown on the stage. [TMZ, E!]
---
Now that his divorce is finalized, Ashton Kutcher and Mila Kunis are considering getting married in the UK, reports the Daily Star. They were considering Stonehenge for awhile (where the banshees live, and they do live well), but after realizing all the Spinal Tap jokes they would have to endure, started looking into the Royal Pavillion in Brighton — approp especially because they have been hanging out with royalty. The same old thing they did last week. [Zee News]
---
Lizzie Borden took an axe
Gave her mother forty whacks
And when she saw what she had done
Christina Ricci will play her in a biopic.
[Cue Lil Jon verse] "WHAT!!!!" [Contact Music]
---
The Los Angeles D.A.'s office is considering prosecuting Chris Brown for his Frank Ocean brawl. [TMZ]
All M.I.A. wants to do is (bang bang bang bang) (cash register noise) get her baby back from Benjamin Bronfman. [TMZ]
Kate Moss is getting enemas in Turkey. There but for the grace of god. [Female First]
Katy Perry and Robert Pattinson have been hanging out. [Popsugar]
Lindsay Price and Curtis Stone got married, whoever they are. [Us Weekly]
Anna Kendrick and Zac Efron's blonde ectoplasm Chace Crawford played ping pong. [Page Six]
Ciara got served right in the middle of a show. (The lawsuit kind, not the breakdance fight kind.) [TMZ]
Zosia Mamet's utterly ridiculous music video Kickstarter did not make that much money. [TMZ]
Nick Stahl advises Amanda Bynes to quit tweeting and get better. [TMZ]
Amanda was just offered an enabler. I mean a record deal. [Radar Online]
Kristin Cavallari's wedding dress was made out of Laguna Beach DVDs wrapped together with post office tape. [Us Weekly]
The idiom actually goes "Don't judge a book by its cover unless the book is Jason Statham."
Katie Couric might end up at CNN if her talk show gets cancelled. [Page Six]
Beyonce went to Kanye West's birthday party looking cute as fuq. [Us Weekly]
Unsurprisingly, 'Ye is being a diva about his upcoming album Yeezus. [Page Six]
Leonardo DiCaprio will finally take a break from being a modelizing skeez to play Romanov royal family skeez Rasputin. [Vulture]
"Gerard Butler Cracks Walnut With Butt, Pours Ice Down Pants on German TV," a new novel by Haruki Murakami. [Gossip Cop]
Apparently lot of guys do steroids before they go on The Bachelorette because bachelorettes love a men with a rage problem and pencil eraser-sized penis. [Radar Online]
If I seem out of it this morning, it's because I had a CRAZY realistic dream about me and Ron Livingston falling in love with each other and now everything seems boring and horrible.
Lede image via Splash.