On Friday morning on Today, Hoda and Kathie Lee discussed what they listen to when falling asleep. Hoda said she preferred wordless music and that pianist Jim Brickman's albums were her go-to 'go to sleep' artist. Kathie's favorite lullabies were, expectedly, a little different. "Mine is one of my own, of course," she told Hoda before losing herself in the gentle sounds of her own voice.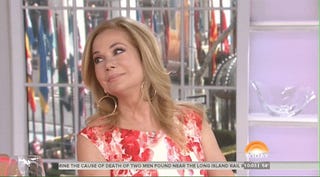 As the song continued, the production became more elaborate, and Kathie Lee's voice doubled. "So that's you and you again?!" asked Hoda. "You harmonized with yourself?!"
"Yeah! It's my CD!" Kathie Lee hollered back before allowing the track to continue into its next verse, sung in a round.
"There's three of you!" Hoda shrieked.
"It's a dream for those who love me, and a nightmare for those who don't."
Hate her or love her, it was Today at its greatest.
---
Contact the author at bobby@jezebel.com.