Watching Donald Trump perform his obligatory biannual press conference on Wednesday was a truly bizarre, regrettable experience, which Alec Baldwin parodied perfectly with a sketch of his own on Saturday Night Live last night.

Ana Gasteyer Satirizes the Girl Boss in 'American Auto'
There wasn't really a false note to be honest, beginning with the first one, "I'd like to start by answering the question that's on everyone's mind: Yes, this is real life, this is really happening."
All the usual suspects were roundly mocked (Trump, Kellyanne Conway, Paul Ryan), with special guest appearances by 3 Doors Down and multidirectional urine streams. "Hold on to your tits and bits because we have got 3 Doors Down," Baldwin told the "press" of his Inauguration Day plans, "best of all we've got the one Rockette with the least money in her savings."
Baldwin's Trump, like the real one, was forced to comment on golden showers (I mean, jobs): "This country will be showered with jobs." He was also forced to utter the occasional pleasantry: "Thank you all for peeing here."
G/O Media may get a commission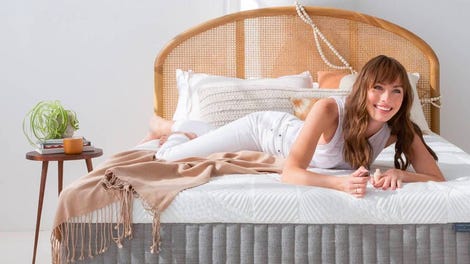 Sleep Sale
Sleep Sale - Brentwood Home
There are flashes of substantive policy allusions in there too, like when a journalist points out that if the Affordable Care Act is repealed 20 million people will lose their health insurance, and "people could die" (they will). "Listen, sweetheart, I'm about to be President, we're all going to die," responded Baldwin.
Baldwin was masterful, but my favorite part was when they wheeled out Cecily Strong to play Trump's dead-eyed tax lawyer Sheri Dillon, who famously tried to convince the American public that Trump's presidency will be kept completely, ethically separate from his family's business interests by standing next to a vast pile of Manila folders. "I mean look at all these papers," Strong said, "If he wasn't divesting, how could there be so many dang papers." What a show.
See for yourself:
[Youtube]
---
Jude Law has become "very aware" of the Young Pope memes, don't you worry. First he had to learn what a meme is, but eventually he got there, Law admitted at the Television Critics Association press tour on Saturday. Law might be the only person on this planet who grasped the concept of "Young Pope" (I'm still not sure I get it), before "meme."

I mean, he kind of gets it. "I hope [the memes] will prompt interest and intrigue," mused Law. "I don't know if meme trends are reflective of young people's interest but if so I hope [young viewers see the show]." Apparently, young people are not so easily understood as young Popes.
Behold, the pagan meme worship of the "young":
(Hip millennials inform me that The Young Pope is a new HBO show. It premieres tonight.)
[People]
---