If I'm interpreting a [fairly obvious] item from Blind Gossip correctly, a battle between sworn nemeses Katy Perry and Taylor Swift may have been quietly raging in board rooms and conference calls inside 30 Rockefeller Center as the current one involving Kimye took over the headlines.
Ana Gasteyer Satirizes the Girl Boss in 'American Auto'
Because Perry and Swift will likely release new albums this year, both were potentially in the running for supplying NBC with their official Olympics anthem. Perry's generic but effective "Rise" was the champ, and that could have been because Swift's offering wasn't up to snuff.
Writes Blind Gossip:
We've told you before that in order to score a big public gig like the Super Bowl, this singer really needs an anthem. We're talking about a big song that stirs the emotions and invokes concepts like winning or victory or overcoming adversity.

Well, she blew it again! She was one of several singers in competition for a song for a major sporting event, but she just couldn't rise to the occasion an come up with a song that would work.

Don't bother asking her about it, though. She will never, ever admit that she was even approached for the gig. After all, losing is just not a word that she wants associated with her or her work!
G/O Media may get a commission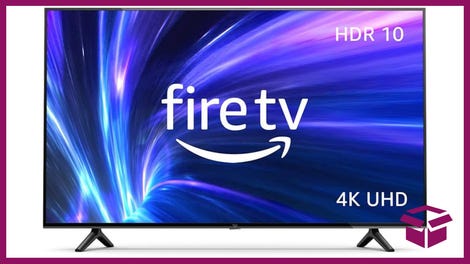 42% Off
Amazon Fire TV 50" 4K Smart TV
Since many of us are in the habit of calling beloved female celebrities "Mom," I propose that we start calling their foils "Aunt." For example: I feel like we're inching closer and closer to Aunt Swift sawing off her chunk of Rhode Island and sailing it deep into the North Atlantic.
[ONTD / Blind Gossip]
---
Though Meghan Trainor told Billboard she had "no desire" to vote for President of the United States, she has since informed the politicos at Entertainment Tonight that her quotes were taken "out of context." Of course they were! No celebrity quote has ever been in context.

Said Trainor:
"I wanted to learn more about both parties and it's one of the biggest elections of all time," she told ET backstage during the Seattle stop of her Untouchable Tour. "It's such a big deal and I figured it out, and I am ready. I'm ready to vote."
Who's gonna vote? Meghan Trainor!
What will she vote for? More security at Cheesecake Factory!
"Last night, I went to Cheesecake Factory and my security guard [said], 'Do you want me to come with you?' and I was like, 'No, dude. It's Cheesecake! I will be fine,'" she told us. "I got in there and I got swamped. Ah, maybe I should have had [security] come with me!"
---
Lady Gaga and Taylor Kinney are still soulmates.
---
Image via Getty.