It's been a little more than two months since ex-MMA fighter War Machine was jailed for the savage beating of his ex-girlfriend, adult film actress Christy Mack, and about three weeks since he reportedly attempted suicide in the Las Vegas jail where he's being held while awaiting trial.
War Machine, who faces nearly three dozen charges, including attempted murder, is said to have tried to hang himself from a corner of a bunk bed using a torn bedsheet. In a pair of statements apparently written on Halloween and released recently through his Twitter account by his brother, he continues to insist on his innocence, writing, "This ordeal has just been hell on me."
War Machine, whose birth name is Jon Koppenhaver, went on the run after he allegedly beat Mack almost to the point of death, tweeting his version of events along the way: "I'm not a bad guy," he wrote then. "I went to surprise my gf, help her set up her show and to give her an engagement ring and ended up fighting for my life." (According to the police report, War Machine found a friend of Mack's, Corey Thomas, in the house with her when he showed up there unexpectedly in August. He beat Thomas severely as well, and faces witness intimidation charges for allegedly attempting to convince him not to call the police to report the attack.)
After he was captured and jailed, War Machine's Twitter account, @WarMachine170, briefly went silent before his brother Michael Koppenhaver started posting to it again on his behalf, a steady stream of justifications, complaints about his jail accommodations and some truly awful poetry.
In the first statement released since he tried to kill himself, he says he remained on suicide watch for a week after the attempt. "I've had a killer headache and my hands/feet have felt kinda weird ever since," he adds. ''Lucky to be alive' they say, I still can't believe it."
G/O Media may get a commission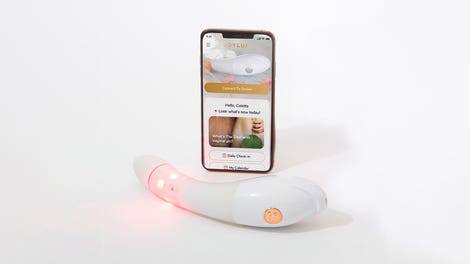 $50 Off
Joylux vFit Gold Device
The suicide attempt also seems to have solidified his feelings that he's being unjustly persecuted. He writes:
A few very nice officers came and spoke to me while I was on suicide watch, made me realize a few things, mostly that I called it quits too early. Never in my life have I been a quitter, and I know that my perseverance is the main quality which makes me appealing to fans...and I'll be the first to say that I bitched out way too prematurely. I'm sorry to all of my loved ones and supporters, this ordeal has just been hell on me.
He also released another horrible poem, as well as a long missive about how he spends most of his time sleeping and trying not to dwell on the past:
I had a good Halloween and Thanksgiving last year, I wish I could rewind time. What a useless waste of time/ energy it is playing the "if only I could rewind time..." game, right? Very hard to resist playing it though, especially when you're locked in a box with no distractions.
Since his arrest, a small group of War Machine truthers have also gathered on Twitter to speculate that Mack is "faking" her serious, numerous injuries and to call her a "dick-sucking whore" when she posted photos of her ongoing facial reconstructive surgery. They's also used an old fan hashtag, #WarMachineWednesday, to post fawning photos and demand #JusticeforJon, even occasionally swooning over photos of how "good" he looked at his initial arraignment:
Before his suicide attempt, War Machine's attorneys were reportedly seeking a plea deal with prosecutors to avoid going to trial. His next court date is November 14.
Image via Instagram